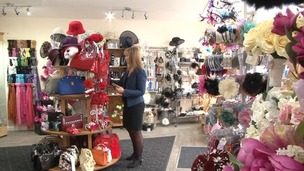 A Workington hat shop owner has won the top enterprise award from a West Cumbrian business developer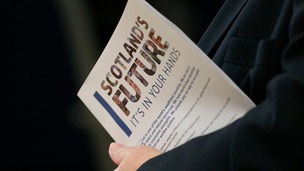 The Confederation for British Industry said it supports Scotland staying in the UK because the proposals for independence "lack clarity".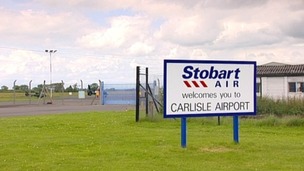 Judge quashes the latest planning permission for a new freight storage and distribution facility at the airport.
Live updates
The Beacon Museum is will re-open in time for May half-term holidays.
The museum previously faced closure due to lack of funding but now Copeland Borough Council and Sellafield Ltd have agreed to run it together.
It will open on the 24th May.
"Sellafield Ltd answered our call and what has been produced is a visitor experience that's bigger and better than it was before, with more to see and do for the young and young at heart, but which retains the integrity and independence that the Beacon is renowned for."
– Elaine Woodburn, leader of Copeland Borough Council
Mining company drill for zinc in Pennines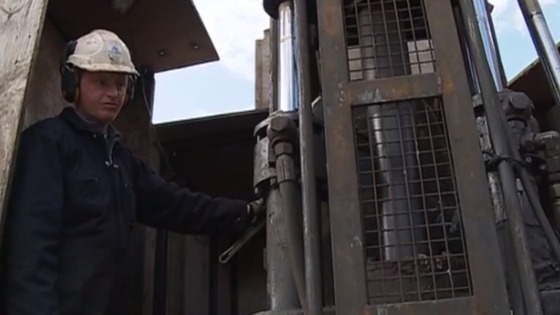 A mining company says its exploratory drilling for zinc in the Pennines is looking very promising.
If the conditions are right the Canadian company, Minco, wants to bring mining back to the area around Nenthead and Allenheads, creating several hundred new jobs.
Advertisement
Business leaders and politicians are getting together to try to work out how best to help rural businesses in Cumbria. The panel will discuss how to help farmers diversify and how to support small businesses in rural areas.
It's being organised by Cumbria University at their new Rural Growth Hub facility on their Ambleside Campus.
Rihanna Helps Boost Sales at Flimby Factory
Footwear made in west Cumbria is being spotted on the feet of the very famous. Rihanna is one of two stars who've been seen wearing trainers made by New Balance, who have a factory at Flimby near Maryport. The company has increased production and jobs. Hannah McNulty reports.
Rihanna Helps Boost Sales at Flimby Factory
When you think of Rihanna and Pharrell Williams you probably don't think of west Cumbria.
They're two of the celebrities who've been spotted wearing New Balance trainers, which are made at the factory in Flimby.
Sales are up and more staff have been taken on.
Rihanna Helps Boost Sales at Flimby Factory
New Balance manufactures trainers at its factory in the village of Flimby on the west Cumbrian coast. 245 people are employed there and around one million pairs are currently produced there every year. Sales have been steadily rising, up 24% last year and projected to rise 10% this year.
That's been helped by singers Rihanna and Pharrell Williams being seen in the trainers. The US brand is owned by an American businessman. The Flimby factory is the only major sports shoe manufacturer in the UK. Andy Okolowicz is the factory manager:
Advertisement
Chanel have announced they will be taking on 100 new staff in the Borders.
Bruno Pavlovsky, the company's fashion president, made the announcement on a visit to the Barrie Knitwear factory in Hawick.
He praised their efforts since the luxury goods firm took over the from Dawson International in October 2012.
"The people here have been fantastic. They have been so supportive of all the developments, working extra shifts to build this extra success and to continue that we need to find new people. We need to recruit."
– Bruno Pavlovsky, Fashion President of Chanel

The 100 new jobs would add to the existing 176-strong workforce at Barrie Knitwear.

The Barrie brand of cashmere clothing will launch next month and will be sold at 40 of the world's top clothing stores.

A dedicated boutique will open in Paris in June with a London store also being considered.
Work starts today on bringing super-fast broadband to homes and businesses in Windermere, nine months ahead of schedule.
The roll-out of fibre-optic broadband to the Cumbria region is planned over the next eighteen months.
Finance plan set to boost Cumbria Economy
An ambitious plan to bring thousands of new jobs and hundreds-of-millions-of-pounds into Cumbria's economy has been unveiled.
The county's Local Enterprise Partnership is bidding for a share of Government cash to invest in growth opportunities around the M6 Corridor and also in the nuclear industry.
Fiona Marley Paterson reports.
Finance plan set to boost Cumbria Economy
Cumbria Local Enterprise Partnership has unveiled its financial plan for the country for the next ten years.
"At the moment far too many young people in South Lakeland have to leave home and go work elsewhere. This proposal will mean - if this comes off- young people will be able to stay here, work here and live here"
– Cllr Peter Thornton, Leader of the South Lakeland District Council
I'm the recipient of a Regional Growth Fund bid or a Regional Growth Fund - so I am already being able to expand the factory as a result of that, take on more people to do research and development and younger apprentices and all the rest of it. Now that hopefully is what other people will be able to do across Cumbria with the plan focusing and supporting the Regional Growth Fund effort."
– Charles Crewdson, Gilbert Gilkes and Gordon in Kendal
Load more updates