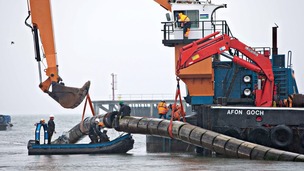 An £8m scheme to clean up beaches and the sea in west Cumbria nears completion.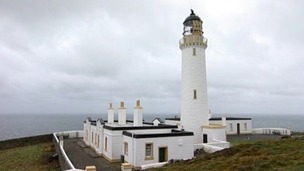 Locals vote to buy the land surrounding the Mull of Galloway lighthouse. They will now apply for a grant to pay for the land and cottages.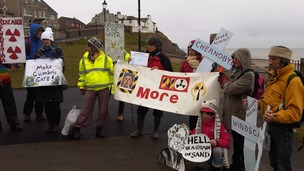 Anti nuclear campaigners say beaches in west Cumbria are contaminated
Live updates
Cumbrian firm highlights importance of apprenticeships
A Cumbrian firm is taking part in a challenge highlighting the importance of apprenticeships.
A group of apprentices from Innovia Films in Wigton has been sprucing up a centre in the town used by people with learning disabilities.
As part of the Brathay Apprenticeship Challenge, the company are hoping to encourage more young people to consider apprenticeships as an alternative to further education.
Engineers and electricians have been working to improve the facilities at the Chrysalis Centre.
Greig Hill from Innovia films and Kay Elliot-Irwin from Chrysalis explain the benefits of apprenticeships:
Peebleshire textile mill closes
Christine Grahame MSP reacts to mill closure
Christine Grahame MSP has been reacting to the closure of Caerlee Mills in her constituency:
"I have been in touch with the Scottish Government to see if there is some way of ensuring that these skilled employees, who have taken years to develop their skills in textiles, can be redeployed within the borders.''
– Christine Grahame MSP
Advertisement
Peebleshire textile mill closes
Workers who have lost their jobs following the closure of Caerlee Mills in Innerleithen are waiting to hear what support they will receive as they attempt to find new employment today.
Peebleshire textile mill closes
Attempts to find buyer fail
Liquidators had hoped to secure a new buyer for the mill which produces luxure cashmere goods.When no interest was expressed the decision to cease trading with immediate effect was made.
Three staff are being retained in the short term to assist winding down the business.
This is another damaging blow to the Borders textile industry which is being squeezed by competition from cheaper foreign imports.
Blair Nimmo of liquidators KPMG said:
Despite our best efforts to secure the sale of the mill we have been left with no option other than to cease all operations with immediate effect.

"Unfortunately 33 of the company's 36 employees have been made redundant, with three staff being retained in the short term to assist in winding down the business.

"We would like to thank staff for their co-operation through this difficult process. "We will be working with employees to ensure that support to find alternative employment is available for all those who need it."
– Blair Nimmo, KPMG
Contractor appointed for Kelso redevelopment
The existing public toilet block will be demolished and a three storey building constructed to replace the property which was lost over half a century ago.
Councillor Ron Smith, Executive Member for Planning and Environment, said:
"Reinstating the streetscape in Kelso is considered a key heritage objective and I welcome the appointment of M & J Ballantyne, which will allow the work to start. This project is considered a priority and will bring a range of social and economic benefits to Kelso's residents, businesses and visitors."
– Councillor Ron Smith, Scottish Borders Council

The new development will provide public toilets as well as bus shelters. A digital Tourist Information Point will be installed near Woodmarket.

It is anticipated that the project will start in May and will take around 40 weeks to complete.
225-year-old Borders mill faces possible closure
'Innerleithen has had its fair share of bad luck' says Borders councillor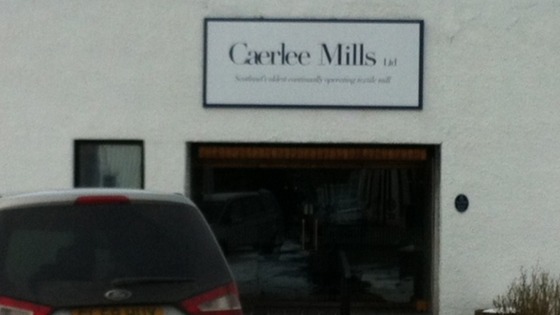 Scottish Borders councillor Gavin Logan, said:
"Innerleithen has had more than its share of bad luck in recent years and I hope that every effort is being made to attract new businesses and jobs to the town."
"The company prided itself on its 'Caerlee Mills 100 per cent made in Scotland' label but has now fallen victim to the harsh economic tradition conditions in the knitwear industry."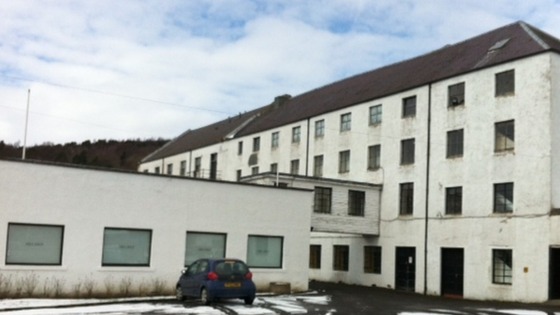 Advertisement
225-year-old Borders mill faces possible closure
Historic Borders mill calls in receivers
Scotland's oldest continually operating textile mill is facing possible closure.
36 jobs could be at risk at the Innerleithen based Caerlee Mills after receivers were called in.
The mill dates back to 1788 and once employed 400 workers under the ownership of Ballantyne and Dawson International.
"I am deeply disappointed by the news that Caerlee Mills have called in the Receiver.

"This puts at risk the jobs of 36 staff, a team led by Tom Harkness who have struggled on trying to keep this business alive.

"They struggled through very difficult circumstances and in the teeth of an international recession.

"There may be a glimmer of hope in the fact that some other textile businesses in the Borders have seen a recent upturn in business but this is still a bitter blow for Innerleithen as its last mill goes into receivership."
– Stuart Bell, Scottish Borders Council's economic development spokesman
Full report: ITV Business Club budget preview
On the eve of the Budget, we are looking at what people living here are hoping is in the Chancellor's famous red briefcase.
George Osbourne is being urged to kick start the economy and abandon his austerity plans.
Our Correspondent Hannah McNulty has been speaking to the ITV Business Club members, who employ hundreds of people across Cumbria and southern Scotland.
They want the Government to give them and their customers a helping hand.
Full report: House prices on the up?
A new survey has found that houses prices in England and Wales have gone up by an average of 1.7 per cent.
However, the regional breakdown here shows that as well as property winners, there are also some losers.
Rachel Bullock reports:
Full report: New construction skills centre opens in west Cumbria
Hundreds of young people are going to be able to train as construction workers in a new skills centre in West Cumbria.
The training facilities will be among the most up-to-date in the world.
It is part of the scheme known as Britain's Energy Coast.
The aim of it is to revitalise the west of the county.
The centre has been built at the Lakes College, west Cumbria, in Lillyhall.
Tim Backshall has this report:
Load more updates