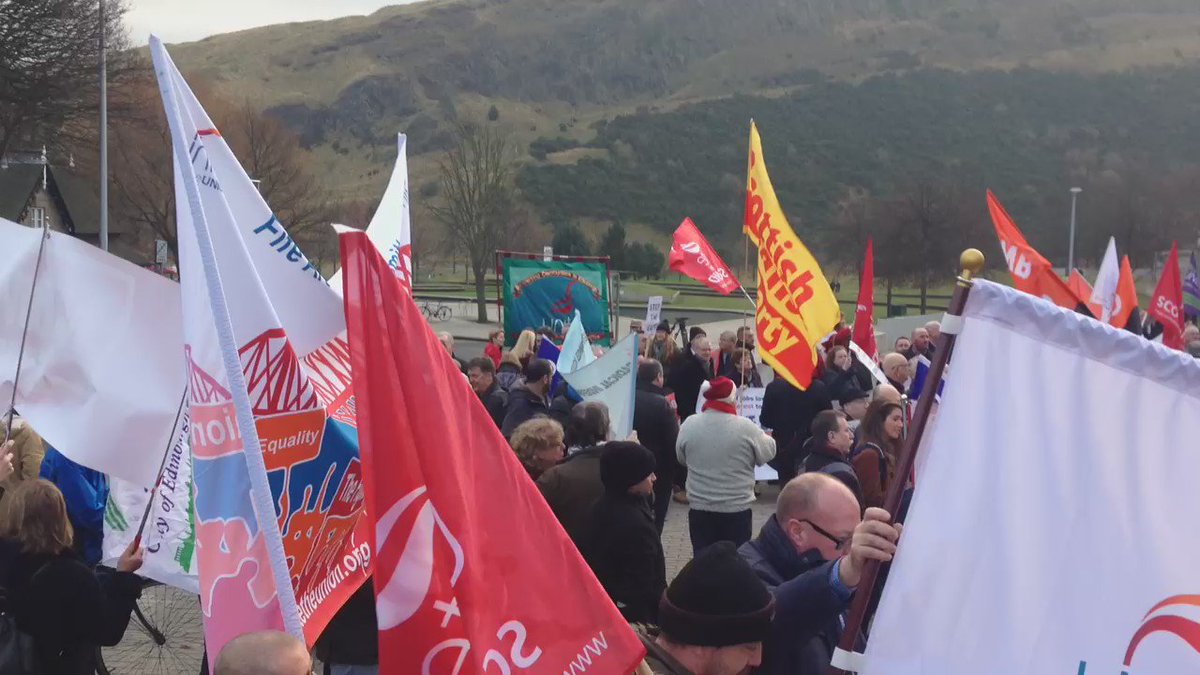 Protests are taking place outside the Scottish Parliament at Holyrood today, ahead of an historic Scottish Budget.
Find out why this budget is important.
Here is what you need to know about SNP Finance Secretary Derek Mackay's first Scottish budget.
Read the full story ›
Advertisement
A celebration of Cumbrian businesses held at Parliament has been hailed as a "resounding success" by the MPs who joined forces to host it.
All of Cumbria's MPs: Jamie Reed, Tim Farron, John Stevenson, John Woodcock, Rory Stewart and Sue Hayman, spoke at the event.
They each invited three businesses from their constituencies to attend, in order to promote Cumbria to the country's other MPs.
This day was a great way to show off the best of Cumbria, and to reach new audiences unfamiliar with the great produce our area has to offer. There was a real buzz at the event, and I hope it will help to provide a boost to the county's businesses and tourist trade.
– Tim Farron MP, Westmorland and Lonsdale (Lib Dem)
Cumbrian businesses work hard all year round to support the Cumbrian economy and many were affected by devastating floods last winter. I am pleased to be able to facilitate this important national networking opportunity.
– Jamie Reed MP, Copeland (Lab)
Dumfries & Galloway Council is urging the Scottish Government to intervene in Langholm, as Edinburgh Woollen Mill warns it could leave.
Read the full story ›
A company is making beer from skies above Moffat.
Brewer Innis & Gunn has discovered a way to extract water from clouds.
Using an airborne device fitted with a turbine and condenser, a crew of four men suck enough moisture from the cloud, cool it into water and use it to brew up to 500 pints of beer.
Innis & Gunn, known for making beer marmalade, are using their cloud-brewed beer, called Sky P.A., to help to raise £1million to continue their beer innovations.
Murray and Burrell Ltd, which was founded in Galashiels, in 1928, has gone in to administration
Read the full story ›
Advertisement
The sportswear firm's Chief Executive says it is staying put and the future of the firm's factory in Flimby is secure.
Read the full story ›
I think it's very close to becoming a ghost town, as are all small towns in Scotland now.

They are all on the edge of disaster. We are not doing enough to make it easier to shop in the town centre.

We are standing in a big pedestrianised area, people like their cars to go shopping, but they can't take their car anywhere near our town centre because there's just no access.
– Rab Smith, Chairman, Dumfries Retailers Association
Around one store closed every day on Scotland's high streets in the first half of the year. It's the highest closure rate in the UK.
Read the full story ›
Uncertainty over the status of migrant workers when Britain leaves the European Union is a concern for Cumbria's economy, according to one of the county's business leaders.
Cumbria Chamber of Commerce Chief Executive Rob Johnston is calling on the Government to offer clarification on the rights of employees from other EU states to work in the UK following Brexit now a timing for invoking Article 50 has been set.
He says Cumbria relies heavily on migrant workers and clarity is needed on their future.
Load more updates