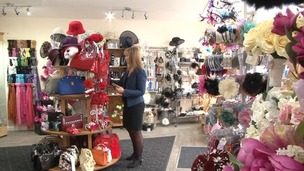 A Workington hat shop owner has won the top enterprise award from a West Cumbrian business developer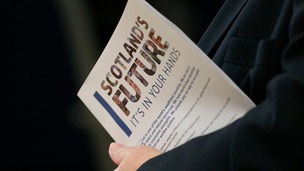 The Confederation for British Industry said it supports Scotland staying in the UK because the proposals for independence "lack clarity".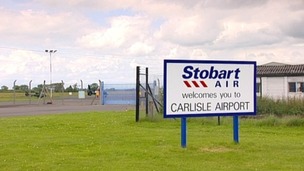 Judge quashes the latest planning permission for a new freight storage and distribution facility at the airport.
Live updates
Tourist season officially opens in Cumbria
The tourist season in Cumbria launched in Pooley Bridge with a special event on Ullswater.
A campaign has also begun to promote accessible tourism in Eden for English Tourism Week.
Around The House
A panel of MPs joined Helen Ford in the studio to give their verdicts on the Budget.
They included the Conservative MP for Dumfriesshire, Clydesdale and Tweeddale David Mundell, alongside the Liberal Democrat Ian Swales, and Labour MP Catherine McKinnell.
Watch the full panel discussion here:
The next edition of Around The House will be on Thursday 3 April at 11:35pm
Advertisement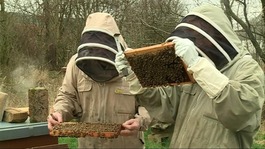 Training scheme launched in Dumfries to try and encourage more younger people to become beekeepers.
Read the full story
A new chairman has been appointed at Britain's Energy Coast at a time the organisation moves in a new direction.
Brian Wilson has stepped down after five years at the helm.
The former UK Energy Minister who took the role in April 2009 when BEC was formed, has handed the reins at the end of his term to Interim Chair and independent Board Member Nigel Catterson.
"Early in BEC's history, the Northwest Regional Development Agency disappeared making this funding all the more crucial to the local economy but also, inevitably, increasing the demands and expectations placed upon it.

"In response, BEC has developed a strategy to focus on transformational projects which will create maximum benefit for West Cumbria's future ability to attract investment.

"BEC has also become very effective at using its money to leverage additional funding from other sources."
– Rt Hon Brian Wilson

BEC have decided to refocus and in the future it will be directly supporting fewer, bigger programmes that are more geared towards establishing and promoting West Cumbria as a centre of nuclear excellence.
"I'm of course honoured to be charged with this interim assignment and look forward to working with the Board, partners and executive.

"There is much to be done in terms of shaping BEC and what it delivers to support the shared aspiration of establishing a robust and diverse economy in West Cumbria which enhances our strengths in nuclear and embraces low carbon and renewable energy.

"We have a very firm foundation on which to build and a great deal of momentum behind our work."
– Nigel Catterson, new chair of Britain's Energy Coast
New Windermere jetty 'will benefit tourism'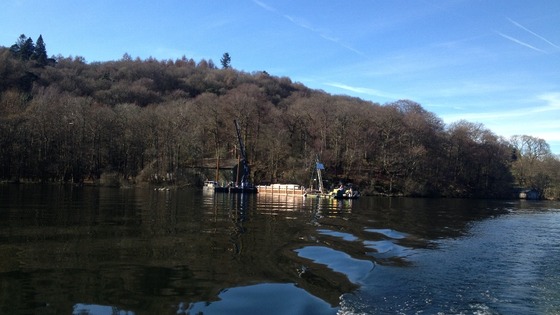 The new jetty is on the eastern side of Windermere and it's hoped its addition will increase tourism in that area.
Private boats can drop off at it for free. Windermere Lake Cruises will operate a bike boat from Brockhole Visitor Centre from May with a request stop on its other services.
New Windermere jetty 'will benefit tourism'
Windermere has a new floating jetty. It has been towed up the length of the lake to its new home at Bark Barn on the eastern shore.
"To start with I don't think the numbers will be enormous so it won't be a commercial proposition but we hope that this is a long-term investment that in due course will benefit tourism for the South Lakeland area."
– Emma Moody, Go Lakes Travel

It has been paid for by the Go Lakes Travel in the hope it will bring more tourists to the quieter side of the lake.

Private boats can drop off at it for free. Windermere Lake Cruises will operate a bike boat from Brockhole Visitor Centre from May with a request stop on its other services.
Advertisement
Three new trails celebrating places related to Robert Burns have been launched in Dumfries and Galloway.
The trails visit some of the Bard's most favourite haunts, sites and views where he drew inspiration for much of his work.
Lori Carnochan reports.
30,000 families 'in poverty'
New figures suggest 30,000 Cumbrian families are now living in poverty.
The number of families earning less than £10,000 a year has risen sharply from 19,000 in 2009.
See Matthew Taylor's full report.
Hayes Garden centre boss jailed
The owner of one of the Lake District's best known businesses has been jailed for 18 months for conspiring to pervert the course of justice.
Richard Hayes, of Hayes Garden Centre in Ambleside, attempted to lay the blame for a drink-driving offence on one of his employees.
Hayes and the employee, Derek Henderson, were charged after questions arose as to who the driver of a Porsche was when it was involved in a crash in November 2010 near Kendal.
Hayes was jailed for 18 months and Derek Henderson for 12 months.
"We hope that today's convictions and sentences serve as a warning to other motorists who seek to evade the law.

The two men conspired together to deliberately mislead the police and the courts in relation to who was driving the car at the time of the collision.

Hayes was arrested at the scene and was convicted after trial of driving over the alcohol limit and driving without due care and attention. He then lodged an appeal naming Henderson as the driver.

However the judge was not satisfied with their version of events and asked for a further investigation into who was driving at the time."
– Katie Nicolson, Senior Crown Prosecutor for CPS North West
200 new affordable homes in the Scottish Borders
The Scottish Housing Minister has announced plans for 200 affordable homes in the Scottish Borders.
Margaret Burgess made the announcement during a trip to a housing development in Innerleithen. The James Hogg Court development will be used as a pilot for the new housing scheme.
Jenny Longden reports
Load more updates