Dumfries plays host to Scotland's largest free music event this weekend, as the Youthbeatz Festival gets underway in the town.
Girl group Stooshe will join teen sensation Conor Maynard on stage in Dock Park from midday tomorrow, Saturday 8 August.
Last year's X-Factor runner-up Nicky McDonald is also performing at the event.
Shakespeare's great plays will be shown in an open air theatre production against the historic 12th century backdrop of Appleby Castle.
The Comedy of Errors is being shown tonight, Thursday 7 August, and tomorrow night a cast, including former Royal Shakespeare Company actors, will perform Macbeth.
It's a two day event that hopes to bring more people to the castle and the local area.
Advertisement
The biggest arts festival in the world offers some fresh perspectives on well - rehearsed arguments about independence. There are thousands of shows on offer but, as Kathryn Samson reports, the referendum is a stand out act.
Ladies Night is always popular with racegoers, and Carlisle boasts one of the most exclusive ladies racing fixtures in the world.
All jockeys taking part must be female.
Last night's event pulled in thousands of spectators who were there for the racing - and for the entertainment too, as Jenny Longden reports.
80's soft rock band Wet Wet Wet have tweeted their thanks to the 6,000 strong crowd who turned out to see them last night at Carlisle Racecourse.
The band performed hits including their cover of The Beatles' 'With A Little Help From My Friends' and classic 'Love Is All Around.'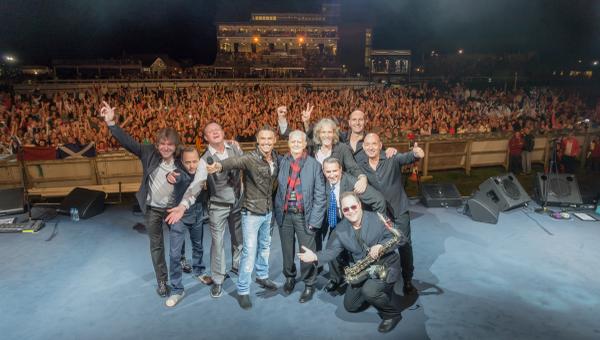 Advertisement
Carlisle racecourse played host to the world's only female jockey race event yesterday.
Ladies donned their big hats as thousands turned out to one of the busiest days on the race track calendar.
The event is the only race meeting in the world where all the jockeys are female.
Eighties band Wet Wet Wet took to the stage in the evening to entertain the crowds.
Up and coming Cumbrian band Colt 45 played their first Kendal Calling Festival together over the weekend.
The band, who are from Carlisle and Workington, formed when they met at Carlisle night club The Brickyard.
The three, Neil Harper, Adam Lewis and Gareth Jenkins, have just released their new album.
They appeared at the Woodlands Stage on Sunday afternoon and shortly afterwards they spoke back stage to our reporter Matthew Taylor.
Organisers of Kendal Calling say despite the mud, the festival was a success.
Heavy rain couldn't keep crowds from enjoying 397 bands and 200 performance artists.
Fiona Marley Paterson reports.
Around 17,000 festival-goers attended the ninth Kendal Calling, which took place near Penrith over the weekend.
Police say that 36 arrests were made for drugs offences, but overall there were fewer arrests this year.
Festival organisers are now working on making next year even better, as it will be the tenth anniversary.
Heavy rain for most of the weekend made the ground wet and muddy.
"We bring in some woodchip that kind of thing to make it a bit easier on the ground and under people's feet but to be honest there's not too much you can do about mud. It'll dry out when it dries out.

"We just keep an eye and make sure that the walkways are clear and that people are getting on happily."
– Ben Robinson, Kendal Calling
Load more updates