A new research, teaching and medical education campus has launched in West Cumbria aimed at improving healthcare at every level across the region.
West Cumberland Medical Education Campus (WCMEC) is a collaboration between several institutions including the North Cumbria University Hospitals NHS Trust and NHS Cumbria Clinical Commissioning Group.
It will develop education in medicine and related areas such as dentistry, pharmacy, nursing and policy.
The new campus, hopes to deliver innovative improvements in remote and rural healthcare and develop new integrated models of care for the local area.
It will also provide a local facility to train West Cumbria's clinical workforce and attract the best global students to the area to benefit patient care.
The campus will combine academic facilities at UCLan's Westlakes campus and neighbouring clinical facilities at the new West Cumberland Hospital, which has already represented a significant step for local communities and the development of healthcare in West Cumbria.
Professor St John Crean, Executive Dean of UCLan's College of Clinical and Biomedical Sciences, said:
This new campus is looking to the future and if our ambitions to work in Cumbria are fully realised, then we will have a fantastic opportunity to improve skills, research, staff recruitment and retention.

The 'halo effect' of this programme will mean we can help attract students, doctors, teaching staff and research opportunities to Whitehaven and West Cumbria for years to come."
– Professor St John Crean
Dr Jeremy Rushmer, Medical Director at North Cumbria University Hospitals NHS Trust, said:
This is a hugely positive step in the right direction to help address some of the longstanding issues we face in relation to our workforce, particularly in West Cumbria.

The partnership will bring in new expertise for the benefit of patient care, as well as help Cumbria to 'Grow our Own' medical talent and provide an innovative roadmap for the delivery of a sustainable workforce for health services in Cumbria."
– Dr Jeremy Rushmer
Whitehaven GP surgery has been labelled inadequate by England's Chief Inspector of General Practice.
The surgery has been placed under Special Measures following the Care Quality Commission inspection.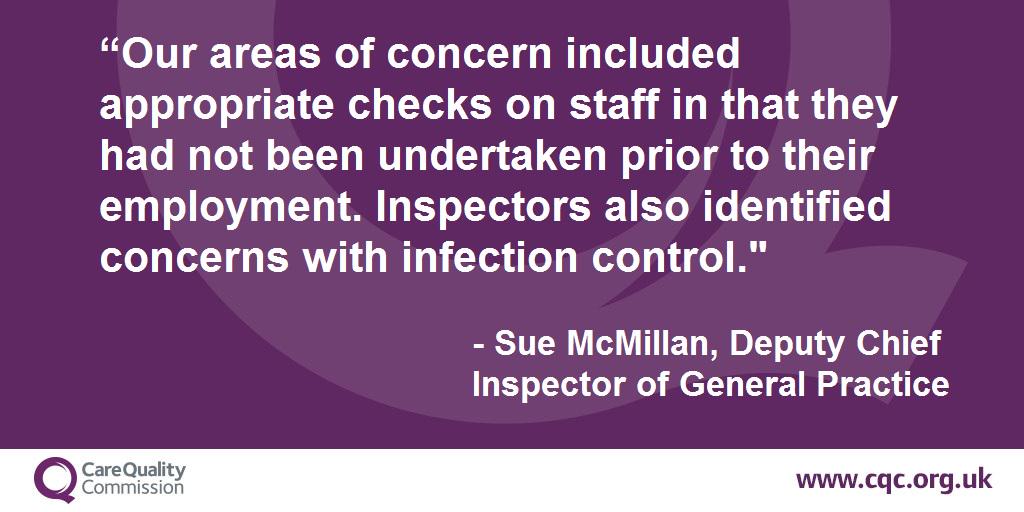 Advertisement
Kier Construction has released the following response to the statement from Dumfries and Galloway Council.
The statement has been agreed between Dumfries & Galloway Council and Kier:
Kier has met with Dumfries & Galloway Council for mediation discussions.

Under the rules guiding this mediation we are unable to make any further comment until this process is concluded."
– Kier Construction
The latest report on the progress of works being carried out and the detailed project programme will be presented to Full Council on 19 October 2015.

The complexity of the project means that this has been a time consuming exercise, not just through the planning of remedial works but also through the accompanying legal case against the original contractor, Keir Construction.

As will be appreciated, the Council is working to have all strands of the project and accompanying legal case in place before taking any decisions on the way forward.

This will form the basis of a robust case, ensuring that we are in the best possible position to recover all costs relating to the building and subsequent closure of the site.

The temporary facilities that have been put in place to ensure no loss of service for DGOne customers have been a resounding success, with around 71,700 visits to the pool at the Ice Bowl. These facilities will remain in place for as long as they are required.

We anticipate that work will begin on the DGOne site as soon as possible after the Council makes a decision.
– Dumfries and Galloway Council spokesperson
Dumfries and Galloway Council are being criticised after a one year delay in repairs to the town's largest leisure centre.
DG One was closed last October for repair work after years of problems.
The council say they're in an ongoing legal case with original developer Kier Construction.
NHS Borders have put the high level of cancelled operations in August down to a failure in a specialist ventilation system used in the operating theatre.
Explaining the health board's commitment to patient safety, Evelyn Rodger, Director of Nursing, Midwifery and Acute Services said:
I recognise that a cancelled procedure is extremely frustrating for a patient and their family. The safety and clinical needs of our patients will always be considered first.

The failure of the laminar air flow system has had quite an impact on our theatre cancellations this month. Immediate action was taken to fix the problem with this highly specialist piece of equipment, but it did mean that one of the theatres was out of action for four days.

August also saw a high number of emergency admissions requiring surgery, which meant that in nine cases, the emergency procedures took clinical priority.

No one takes a decision to cancel a procedure lightly – it matters too much to our patients - and a dedicated piece of work is underway to improve our performance in this area."
– Evelyn Rodger, Director of Nursing, Midwifery and Acute Services
Jim Hume, Scottish Liberal Democrat MSP for South Scotland and health spokesperson, has said that the SNP Government needs address why NHS Borders is continuing to cancel operations for non-clinical reasons.
The comments came after the numbers released show the percentage of cancelled operations in NHS Borders is higher than the national average.
The latest statistics show that 7.7% of operations were cancelled in the Borders due to capacity or non-clinical reasons in August, twice that of recent months (3.8% in July and 3.9% in June).
Questions need to be asked of the Health Secretary as to why NHS Borders is continually being forced to cancel operations due to capacity or non-clinical reasons, and why there's now a doubling of cancellations since June.

Clearly the SNP Government isn't putting enough support where it should be, resulting in staff shortages and added pressure on existing staff. That's no good for patient health and safety, and it's no good for staff morale.

A lack of support from the SNP government means our hard working NHS staff are consistently being asked to do more with less, and patients are being made to take the hit through cancelled operations."
– Jim Hume, Scottish Liberal Democrat MSP
Advertisement
A national children's charity is calling on the parents of disabled children in Cumbria to get in touch.
It's after a generous donation of funds has allowed them to provide life changing specialist equipment free of charge.
Caudwell Children, who provide practical and emotional support to disabled children and their families, has received funding from a number of grant bodies and Trusts, to provide three therapy tricycles.
The national charity is now appealing for families in Cumbria to come forward and apply for the equipment.
The tricycles cost between £800 - £1,500 and are individually designed to meet the needs of each disabled child
They will help with physiotherapy to build muscle tone whilst encouraging children to play and have fun.
They also help with the growth and development of children with disabilities, enabling them to keep active and retain their independence.
Mark Bushell, from Caudwell Children, said:
We donate hundreds of life changing therapy tricycles to disabled children throughout the UK each year, but we currently have no applicants in Cumbria.

Disabled children get huge physical and emotional benefits from having the specially adapted tricycles, which are each custom made to suit the individual child's needs.

As well as providing regular exercise and physical therapy, the tricycles give children a renewed sense of inclusion which improves self-esteem and confidence.

We are desperate to hear from anyone caring for a disabled child who will be able to benefit from the tricycles."
– Mark Bushell, Caudwell Children's charity
Pupils from a Scottish Borders school will be trying to impress a legendary celebrity chef with their culinary skills today.
Albert Roux is judging Kelso High School's Rotary Young Chef Competition.
There are sixteen pupils competing. They will cook a two-course meal with the hope of being crowned the winner.
The Public Health team at Cumbria County Council have welcomed a new law which bans people from smoking in cars in which children are present:
Their airways are less developed, they breathe more rapidly and obviously in a situation like a car they're in a very, very small enclosed space. We wouldn't allow it on public transport, why would we allow it in a car?"
– Paul Musgrave, Public Health Cumbria County Council
Load more updates