Two Cumbrian nurses have raised over £3,000 for charity after running the London Marathon last weekend.
Cardiology nurse Charlotte Treloar completed the race in 4 hours and 36 minutes, raising almost £2,000 so far and staff nurse Hannah West completed in 4 hours and 57 minutes and raised over £1,000. Both work at North Cumbria University Hospitals NHS Trust.
Charlotte Treloar is raising money for the British Heart Foundation. Her partner's niece, Phoebe, had open heart surgery at just two weeks old, and is one of the youngest people to receive such an operation.
Hannah, who works at the Assessment and Therapy Centre (ATC) ran to raise funds for Stroke Association in memory of her granny. Also, there are many stroke clinics in ATC so this charity is very close to Hannah's heart.
Charlotte said:
I'd like to say thanks to everyone who supported and encouraged me, especially staff and patients on the cardiology floor, who all helped raise around £500."
– Nurse Charlotte Treloar
The North Cumbria University Hospitals NHS Trust has appointed a new non-executive Director.
David Rawsthorn has been appointed from 1 April 2016 until 31 March 2018.
I am very much looking forward to my new role and to contributing positively to the effective provision of safe health care in north Cumbria.

"I am new to the NHS which means I can offer a fresh perspective whilst applying my previous experience from local government. This is an exciting time to be joining the board. People in north Cumbria deserve the best possible healthcare and the Trust is working hard to ensure this is in place."
– David Rawsthorn, Non-Executive Director of North Cumbria University Hospitals NHS Trust
Advertisement
Junior doctors in Cumbria are striking for the second day - the first all out strike in the history of the NHS.
Dozens of outpatient appointments have been cancelled in the north of the county, while in South Cumbria some routine operations have been postponed.
Junior doctors in Cumbria are in the midst of a two-day strike. They say the new contract will put doctors off working in the county.
Read the full story ›
Nicola Sturgeon has penned her response to the junior doctors contract in an open letter to David Cameron.
It highlights that The Royal Collages based in Scotland are concerned that the decision to impose the junior doctor contract risks the retention of world-class medical workforce throughout the UK.
The letter ends with a plea to Cameron, to reconsider the current position and return to negotiations with the BMA.
Sorry, this content isn't available on your device.
Health secretary has denied stopping strike action by junior doctors is "in his hands", accusing the British Medical Association of trying to "blackmail" the government.
Jeremy Hunt asked on BBC Breakfast: "Is it proportionate, or appropriate to withdraw emergency care?"
The Health Secretary said: "It was the first page of our manifesto that we'd have a seven-day NHS.
"I don't think any union has the right to blackmail the Government, to force the Government to abandon a manifesto promise that the British people have voted on."
Advertisement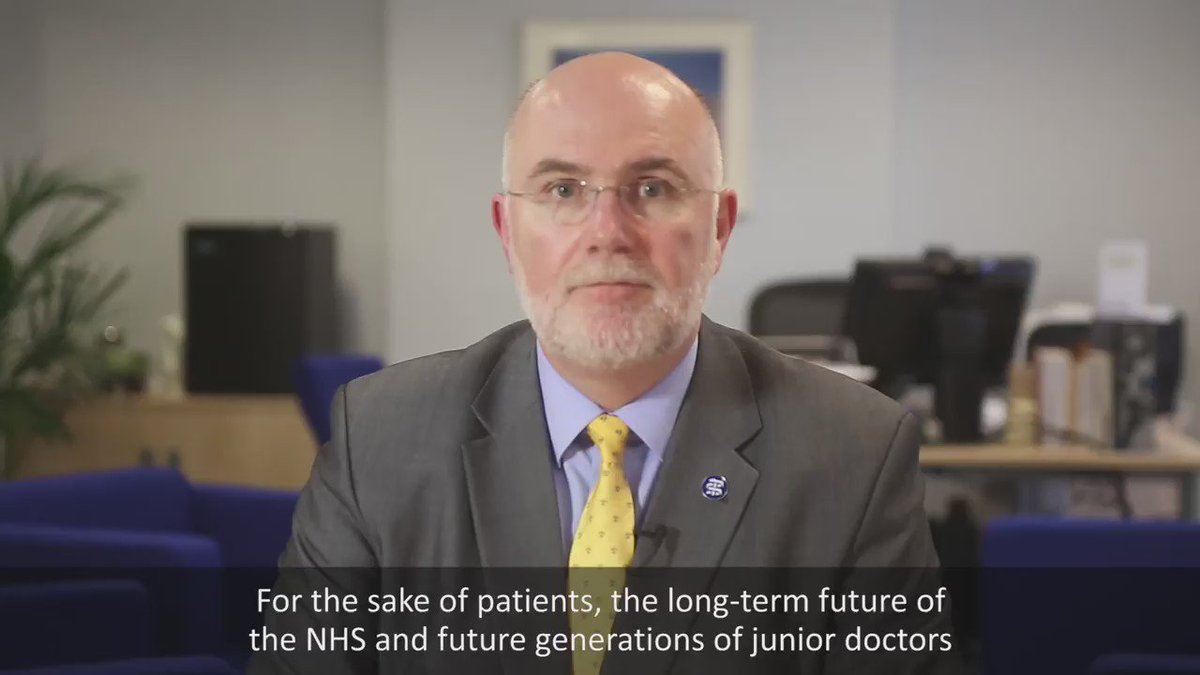 9.50am: The Health Secretary must put patient care before political dogma, the chairman of the British Medical Association said.
In a video posted online, Mark Porter said this was needed for the long-term future of the NHS and the future of junior doctors.
Union leaders have said junior doctors will not be held responsible for any deaths as as a result of today's all-out strike.
A letter on the British Medical Association website says it is down to employers to ensure patient safety and not individual medics.
Thousands of junior doctors have staged a two-day walkout starting from 8am and 5pm on Tuesday and Wednesday.
Striking junior doctors have formed a picket line outside the Cumberland Infirmary, as they begin a two-day full-withdrawal of labour in protest against a new contract.
Sorry, this content isn't available on your device.
Hospital managers in Dumfries and Galloway are not expecting the junior doctors' strike in England to impact on services in the south of Scotland.
NHS Dumfries and Galloway say they do not expect any overspill of patients from Cumbria, where around 80 appointments have been cancelled.
Load more updates