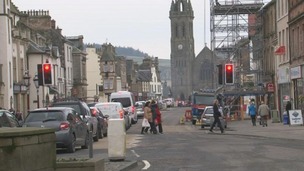 The creative community in Peebles are celebrating after coming top in a competition to find Scotland's most creative places.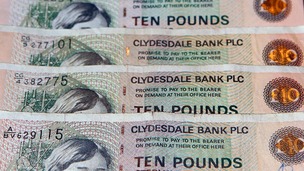 The latest poll suggests voters will base their decisions on whether they think Scotland's economy would be better or worse off.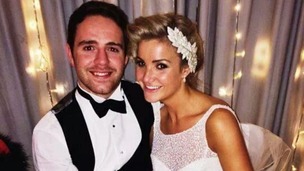 The church where Cumbrian TV presenter Helen Skelton married her husband Richie Myler has been given a £70,000 grant towards repairs.
Live updates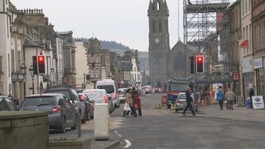 The creative community in Peebles are celebrating after coming top in a competition to find Scotland's most creative places.
Read the full story
Creative cash boost for Peebles
A cash prize for a creativity award for Peebles will be spend on a series of monthly art festivals in the town.
Peebles has won an award for being the most creative place of its size in Scotland, along with £100,000.
Those behind the bid plan to spend it on a creative action plan running from March to December.
Each month will concentrate on a particular theme, such as music, literature or crafts.
The programme will also work with festivals already held in the town, such as the Arts Festival and the TweedLove biking festival.
Advertisement
BoE currency talks with Salmond
National
Scotland's First Minister will have face-to-face talks with the latest Bank of England governor for the first time today. Alex Salmond and Mark Carney are due to meet in Edinburgh.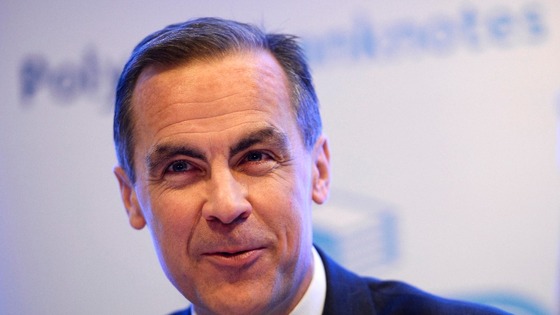 Mr Carney is also giving a speech in the capital, in which the issue of a currency union between an independent Scotland and the rest of the UK will be addressed.
Mr Salmond's Scottish Government has put forward plans for Scotland to retain the pound if the country votes for independence in September's referendum, establishing a "sterling zone" with the UK.
88 sites in South Cumbria have been earmarked to create 1000 new affordable homes and 1000 better-paid jobs in the area.
South Lakeland District Council is one of only a few councils in the country to find land for development, rather than waiting for developers to propose sites.
Fiona Marley Paterson reports.
There have been protests over Council plans to remove play equipment from 21 parks around Carlisle.
The City Council says it cannot afford to maintain all of its playgrounds and has decided to invest in the most popular ones.
Some people living near the parks which will be losing their play areas are angry and concerned.
Decision day for Dumfries control room
Police Scotland have said the move from eight forces to a single service - including the closure of a control-room in Dumfries - has allowed it to review how it responds to 999 and 101 calls.
It said the proposals were the result of a comprehensive review and will result in "growth in capacity and staffing across the locations which are being retained".
At present 1,495 police officers and police staff work in its control-rooms and service centres.
Staff affected will have options including relocation to the remaining centres, consideration of early retirement or voluntary redundancy, or redeployment to other roles with Police Scotland.
Compulsory redundancies will not be applied.
"Moving to fewer, larger centres will enhance our capability to respond to day-to-day incidents, as well as complex and large-scale emergencies, with increased availability of staff, better technology and easier and faster ways to share information.

"Those sites being retained will be expanded and modernised, with new ICT systems introduced to enable staff to use previous contact information to better identify a caller's needs and allow us to offer improved channels of communication."
"The changes will be introduced incrementally, allowing us to monitor each one closely and ensure that public service is not impacted on during the changes. Once complete, this change will improve the service our communities receive.

"Improvements in technologies will allow our staff to identify the location of an incident and the nearest police resource, whether that is a local beat officer, a firearms officer or a specialist detective, using GPS technology.
"We will maintain local knowledge through the retention of highly-experienced staff, maintaining local public assistance desks operated by local officers and the effective use of new technologies and ongoing staff training.

"Most importantly, the officers attending the incidents will be the same officers, working from local police stations, who have extensive knowledge of the local area."
– Chief Superintendent Val Thomson
Advertisement
Proposals to close a number of police control-rooms are expected to result in the loss of 150 to 200 jobs, according to a trade union.
A two-year plan from Police Scotland would see the number of control-rooms which deal with emergency calls reduced to five, Unison has said.
The union says that 300 jobs are at risk, with between 150 and 200 expected to go.
Union members were contacted this morning with details of the "strategic direction" due to be discussed at a meeting with the Scottish Police Authority next week.
The proposal set out plans for the following closures:
Dumfries to close in April 2014
Stirling to close in December 2014
Glenrothes to close in March 2015
Pitt Street station in Glasgow to close in March 2015
Aberdeen to close in December 2015
Unison says the plans also include changes to the balance of police officers and support staff working in control rooms, to 45% officers to 55% support staff - a move it "strongly opposes".
The short notice of the Dumfries closure has also been called particularly "unfair and unreasonable".
"This is bad news for up to 300 families.

"That we have 300 people's jobs at risk in this time of economic uncertainty is devastating."
– Gerry Crawley, Unison's Scotland regional organiser
Benefits worth almost £58,000 have been secured to help older people in Carlisle who faced falling into debt and losing their homes.
Norma McCrone is one of Riverside Housing Association's tenants who has been helped over the past year by a scheme where volunteers visit people who potentially qualify for help.
Norma, who has trouble walking and cannot get out often, received an attendance allowance on top of her pension to help pay for support with things like cooking and cleaning.
Parks across Carlisle and surrounding towns and villages could lose their play equipment as part of latest cost-cutting measures.
Carlisle City Council runs 69 play areas across the city and is looking at removing play equipment from almost a third of them as it cannot afford to keep it maintained.
Almost £60,000 pounds is being spent upgrading other parks, the council say the decision has been made based which are most used.
The parks affected will be re-landscaped and emptied of play equipment.
The council say these areas will provide environments for 'imaginative play'.
Figures released this week have shown that unemployment in Cumbria rose in December despite a fall across the UK.
The number of jobless in the county rose to 6,363 - which is a rate of 2.1 per cent - 0.1 per cent rise on November's figures.
However, this is still significantly below the UK unemployment total of 7.1 per cent.
Load more updates