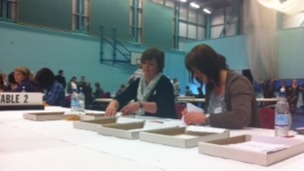 The latest results for the Cumbria county council elections.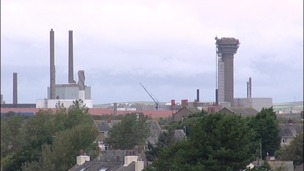 Report calls for sense of urgency to tackle problems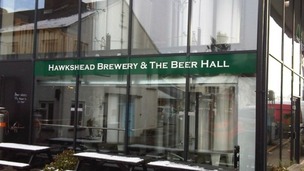 Businesses from across Cumbria will be heading down to Westminster to take part in the first Cumbria Day.
Live updates
Labour and Lib Dems coalition for Cumbria County Council
A Labour and Liberal Democrats coalition is set to lead Cumbria County Council.
It follows a week of uncertainty after the local election results and will replace the former Labour-Conservative administration.
It is expected that six Cabinet seats will go to Labour and four will go to the Liberal Democrats.
The leader of the council will be named at a full council meeting on Thursday.
Latest: Local county council elections
Talks over political make up for Cumbria County Council
Talks are to take place next week between the Labour group and other parties after Thursday's election led to it securing the biggest number of seats at county level in Cumbria.
It's expected that a deal will be done ahead of the first full council meeting of the new administration on 16 May.
A new leader of the authority and details on the make up of the administration will have to be agreed.
Labour are the biggest party in the county with 35 seats; the Conservatives have 26 and the Liberal Democrats 16.
The remaining seven seats went to independents and other parties.
Advertisement
Scottish Borders by-election
Result is a "victory for independent politics"
Outgoing Leaderdale and Melrose Councillor Nicholas Watson says the result in the by-election shows that voters are looking for more local representation, after his party colleague Iain Gillespie won his seat.
Mr Watson has moved to Cumbria to continue working as a clock maker and farmer.
"It is gratifying to know that the Borders Party isn't just about me and my colleague Sandy Aitchison, it is also about an idea whose time has come, people are fed up with national politics in local government and people really want to put in local government, they really want to revive independent politics."
– Nicholas Watson, Outgoing Leaderdale and Melrose Councillor
Scottish Borders by-election
Scottish Conservatives: "Voting system worked against us"
The Scottish Conservatives missed out on the Leaderdale and Melrose by-election seat.
Candidate Rachael Hamilton topped the ballot on the first preferences transfers under the Single Transferable Voting system, but lost the last stage to The Borders Party's Iain Gillespie.
"While I am obviously delighted to have come so close to getting elected, the system in this instance has worked against me.

"To receive the highest number of first preference votes sends a positive message about the amount of Conservative support in Leaderdale & Melrose.

"It is a shame that the voting system has cost us, and that despite being most people's preferred candidate transfers have meant that we have missed out. It does show however that despite results elsewhere in the UK, the Conservatives are making gains here in the Borders."
– Rachael Hamilton, Scottish Conservative Candidate
Scottish Borders by-election
Leaderdale and Melrose councillor elect "delighted"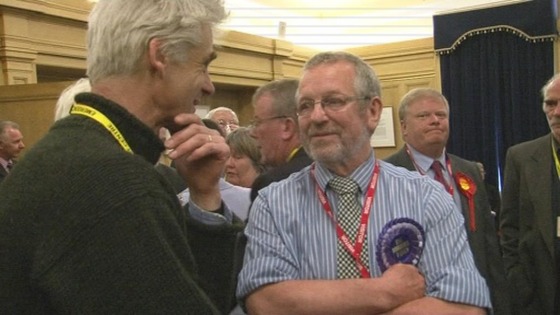 The result means The Borders Party maintain two seats on Scottish Borders council.
Iain Gillespie says he was surprised but delighted by the result:
"It has always been my attitude that the Borders Party are there for the Scottish Borders people, and hopefully this is building on the success of Nicolas Watson and Sandy Aitchison and hopefully it will go on from there.
"We are not a political party, we have no place in Westminster or Edinburgh, and simply my interest was and always has been the Scottish Borders."
Latest: Local county council elections
Cumbria County Council has a hung council
All results for the local county council elections are in and Cumbria County Council has a hung council, with no one party in overall control.
The summary of the results are:
Labour 35 seats
Conservative 26 seats
Liberal Democrat 16 seats
Independent/No party 7 seats
Advertisement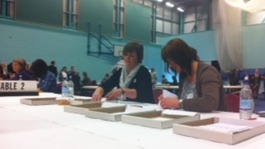 Latest: Local county council elections
Liberal Democrat Neil Hughes takes Eden Lakes from Conservative Tom Lowther.
Conservatives hold Greystoke & Hesket and Penrith Rural.
Scottish Borders by-election
Borders by-election result
The by-election result for the Scottish Borders is in, and the elected candidate for Leaderdale & Melrose is Ian Gillespie, The Borders Party.
Latest: Local county council elections
Election results coming in
Conservatives hold Penrith West by 31 votes, Penrith North by 141 votes and Liberal Democrats hold Penrith East by 512.
Load more updates