Westmorland and Lonsdale MP Tim Farron has used his Christmas message as Liberal Democrat leader to call for action for Syrian refugees.
He said:
"Let's just imagine that the UK was a war torn and terrible place to live...let's imagine that we fled with our children or sent them on ahead of us because it was the safest thing...what would we want those countries to do for us? And if you can imagine the answer to that then you know what the right thing for Britain would be to do."
– Tim Farron's Christmas Message
The latest episode of ITV Border's Scottish political programme, Representing Border, looks at the issues from Holyrood and Westminster that matter to the South of Scotland.
Advertisement
Jamie Reed will step down as MP for Copeland when he takes up his new position at Sellafield on February 1st 2017. Mr Reed is taking on the role of Head of Development and Community Relations, where he will report directly to Chief Executive Paul Foster.
But when can we expect a by-election? Below is the timetable of events when an MP resigns.
Reasons for by-elections:
A seat becomes vacant during the lifetime of a Parliament either when an MP resigns from Parliament, for example to take up a job which by law cannot be done by an MP, or because an MP has died. The law also allows a seat to be declared vacant because of a Member's bankruptcy, mental illness or conviction for a serious criminal offence.
A by-election does not automatically take place if an MP changes political party.
Until a new MP is elected, constituency matters are handled by an MP of the same party in a neighbouring constituency.
'Moving the Writ'
Traditionally the Chief Whip of the political party whose MP held the vacant seat will begin the procedure for a by-election. This is known as 'moving the Writ' and takes the form of a motion in the House of Commons.
By-election timetable
A new Writ is moved within three months of the vacancy occurring. There have been a few instances of seats remaining vacant longer than six months before a by-election was called. Seats have also been left vacant towards the end of a Parliament to be filled at the general election.
If there are several vacant seats then a number of by-elections can take place on the same day.
The Conservative MP for Carlisle, John Stevenson, says he hopes that Jamie Reed's replacement will be somebody who is pro-nuclear.
Mr Stevenson said he was sorry to hear of Jamie's resignation after working together on many cross-party campaigns.
He said that it's important for the new Copeland MP to understand the importance of Sellafield and NuGen.
The latest episode of ITV Border's Scottish political programme, Representing Border, looks at the issues from Holyrood and Westminster that matter to the South of Scotland.
Jamie Reed insists his decision to step down as Copeland MP was not down to Jeremy Corbyn. Speculation into his replacement is now underway.
Read the full story ›
Advertisement
South Lakes MP Tim Farron, has told ITV Border he's surprised that Jamie Reed is stepping down as an MP.
The Leader of the Liberal Democrats said he's also disappointed, because he's enjoyed working with Mr Reed over the years, but looks forward to working with him in his new role.
The Leader of the Labour Party, Jeremy Corbyn MP, has given his reaction to Jamie Reed's resignation.
In a statement he said he was sorry to hear the Copeland MP was standing down and wished him all the best for the future.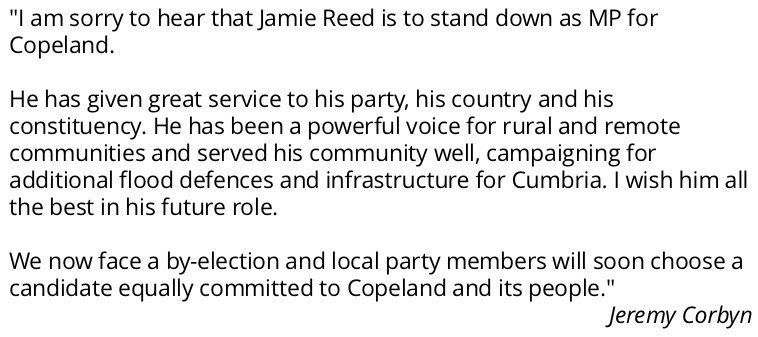 The Conservative Party Chairman, Patrick McLoughlin, says the party is sorry to see Jamie Reed leaving Parliament.
The Copeland MP announced his resignation in a letter to Jeremy Corbyn on Wednesday afternoon.
"We are sorry to see Jamie Reed leaving Parliament, but congratulate him on his new job, and what must have been a very difficult decision for him and his family.

"It is a sorry state of affairs when talented Members of Parliament like him no longer feel comfortable representing Jeremy Corbyn's Labour Party – a divided party run by a leader who opposes Trident and wants to dismantle our Armed Forces.

"We look forward to the by-election, and the opportunity to set out how the Conservatives are building a country that works for everyone, not just the privileged few."
– Patrick McLoughlin MP, Conservative Party Chairman
Below is the full letter from Jamie Reed to Jeremy Corbyn, as he announced his resignation.
Dear Jeremy,

It has been an honour to have been elected to represent the people of Copeland in Parliament at the last three general elections as a Labour MP. It has been a privilege without compare to serve the community that I was born and raised in.

From the end of January 2017, I will cease to serve as the Member of Parliament for Copeland in order to join Sellafield Ltd as its new Head of Development & Community Relations.

This is an important role that will build upon my work in Parliament and my previous time at Sellafield and allow me to continue to help the community and industry of West Cumbria to meet the challenges of the future.

I am proud of what I have achieved over the past 12 years with the help and support of the Copeland community and the last Labour government.

Together we built, schools, town centre developments, university facilities, dental surgeries, healthcare centres and a new West Cumberland Hospital of which I am most proud. This is the hospital where my four children were born and which saved my life in 2010 when admitted to intensive care as a result of undiagnosed Type 1 diabetes. Universally accessible, high quality local health services, free at the point of use must always remain central to our political mission

West Cumbria now has its best days before it and – thanks to all our hard work – Copeland will soon become one of the fastest growing areas of the UK economy. I look forward to being part of this development in my new role.

I am indebted to all those who have supported, advised, assisted and encouraged me over the years. I am particularly grateful to the Copeland Labour Party and the hardworking, dedicated, decent people who sustain it.

In our country and in my community, the Labour Party remains the greatest movement for social and economic progress we have ever seen or are ever likely to see.

The ambitions of Copeland, and other communities like it, are always best served by a Labour government that seeks to renew our nation and which redistributes power, wealth and opportunity.

I have long argued that our national politics must meet this challenge so that communities like mine – far removed from our major urban centres – can shape our own futures. I hope that the next Labour government will help to deliver this.

Now that our country has voted to leave the European Union, we need a Brexit that works for communities like Copeland, and one that works for the whole of our country.

I love my community and I love the Labour Party. Leaving Parliament is the hardest decision of my life.

Communities like mine have felt the painful impact of Conservative policy more than other areas of the country: in local government, in education, in infrastructure investment but most of all within the NHS. We desperately need a Labour government so that communities like mine can build the future they deserve

I wish you every success in your endeavours to become our next Labour Prime Minister.

Yours sincerely,

Jamie Reed

Member of Parliament for Copeland
– Jamie Reed MP
Load more updates