Alex Salmond is visiting the Scottish Borders today.
He'll be in Melrose to talk about the benefits the new Borders Railway will bring to the region.
The outgoing First Minister will be replaced by Nicola Sturgeon later this week.
Delegates from the South of Scotland joined more than 1,200 delegates at the SNP conference in Perth this week.
Perth Concert Hall was packed as the first conference since the Scottish referendum got underway.
But despite a 'No' vote in September, there is a growing support for the party in Dumfries and Galloway and the Borders, as Kathryn Samson reports.
Advertisement
Nicola Sturgeon has appealed to 'No' voters to support the SNP in next years' Westminster election. In her first speech as party leader she said the SNP was Scotland's Party.
She appealed to 'those beyond our party ranks' to support the party next May, to gain more powers for Scotland.
Alex Salmond has stepped down as SNP leader with a prediction that his successor, Nicola Sturgeon, will "make history" and secure independence for Scotland.
Scotland has now "changed utterly" as a result of the referendum vote he said.
He hailed Ms Sturgeon - who will be Scotland's first female first minister - as a "woman of extraordinary talent".
Mr Salmond told his successor: "Nicola, your contribution to where this party now stands has already been immense. "Your future contribution - I have no doubt - will be to make history."
He told the conference the "dream" of independence was "alive and well and will succeed".
Mr Salmond said that in the referendum - in which the Yes campaign secured 45% of the vote - Scotland had risen to "the challenge of change".
He said: "The people will not disappear back into the political shadows and the nation will not fade into the dark. This country has changed and changed utterly.
"That is the change which will carry us forward - forward to independence."
John Swinney, the Scottish Finance Secretary, has said it has 'been a joy' to sit at Alex Salmond's side.
In a speech at the SNP conference in Perth, Alex Salmond said that the Finance Secretary was 'Scotland's Merlin'.
A great final #FMQ performance from @alexsalmond. It has been a joy to sit at his side since 2007.
Advertisement
Alex Salmond has used his final speech as SNP leader to proclaim that "Scotland will become an independent nation".
The referendum vote was 45%, not 55%, but let us proclaim what each of us knows now iwth a greater certainty than ever before. Scotland will become an independent nation.
– Alex Salmond.
He also hailed a recent surge in the party's membership, telling delegates that the SNP now had 85,000 members.
"If the Westminster gang renege on the promise they will discover hell hath no fury like a nation scorned" - @alexsalmond
"It must be infuriating for out unionist opponents to see us lose the referendum and then go on to prosper " @alexsalmond #snp14
Labour didn't trust Scotland, and now Scotland doesn't trust Labour. Says @alexsalmond #snp14
Sorry, this content isn't available on your device.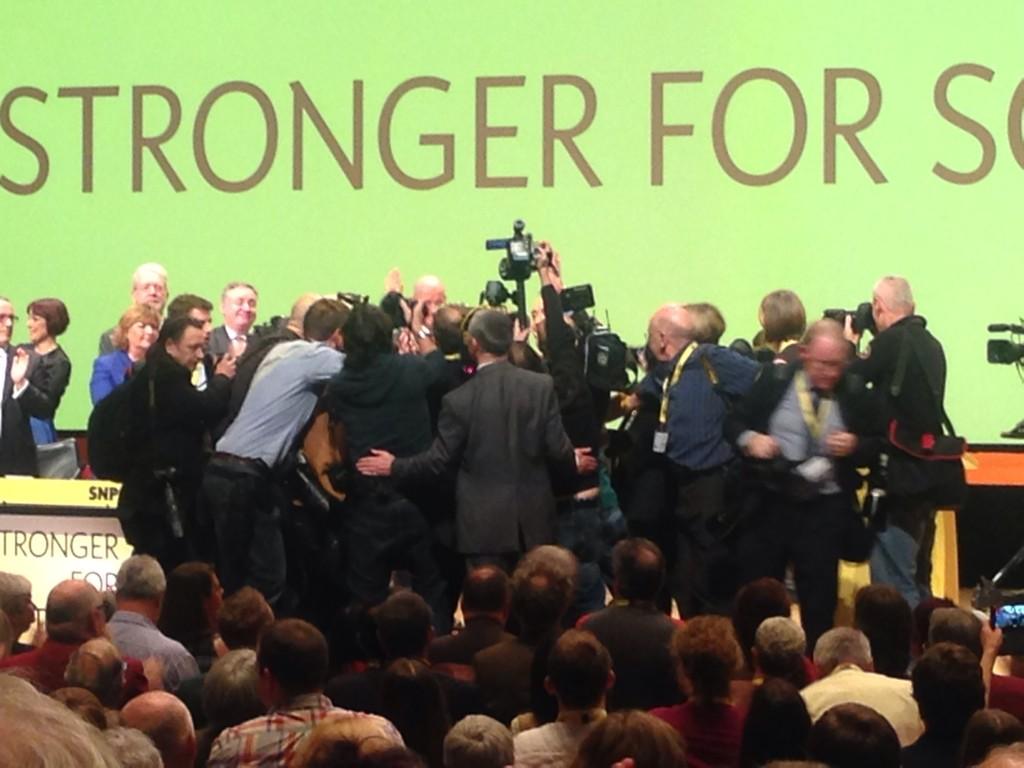 The Scottish Finance Secretary, John Swinney, has been called 'Scotland's Merlin' by Alex Salmond, who is speaking at the SNP conference in Perth.
Alex Salmond, speaking at the SNP conference, has said that Scotland "will become an independent nation".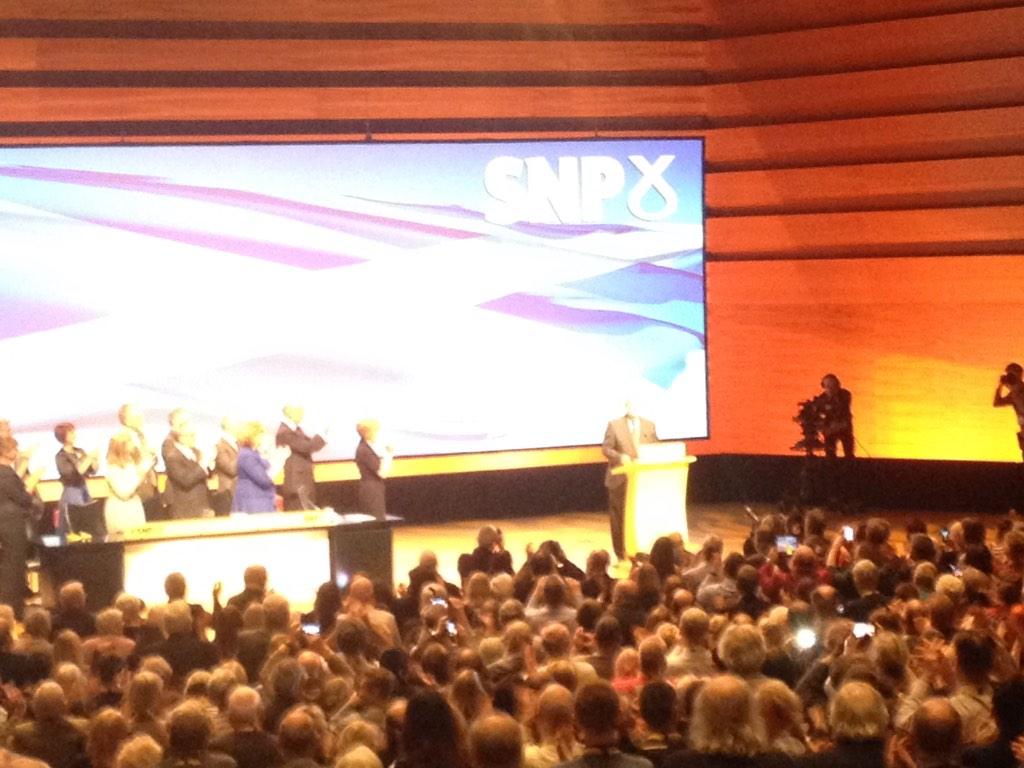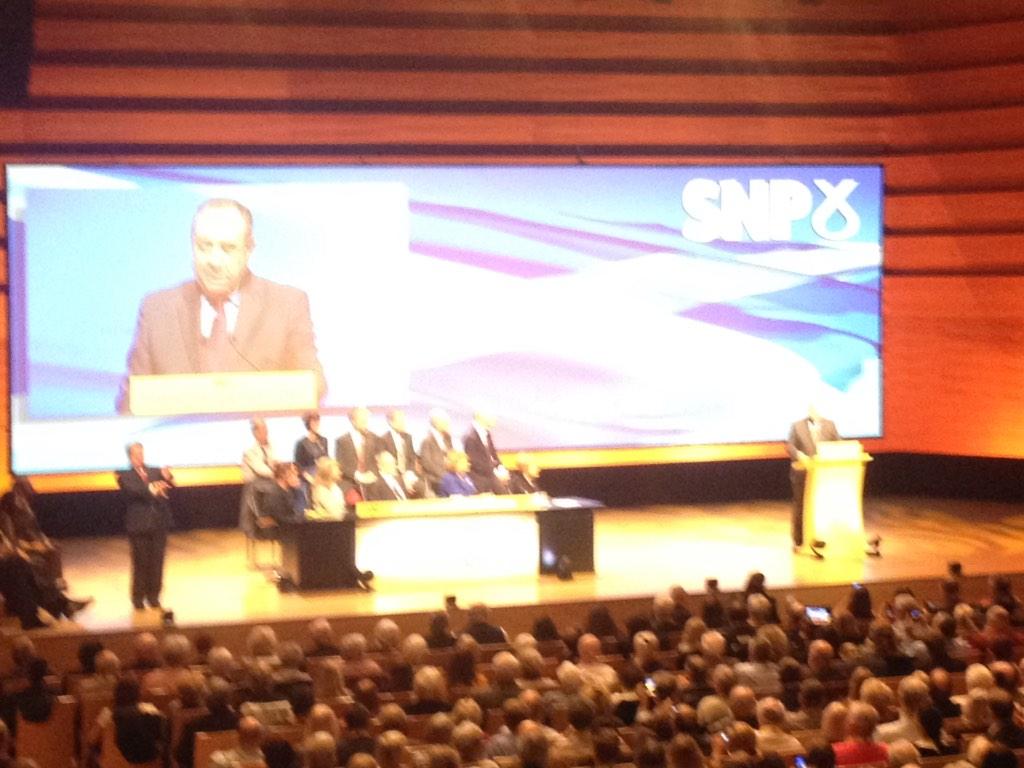 Load more updates