RPA strikes
More than 300 staff at Rural Payments Agency will go on strike today as part of a national day of action in support of the PCS union.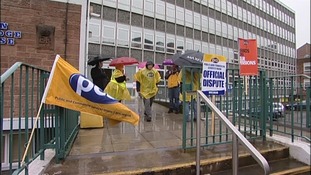 PCS members at the Rural Payments Agency have gone on strike as part of a national protest against pension reforms.
Read the full story
David Niven from the PCS Union spoke to ITV Border about why the strike is going ahead, and what kind of action is being planned after today.
Advertisement
More than 300 staff expected to strike outside Rural Payments Agency in Carlisle. It's part of national day of action. The PCS union are striking over what they have called a 'disgraceful attack' on their pensions.
Back to top