New drink drive limits
Drink drive limits for Scotland are to be lowered.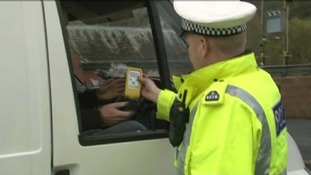 The Scottish Government have said they want the drink drive limit there to be lowered 'as a priority.'
Read the full story
Advertisement
The drink drive limit in Scotland is set to be lowered.
Currently, drink driving accounts for around 30 deaths on roads in Scotland each year.
Midlothian South, Tweeddale and Lauderdale MSP Christine Grahame says the SNP proposals will cut that number.
"I think the message is, one small glass of white wine, why take the risk, it might just take you over. I think people need to remember that drinking the night before or drinking in the afternoon on a sunny day, can in fact still affect you in the evening if you were to be breathalyzed, so people have to be warned about it. I think in the interest of all those car accidents, those near missed, those crashes, it is worth doing."
– Christine Grahame MSP

Lothian and Borders Police reiterate that the message is simple; just don't drink before you get behind the wheel. Inspector Brian Jones says:
"If you are going out at all, and you think you have to drive, do not drink. Don't take one drink. Drink limits are really designed for being involved with cuisine.So if you are think about going out at all, arrange other ways of getting home safely, call a taxi. Especially the morning after, people forget how strong alcohol actually is, and it can carry on for the next again morning. If you need your licence for your livelihood we say, just don't drink and drive."
– Lothian and Borders Police
Safety campaigners have welcomed plans to lower drink-drive limits in Scotland. The proposals to lower the limit from 80mg of alcohol per 100ml of blood to 50mg will be brought forward later this year.
That means a single glass of wine would put motorists over the drink-drive limit. Sarah Fatica, general manager at Brake, the road safety charity, said:
"We're pleased that the Scottish Government is taking heed of the warning that road safety charities and the EU are sending out about the current drink-drive limit. It's certainly a step in the right direction and one that we commend, and we would like to see the British Government also lowering the drink-drive limit. However, a 50mg limit does still leave some level of confusion for the general public about what is safe. If we could have a zero-tolerance approach to drink driving, lives would obviously be saved."
– Sarah Fatica, Brake
Back to top