A75 cash
The Scottish Government has pledged £20 million ro repair stretch of A75 which has been responsible for several deaths in recent years. But some campaigners say they're still not convinced the cash will appear.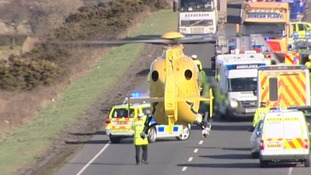 The family of a baby who was killed in a car accident on the A75 have spoken of their relief to the news that the road's to be upgraded.
Read the full story
Advertisement
£20 million has been put aside to upgrade a stretch of the A75 which has been the site of many fatal accidents including one recently which claimed the life of a baby.
There has been numerous calls for improvements to the road between Hardgrove and Kinmount and now Finance Secretary John Swinney has said work will start 'at the turn of the year' and cost about £20m.
Back to top