Annan prepares for historic Rangers clash
Annan Athletic take on the might of Rangers this weekend, expecting a record sell-out crowd at Galabank.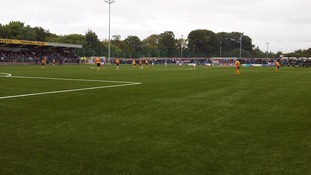 First sell-out game in Annan's history as the club play host to fallen giants, Glasgow Rangers
Read the full story
Thousands of football fans are arriving at the Galabank Stadium in Annan ahead of the match against Glasgow Rangers.
Over 2,500 tickets were sold, 1,000 of those travelling are Rangers fans. It's the first in Annan Athletic's 70 year history that a game has been sold out. A David versus Goliath match Annan Athletic hope to do one better than Berwick and beat the fallen giants.
Advertisement
Pubs, hotels, shops and cafes in Annan are preparing for a lucrative weekend as thousands of Rangers fans visit the town.
Annan Athletic will play the Glasgow giants on Saturday afternoon for the first time in the club's history. It follows Rangers' demotion to Division 3 in the summer, after the club went into administration last season.
The match is already sold out, with 2,400 fans expected.
"This is by far the biggest game in the club's history. The atmosphere is going to be fantastic not just at the ground but in the town. Annan can't wait for tomorrow to come."
– Henry McClelland, Annan Athletic chairman

Annan were only accepted into the Scottish Football League in 2008, the same year Rangers played in the UEFA Cup Final, and had just recorded a domestic cup double.

Like most other clubs, Annan voted against letting the 'newco' Rangers jump into Division 1.
Back to top