Longtown MOD delegation to meet minister
A delegation consisting of county councillors and union representatives will travel to London to meet the new transport minister. They want to persuade Philip Dunn to keep the MOD site at Longtown open and safeguard more than 300 jobs.
Talks are taking place this afternoon which could decide the future of 300 jobs at two munitions depots.
The Ministry of Defence wants to shut the sites in Longtown in Cumbria and Eastriggs in Dumfries and Galloway.
A delegation of trade union and Cumbria County Council members are travelling to London to meet the new Defence Minister, Phillip Dunne to try and persuade him to keep them open.
Dumfriesshire Clydesdale and Tweeddale MP David Mundell took time out from the Conservative party conference to speak to our cameras about how important a decision this is for the area.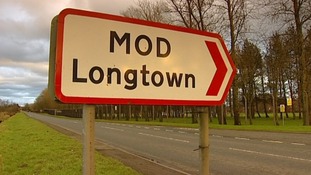 Union officials and county councillors will meet the Defence Minister in London to ask him to safeguard the future of MoD Longtown.
Read the full story
Advertisement
Back to top