Hospital hero thanked
A hospital porter who is also a Cumbrian rugby league star has been thanked for his part in bringing a woman out of a coma. The woman had been admitted to the West Cumberland hospital after a suspected heart attack.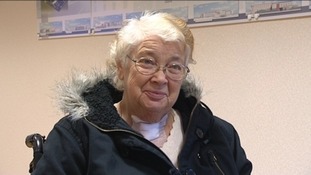 Workington Town player Marc Shackley went to visit fan Yvonne Matthews when she was in a coma. His visit helped bring her round.
Read the full story
Workington Town rugby league player and hospital worker Marc Shackley has been branded a hero after helping heart attack victim Yvonne Matthews make a rapid recovery from a coma.
Rugby fan Yvonne had been unconscious for three weeks until Marc spent time at her bedside talking sport and giving her signed photos.
Now she's back home on the road to recovery and says it's all thanks to Marc
Advertisement
Back to top