UPDATE: Egremont mine shaft collapse
More than four weeks after the collapse of an old mine shaft in Egremont, we find out if any of the nine families forced to leave their homes have been able to return.
A mineshaft which collapsed in Egremont in November will be capped today, 7th January.
Nine homes were evacuated following the collapse which saw a drilling rig disappear into a 25 metre hole.
The householders were forced to live in temporary accommodation for five weeks as Copeland Borough Council, who own the land, made the area safe.
The residents were allowed to go back home just before Christmas.
Once the mine is capped the area will then be landscaped.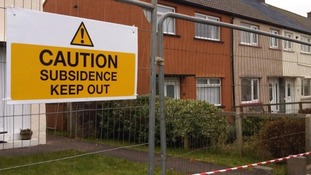 Nine families forced to leave their homes on Howbank Road in Egremont when a mineshaft collapsed have moved back in.
Read the full story
Advertisement
One couple who lived on Howbank Road in Egremont have decided not to move back into their house, as they feel it's no longer safe.
They are currently in the process of moving their belongings from their former house to their new home in Maryport.
"We decided not to move back into the house as my girlfriend doesn't feel safe anymore.

"We lived there with three young children and decided it was best to move on and start afresh. "
– Scott Moffatt, former Howbank Road resident
More than 200 tonnes of grout have been used to fill the hole that appeared behind Howbank Road in Egremont on 14th November.
Contractors Forkers will be back at the site on Monday (7th January) to put in place a permanent cap.
The work should be finished by 18th January, before work begins to landscape the area and reinstate the fields and gardens damaged when the hole appeared.
Copeland Borough Council who own the land say the grout column should stabilise the hole and keep the homes near the hole safe.
Those living in the nine homes affected were allowed back home on 21st December although some have chosen not to return.
It's been almost six weeks since an old mine shaft collapsed in Egremont, forcing nine families to move out of their homes.
The homes on Howbank Road had to be evacuated after a drilling rig being used to cap a mine with concrete, fell around 50 feet into the shaft on 14th November.
Some families managed to make it back home in time for the festive period, however some have decided not to return at all.
Back to top