Anti nuclear protest
Anti nuclear protestors marched from Seascale to Sellafield to highlight that radioactive particles have been found on west Cumbrian beaches.
Anti nuclear campaigners have marched along a stretch of beach in west Cumbria to highlight that radioactive particles have been found in the sand. They put up signs to warn people using the beach at Seascale. The notices were quickly removed by the local council.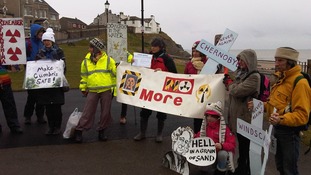 Advertisement
Anti nuclear campaigners will be marching from Seascale to the gates of Sellafield nuclear plant in west Cumbria to campaign for the safe storage of the country's radioactive waste.
In January County councillors voted against burying the waste somewhere in the west of the county. It is currently stored in above ground containers at Sellafield.
Our focus will now be on ensuring the waste stored at Sellafield is kept in suitably safe conditions - in line with the recommendations of Cumbria County Council Cabinet's decision and the National Audit Office findings.

"In partnership with Radiation Free Lakeland, we are holding a 3-fold event on March 9th which will be:
– Fiona Goldie, Three weeks to Save the Lakes campaign
A celebratory walk to acknowledge the County Cabinet's NO vote.
Highlighting of the need to secure existing waste in situ at sellafield and improve storage facilities/minimise radioactive contamination of the surrounding environment
Meeting in solidarity with the people of Fukushima and marking the anniversary of the disaster
"Radiation from Sellafield affects the local environment and particles from the plant cause contamination of the the surrounding area.

"Testing of the beaches around the plant have identified high radiation levels. The authorities in Cumbria have decided against warning signs on the beach.

"We will be putting some notices up on the beach, followed by a walk to the Sellafield gates with banners to show solidarity with the Fukushima demo in London.'
– Fiona Goldie, Three weeks to Save the Lakes campaign

The demonstration starts at 10.30 at Seascale car park.
Back to top