Protest against "bedroom tax" in Cumbria
Organisers say they expect a large turn out in Carlisle and Whitehaven to protest against the Government's so-called "bedroom tax".
It's part of a co-ordinated action that will take place at more than 50 other towns and cities across the UK.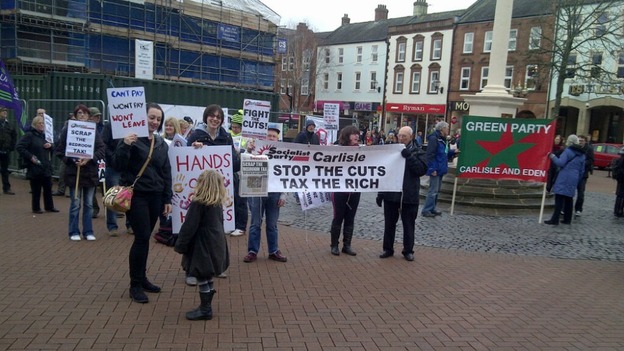 Protesters have gathered in Carlisle to show their opposition to the Government's changes to housing benefit.
Demonstrations have been taking place across the country, all timed to start at 1pm.
Advertisement
Opponents of the Government's changes to housing benefit say that there will be up to 57 protests across the UK.
The demonstrations are timed to happen at 1pm today including in the centre of Carlisle and Whitehaven.
The Government has defended its changes to the welfare system saying that the changes will help cut the £23bn annual bill for housing benefit, free up more living space for overcrowded families, and encourage people to get jobs.
But housing charities are warning that the result will be higher levels of rent arrears, and greater homelessness.
The Labour Party has dubbed the changes a "bedroom tax" but the Government insists that it is wrong to call it a tax.
They say it is a cut on a "spare room subsidy".
Organisers say that demonstrations against Government's housing benefit welfare reforms will be "peaceful".
According to a statement posted on Facebook, the leaders of a demonstration in Carlisle say that they aim to create a "family friendly" protest.
This is a family friendly protest. Our wish is to make our voice heard but in a wholly peaceful manner. Anyone with other than peaceful intentions is emphatically not welcome at this demonstration. We anticipate a high proportion of elderly and disabled participants to be in attendance and ask that they be given due courtesy and respect on the day. "
– Carlisle Bedroom Tax Protest - Facebook posting

Welfare reforms will cut the amount of benefit that people can get if they are deemed to have a spare bedroom in their council or housing association home. The new measure will apply from April 2013 to tenants of working age.

This week the Government announced exemptions for foster carers and families of armed services personnel.

But they estimate that 655,000 households will have their benefit cut, roughly a third of social sector claimants.

Opponents in Carlisle say it will affect more than 1,000 people in the city.
There are 1,181 families in Carlisle affected by the bedroom tax. This is a cruel measure which we oppose in principle and in detail. As a result, we are organising a peaceful demonstration to send a clear signal to David Cameron that we oppose this measure, and want it scrapped.
– Carlisle Bedroom Tax Protest - Facebook posting
Back to top