Economic impact of Scottish independence
The debate over the economic impact of Scottish independence continues.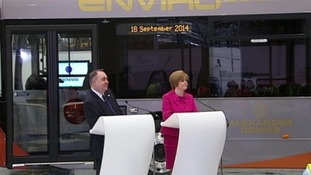 Scottish First Minister launches a new paper on the economic impact of independence.
Read the full story
The Scottish National Party have responded to claims by the No campaign that savers and pensioners would be at risk in an independent Scotland.
Paul Wheelhouse MSP says the findings in the UK treasury report do not recognise studies undertaken by economists, that suggest an independent Scotland could cope financially.
Mr Wheelhouse said:
Advertisement
Savers and pensioners would be more at risk in an independent Scotland according to a new report by the UK Treasury.
Scottish Secretary Michael Moore says independence would make Scotland more vulnerable to a banking crisis and that it would be hard for Scotland to maintain a separate pension protection scheme.
The Scottish Government has dismissed his claims as 'flimsy' and will set out their own economic paper tomorrow.
Mr Moore said:
Back to top