Borders man trampled by cows
A 78-year-old man from the Scottish Borders has died after being attacked by a cow in the Scottish Borders.
A 78-year-old man who was trampled by a cow in the Scottish Borders has died from his injuries.
Richard Nicholson, from Duns, was attacked on farmland near Greenlaw on Sunday 25th August.
"Dad was well known and well-liked within the local community, and he will be sadly missed by all his family and friends."
– Robert Nicholson, Richard Nicholson's son
A pensioner is seriously ill after being trampled by cows near Greenlaw in the Scottish Borders.
The 81-year-old man from Duns came under attack when he took his dog into a field which contained calves.
It has prompted renewed warnings for people to take more care in the countryside.
Kathryn Sampson's full report is below.
Advertisement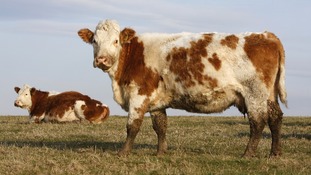 An 81-year-old man from the Borders has been seriously injured after being trampled by a herd of cows whilst out walking his dog.
The man, thought to be from Duns, is being treated for several injuries at the Borders General Hospital near Melrose.
He had been walking on farmland near Marchmount House, Greenlaw, when he was attacked.
A caretaker from Marchmount drove into the field to separate the cows and managed to get the injured man into his car.
"It happened as the man walked down the avenue in front of Marchmont House with his dog amongst cows and calves. The cows were adamant they were wanting him and the dog.

"People don't seem to realise the danger. Cows are big strong heavy animals and are very protective of their young, as any animal is.

"You want to avoid them at all costs."
– Local man
"This is an unfortunate accident and all within the farming community wish this walker a speedy recovery.

"Unfortunately this is not the first incident of this kind.

"Cows can be placid but cows protecting young calves are much less tolerant of anything in their field they might perceive as a threat.

"Dogs, no matter how well behaved, are a particular target in this repsect."
– Nina Clancy, Regional Manager, National Farmers Union Scotland
Back to top