Carlisle United 'part' with manager
Carlisle United have confirmed that they have 'parted company' with manager Greg Abbott.
There has been mixed reactions from Carlisle United fans after the club announced it had 'parted company' with manager Greg Abbott:
Our sports correspondent, Simon O'Rourke, gives us his thoughts on Greg Abbott's departure from Carlisle United:
"In the end it comes down to results. In the end it comes down to the league table and on both counts Greg Abbott can have no complaints about his departure from Brunton Park.

"Carlisle United's start to this season has been disastrous, and most damagingly for Abbott, if felt like a grim continuation of the bad habits and bad form that rendered last season a bit of a write off. But Abbott can also be very proud of his achievements in Cumbria.
"Two Wembley appearances. One Wembley win. A flirtation with the play-offs a couple of years ago and a gradual sense of forward momentum that only conked out about 12 months ago. And there's the sadness. The last 12 months of his reign, in hindsight, have felt like the final act of a play, the last episode of a TV drama.

"We all knew it would end this way, because it always ends this way. Only the Fergusons and Wengers of this world can beat football management at it's own game. The rest of them just do their best before the axe falls.
"The majority of Carlisle fans will be glad Abbott has gone today, because they saw their beloved team spiralling downwards. But in time, Cumbrian Football folk should also remember the good times. Greg Abbott won them a trophy at Wembley.

"Greg Abbott stuck doggedly to his task for nearly five years. He cared passionately about the club and it's customers. Remember that, because this is a long relationship that's come to an end. It hurts now, but time will offer some perspective and hopefully both parties will be better off apart.
– Simon O'Rourke, Sports Correspondent, ITV News Border
Advertisement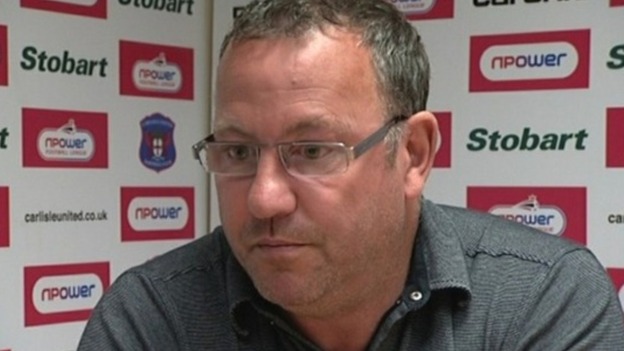 Carlisle United have confirmed that they have 'parted company' with manager Greg Abbott.
Below is the full club statement:
Carlisle United Football Club can confirm that they have today parted company with manager Greg Abbott.
The board of directors convened following the home defeat against Port Vale on Saturday evening where the detrimental effect of the recent poor run of results on the business was discussed.
The chairman and managing director then met with Greg Abbott and it was felt that the best thing for the club, and the manager, was for the parties to go their separate ways.
The board would like to go on record with their acknowledgement and appreciation of the hard work Greg Abbott has done for Carlisle United since he joined the club as first team and reserve team coach in July 2006.
He has maintained a very professional and close working relationship with everyone at the club and he has put his heart and soul into his stated aim of bringing improvement to every level and area of the business.
The trips to Wembley and the year-on-year improvement in league position, prior to last season, were testament to his efforts and dedication to the job at hand.
This has been a very difficult period and he has worked hard to find the players he felt would help to turn things round through what has been an unbelievable run of injuries.
Unfortunately the continued dip in attendances, in direct relation to results here at Brunton Park, left all parties with no other option than to reach this conclusion.
Greg Abbott leaves Brunton Park with our utmost respect and admiration and we wish him every success for his future in the industry.
Assistant manager Graham Kavanagh and youth team coach David Irons will oversee all first team matters until such time as a permanent appointment has been made.
Load more updates
Back to top