Cat crisis in Cumbria
Cumbria is one of a number of regions facing a major cat crisis according to the RSPCA.
RSPCA centres in Cumbria have reached crisis levels, due to the number of cats needing re-homed.
The same can't be said across the border, but the Scottish SPCA do still need homes for unwanted cats.
In one case, at the Dunragit Centre in Stranraer, a cat has been waiting a year to find a new home.
Fiona McIlwraith reports:
Animal charities in the regions are warning that the number of cats and kittens being abandoned is reaching crisis point and healthy animals may have to be destroyed unless more homes can be found.
The RSPCA says that all of its centres in Cumbria are full, and in some areas it is having to pay for animals to be housed in private catteries - with the situation near breaking point.
Ryan Dollard reports:
Advertisement
Alan Green is the chairman of the Westmorland branch of the RSPCA.
He says that the overwhelming number of cats in care has now reached crisis point, which means some very difficult decisions are having to be made:
It's got to crisis point. The RSPCA in the north-west now have 250 cats in private boarding kennels- that's not counting all the RSPCA animal homes, which are all full.

"As we re-home them, they fill us up straight away. People don't realise how much a pet costs, even a cat. If every female cat was neutered then we wouldn't have this problem.
"A female cat can, in theory, have up to 12 kittens in a year. Those kittens can then breed within six months so the problem just escalates.

"When every place is full, you then have to decide what to do with the cats.

"If people won't re-home them, then you have to come to the awful decision to put some to sleep. It's a last resort but sometimes you have no choice."
– Alan Green, Chairman, Westmorland RSPCA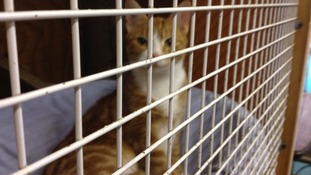 A list of RSPCA and SSPCA centres in Cumbria, the Scottish Borders and Dumfries and Galloway.
Read the full story
The RSPCA say that that the cat crisis could be due to a number of factors such as:
Owners can no longer afford to keep them and are giving them up
Owners can no longer afford to keep them and are giving them up
Many cats are falling pregnant and having large numbers of kittens because their owner failed to neuter them.
"The RSPCA is struggling on all fronts with this cat crisis. Our inspectors are being called out constantly to deal with sick, injured, neglected or abandoned cats; our hospitals are full with injured cats whose owners appeared to have dumped them; we have more cats than ever who have been cruelly treated and our centres across the region are just full with cats and kittens needing new homes.

"Please if anyone is thinking about taking on a cat, come to the RSPCA first - we have literally thousands looking for new homes and a second chance."
– Peter Bolton, Animal Operations Manager, RSPCA Midlands and North Region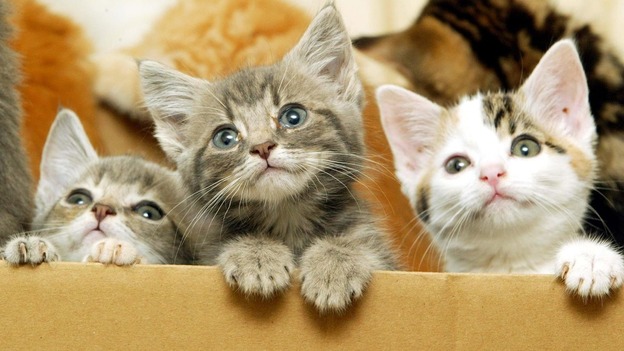 Cumbria is one of a number of regions facing a major cat crisis according to the RSPCA.
They say that some centres are so overwhelmed that they are now unable to rescue any more cats.
Staff at volunteers at various centres and branches in Cumbria and south-west Scotland are appealing to the public for help in rehoming the cats.
The RSPCA is reporting to have around 1,700 cats in the care of its regional establishments and private boarding centres alone.
It is estimated that it costs the RSPCA around £9.40 a day to care for a cat, depending on their veterinary requirements.
Advertisement
Back to top