Annual Appleby Fair clean-up begins
Horse Fair comes to an end with mass exodus and big clean up as organisers hail it one of the most successful in recent years.
The clean-up is underway today in Appleby as Europe's biggest traveller and horse fair draws to a close.
Around 40,000 people are thought to have been at the event - the highest number the fair has seen in recent years.
The gathering attracts people from all over the country and beyond. This year's fair has been hailed a success by police and organisers - who say despite the high numbers, there has been relatively little trouble.
Tim Backshall reports.
Four collie-type dogs were rescued from a pick-up truck during the Appleby Fair. Despite having high temperatures, the dogs recovered and a man was cautioned.
Another dog was removed from a car on Sunday and was too hot. However, it recovered quickly and a woman was interviewed and cautioned.
"It's so frustrating to keep repeating the same message over and over and to keep dealing with incidents that we've warned against. Very fortunately all of the dogs were okay.

Never leave your dog in a vehicle, or anywhere else that can get hot, on a warm day."
– Rob Melloy, RSPCA chief inspector

Read: RSPCA asks owners not to bring dogs to Appleby Fair

The RSPCA also dealt with a horse that had been over-ridden to the point of exhaustion, a donkey suffering with a skin condition, an injured kitten and a collapsed horse that failed to recover.

The RSPCA dealt with 147 incidents this year and issued three warnings compared to 142 incidents and 10 warnings last year.

Read:The Dogs Trust are warning everyone to avoid leaving their dogs in cars.
Advertisement
Appleby Fair has ended. Despite more visitors than was originally predicted, police have said the fair went well.
Police have thanked people living in Appleby for their tolerance during the fair.
"The number of Travellers passing through the district has been up on recent years, with a maximum of 131 caravans in South Lakeland at any one time this year.

Despite the highest number of Travellers for a number of years, it has gone very well. Aside from one or two minor issues there have been very few problems."
– John Barwise, SLDC's Neighbourhood Enforcement Officer
"The excellent work by all the agencies as made this fair a success for many. I have never received so many good comments and praise of the whole organisation of the fair. Their work helps with the friendly atmosphere and results in people having an enjoyable time."
– Billy Welch, representative of the Gypsy and Traveller community
Clean up of the Appleby Horse Fair has begun.
More than 50,000 visitors have passed through the town to see and take part in the annual event. The fair has taken place in Appleby for more than 400 years.
Police are warning drivers to expect delays on the A66, as thousands of travellers and gypsies are beginning to leave Appleby at the end of the horse fair.
Horse drawn carriages and caravans will be on the roads.
It's estimated that 40,000 people attended the fair over the weekend.
The Appleby Horse Fair began on the 6th June, with more people than usual visiting the town. Overall, 30,000 people are expected to attend the fair.
Queues to get to Fair Hill began from 5.30am on Thursday morning. Although there were five arrests today, Cumbria Police have said this is a very small amount for such a large turn out.
Matt Taylor was in Appleby:
Advertisement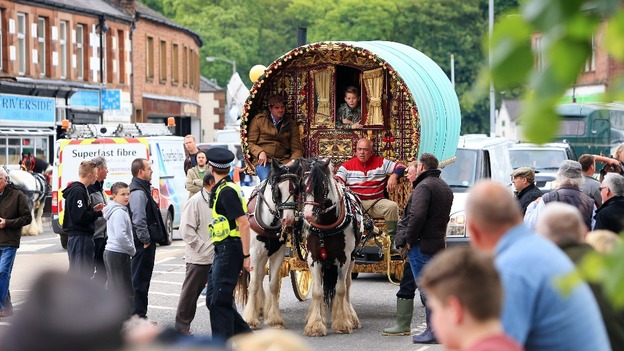 Five arrests were made in the first 24 hours of Appleby Fair. One was for assault, two for having controlled drugs and two for being drunk and disorderly.
However, police have acknowledged that this is a small number of arrests among the group of 30,000 believed to be at the fair and that the 'vast majority of people are enjoying the event and are in good spirits'.
Cumbria Police are warning against bare knuckle fighting ay Appleby Fair.
Don't get involved in bare knuckle fighting at #Applebyfair, it will not be tolerated and you will be evicted from the area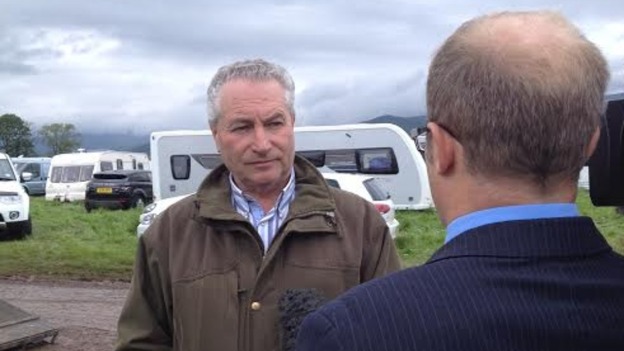 Billy Welch, a Gypsy and Traveller representative has described Appleby as being "sacred to our people, this is like our Mecca".
He also added that "we only ever feel like we belong in Appleby".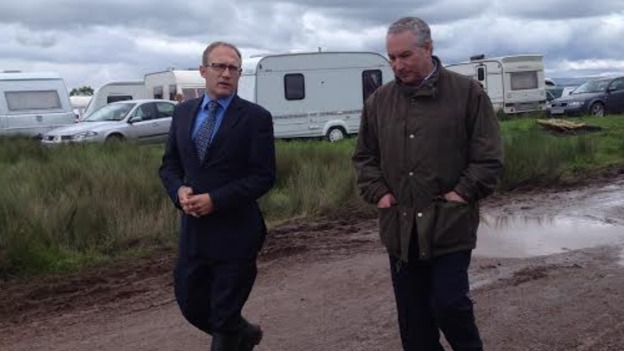 Cumbria Police are warning visitors about fast moving horses at Appleby Fair.
It has been reported that this year's fair is seeing more visitors than originally expected.
Load more updates
Back to top