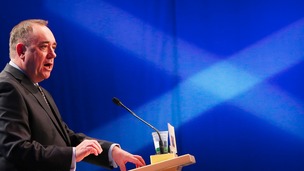 ITV Border Political Editor, Peter MacMahon, blogs on the competing claims over promises of more powers for Scotland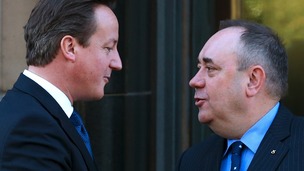 First Minister's Cumbria speech makes the case for cooperation with north of England as Prime Minister hails UK "family of nations"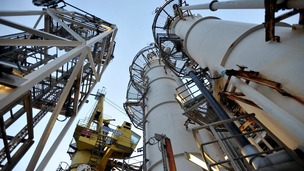 Our Political Editor looks to the North East of Scotland where the Prime Minster and First Minister have been discussing the future of oil.
Live updates
BoE currency talks with Salmond
National
Scotland's First Minster has said that Mr Carney's predecessor at the Bank of England, Sir Mervyn KIng, had suggested the Treasury could change its approach in the event of a Yes vote.
Alex Salmond told how he had met Sir Mervyn "a couple of years back", and added: "The first thing he said to me was 'your problem is what they say now', meaning the Treasury, 'and what they say the day after a Yes vote in the referendum are two entirely different things'."
Mr Carney, who took over as Governor of the Bank of England in July, has already warned of "challenges" of adopting a shared currency without having "certain institutional structures" put in place.
BoE currency talks with Salmond
National
Scotland's First Minister will have face-to-face talks with the latest Bank of England governor for the first time today. Alex Salmond and Mark Carney are due to meet in Edinburgh.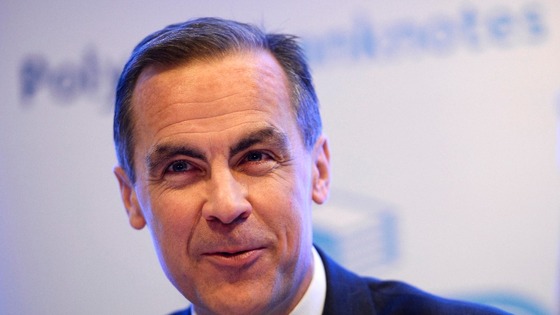 Mr Carney is also giving a speech in the capital, in which the issue of a currency union between an independent Scotland and the rest of the UK will be addressed.
Mr Salmond's Scottish Government has put forward plans for Scotland to retain the pound if the country votes for independence in September's referendum, establishing a "sterling zone" with the UK.
Advertisement
Independence Referendum Poll
Alex Salmond told Representing Border he would stand for election again and serve a full term as First Minister of Scotland, should his party win their campaign for independence.
He gave his first major interview of the year to Peter MacMahon, ITV Border's Political Editor.
Watch the full interview below.
Missed the first episode of Representing Border? Watch the full programme by clicking on this link.
Tributes for Mandela
South African flag flying at half-mast alongside the Saltire outside Scottish Government headquarters http://t.co/B3D7S5Ar4G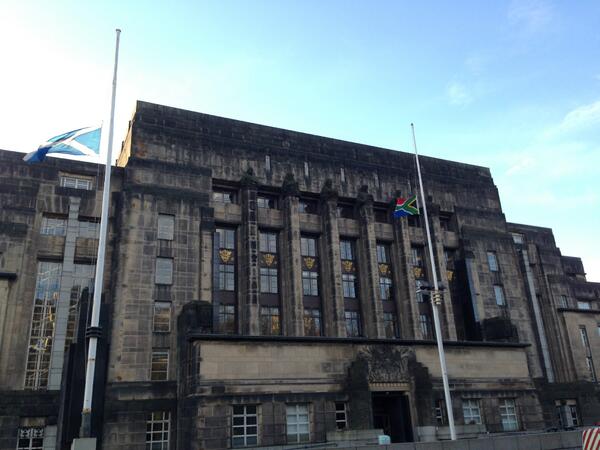 First Minister Alex Salmond said:
"The death of Nelson Mandela marks the passing of a great statesman and a global icon, so it is only appropriate that we here in Scotland, a land Mr Mandela had great affinity with, mark his passing appropriately.
"That is why I have today instructed that the South African national flag should fly at half-mast alongside the Saltire outside St Andrew's House in Edinburgh.
"The whole world is marking the loss of a great leader – all of Scotland feels that loss, and we join the people of South Africa in particular in marking Mr Mandela's passing."
Independence plans revealed
Speaking ahead of the White Paper launch, First Minister Alex Salmond said:
"We are setting out a positive plan for job opportunities and economic growth based on Scotland's vast natural resources, key growth sectors and human talent.

"The Scottish Government is setting out plans for the future, and we will seek to engage the whole Scottish population in a debate about how to build a better Scotland.

"We will set out a series of reasonable proposals and ask people to judge for themselves this common-sense approach.
"The white paper will detail how Scotland's public finances are healthier than the UK's and will show that we have raised more in tax per head than the UK as a whole for every one of the last 30 years.

"As well as demonstrating these firm foundations, the white paper will put the focus of the referendum campaign firmly on Scotland's future and the issues that matters most to people - jobs, economic growth and security.
"It will make the economic, social and democratic case for independence and show that the better Scotland we all seek can only be achieved by putting the decisions about Scotland's future in the hands of the people of Scotland.

"Everyone in Scotland should have the opportunity to fulfil their potential and to make a contribution to our society. This white paper will show that with the powers of independence we can and will grow our economy, boost our population, and ensure everyone in Scotland benefits from our wealth."
– First Minister Alex Salmond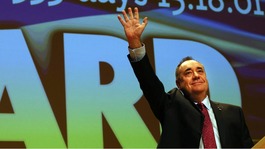 SNP are 'fired up and optimistic' says ITV Border's Political Editor Peter MacMahon
Read the full story
Advertisement
SNP Conference 2013
SNP Conference 2013
First Minister Alex Salmond has revealed the date the Scottish Government will publish its detailed blueprint for independence.
The White Paper will come out on Tuesday 26 November, Mr Salmond told the SNP conference in Perth. More to follow...
SNP Conference 2013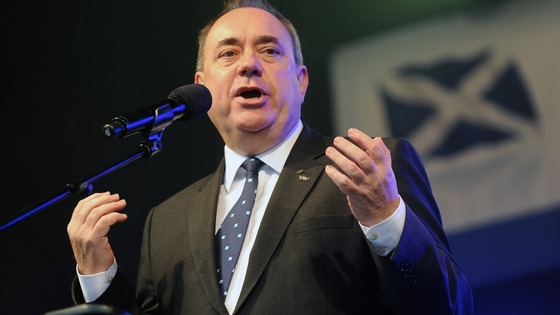 Scotland's First Minister Alex Salmond will use his keynote speech at SNP Conference to say that a Yes vote in next year's independence referendum will be "an act of national self-confidence and self-belief".
The SNP leader will argue that the devolved Scottish Parliament has delivered a "taste of independence" with policies to make Scotland a better and fairer country. Mr Salmond will say:
"A Yes vote is not about a victory for the SNP, or even a victory for the Yes campaign – or even the huge coalition of interests and enthusiasm that supports a Yes vote. be, above all, an act of national self-confidence and self - belief.''
"The case for independence is about what is best for people in Scotland wherever they come from. It is about who should be taking decisions about Scotland: those who live here or politicians at Westminster.
"This central question of who should be taking decisions is not an academic argument. It is a common sense argument based on our experience. "
SNP Conference 2013
Alex Salmond will deliver his keynote speech tomorrow to the last Scottish National Party conference before the independence referendum next year.
Ahead of that, the First Minister spoke to our Political Editor, Peter MacMahon, at the SNP conference in Perth.
Load more updates
Back to top