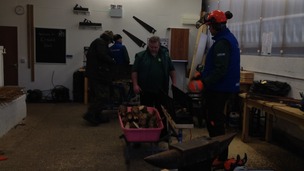 Ernie's Shed near Appleby is a small Cumbrian charity offering somewhere for retired farm and countryside workers to go.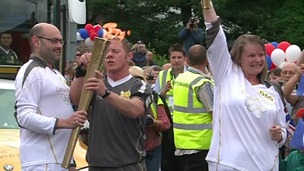 Olympic torch relay: Appleby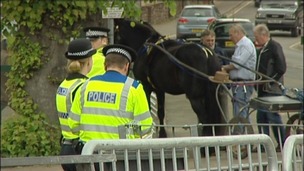 Cumbria police have said the Appleby Horse fair has been successful.
Live updates
Appleby horse fair 2013
Sned us your photos of the Appleby Horse Fair to: pam&ian@itv.com
Appleby horse fair 2013
Cumbria Police are reminding people that violence at the Appleby horse fair will not be tolerated.
The warning comes after 20 people were arrested on suspicion of conspiracy to cause grievous bodily harm.
"We work with our partners and the communities to facilitate a safe and enjoyable Appleby Horse Fair event.

"The vast majority of people come to the horse fair to enjoy the holiday event and I would appeal to people not to bring their disputes to this family oriented event.

"I would reassurance the public and visitors from all communities that today's incident is a rare occurrence at Appleby Horse Fair.

"However, the action taken by officers sends out a strong message to anyone else who may consider visiting the fair with the intention of causing problems. It will not be tolerated."
– Superintendent Sean Robinson, Cumbria Police
Advertisement
Appleby horse fair 2013
Cumbria and Durham police say they have successfully disrupted a threat of serious violence at the Appleby horse fair.
They say that following a successful operation twenty people were arrested on suspicion of conspiracy to cause grievous bodily harm as they travelled into the area.
The police are appealing to people not to bring their disputes to the event, which attracts thousands of people.
Appleby horse fair 2013
The Appleby horse fair has so far been a success with very little disorder according to Cumbria Police.
The police say that everyone seems in good spirits and are all enjoying the occasion and sunny weather.
There has only been one arrest in the past 24 hours, which was for a minor disorder.
Police are now focusing on keeping everyone safe as thousands more travellers and visitors are expected over the weekend.
"It has been a great start to the fair, with everyone in a holiday spirit and people wanting to be here to enjoy themselves.

"This is a community and family orientated event which we encourage people to support and not bring their personal disputes to the fair. We want people to work with us to ensure a safe and enjoyable event.

"People are used to hearing cars and not horse's, which can move very quickly.

"If you are visiting the fair be aware of fast moving horses, don't walk on the roads and stick to the walkways.
– Robin Hooper, Chair of the MASCG
Appleby horse fair 2013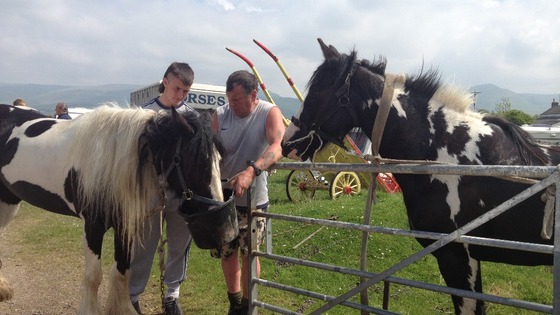 Gypsies and travellers have begun trading horses at this year's fair.
Thousands of members of the travelling community have arrived from all over Europe to take part in the annual tradition.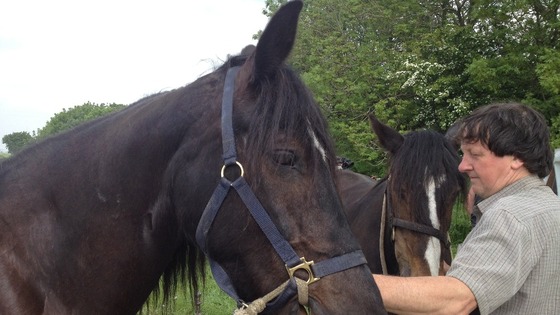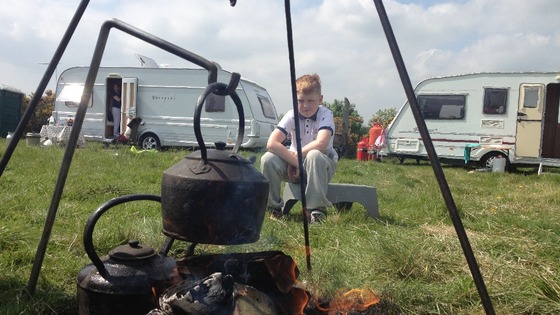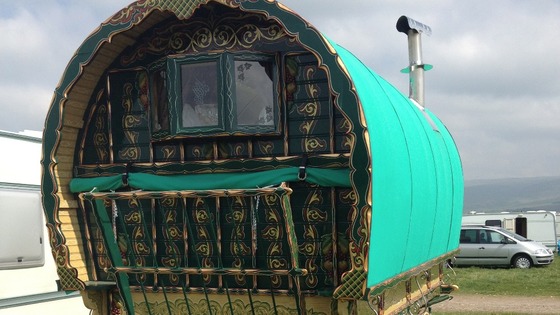 Appleby horse fair 2013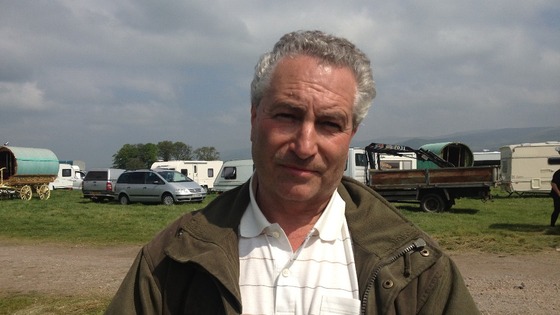 Billy Welch is a gypsy and traveller spokesman and he says that the economy is affecting trading at the horse fair but the fair itself looks to be a success:
"Everything this year looks set for a fabulous Fair. Eden District Council have been great, the police have been great and everyone seems to be singing from the same Hymn sheet to make this a success.
The horse trade is a bit flat at the moment, but so is the economy. If this weather holds we might actually get more people.
"At the moment everyone is looking to attract the tourist pound and if we can help bring them in that's good for everybody."
Advertisement
Appleby horse fair 2013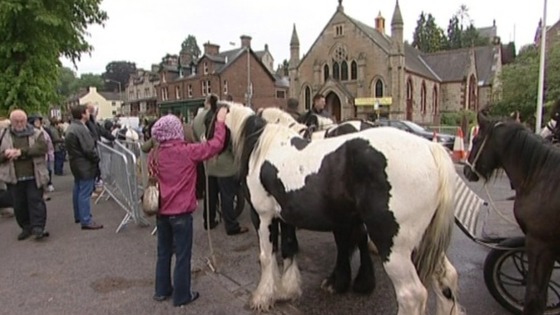 The 2013 Appleby horse fair is officially underway with gypsies and travellers arriving from all over Europe.
The small Cumbrian villages grows from a population of around 2,000 to almost 40,000 every year for one of the biggest gatherings of the travelling community in Europe.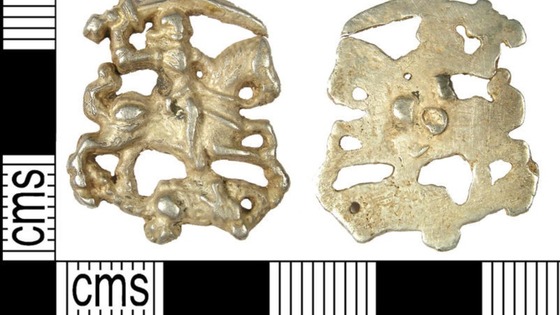 A medieval silver pilgrim badge has been found in a garden in Bolton, near Appleby.
The 15th century badge, commemorating St George, is now being held by The Friends of Penrith and Eden Museum.
Dr. Sydney Chapman is the Curator of the museum, he said:
"The badge has been valued at £400 by the Treasure Valuation Committee and thanks to the generosity of the Friends of the Museum it has been purchased and added to our current displays.
"The badge shows the Saint on horseback with a sword in his right hand raised above his head; beneath the feet of his horse lies the dragon.
"The cult of St. George flourished in England in the 15 Century in particular when pilgrims would visit St. George's Chapel at Windsor Castle, which held the relic of the Saint's heart."
People can now view the pilgrim badge for free at the Penrith and Eden Museum.
Armed robbery Appleby
Cumbria Police are continuing to investigate a robbery in Appleby, where a 61-year-old man was tied up and threatened.
Police were called to Station Road, at around 8.45pm last Friday (November 23rd).
The victim, a scrap metal dealer, was attacked by three men dressed in balaclavas and dark clothing, who entered the house wielding what's described as baseball bats.
The man was tied up and assaulted but managed to escape and raise the alarm.
"The offenders fled and witnesses identified a vehicle - a green Ford Focus Estate - believed to have been involved in the offence, registration number S722 ABR.

"Also seen, one of the offenders was described as a white male, in his early 20s, approximately 5ft 8", of slim build with short yellow/blond hair.

"From police inquiries, we have managed to seize the aforementioned vehicle in Bishop Auckland, County Durham.

"Inquiries as regards the ownership, usage and locations visited by the vehicle are on-going to identify the offenders."
– Detective Chief Inspector Lee Johnson, Cumbria Police
"There are similarities between this offence and the robbery that took place in Kendal on October 2, when a home at Castle Oval in Kendal was broken into and four males wearing masks entered the property.

"They tied the victims up and after making a thorough search of the house, made off with thousands of pounds worth of cash and various other items.

"I'd like to hear from witnesses who saw anybody acting suspiciously in and around Appleby between 7.30pm and 9.30pm on Friday, November 23, and also anyone who saw the green Ford Focus Estate car."
– Detective Chief Inspector Lee Johnson, Cumbria Police
Armed robbery Appleby
Detectives are investigating a robbery in Appleby. A 61 year old man was tied up and threatened.
The robbery happened on Friday 23rd November at 8:45 pm at a house in Station Road, Appleby.
Andy Burn has the full report:
Load more updates
Back to top