Westmorland and Lonsdale MP Tim Farron has welcomed news that Mountain Rescue teams will no longer have to pay VAT.
The announcement came in the Chancellor George Osborne's autumn statement.
Mr Farron said mountain rescue was the "fourth emergency service" in Cumbria, and the extra money would be give them a vital boost.
He dedicated the success to former Langdale and Ambleside Mountain Rescue Team leader Stewart Hulse, who died last year.
The Autumn Statement has been announced with the nation's finances set out, what's going to be spent and what's coming in in terms of taxes.
Read the full story ›
Advertisement
Conservative MP David Mundell has welcomed the Chancellor's Autumn Statement.
The Dumfriesshire MP says it is, "good news that Stamp Duty is going to be cut and made fairer."
It's been a tough few years for many local people but the Chancellor's statement shows how important it has been for the Government to stay the course and get the nation's finances sorted out.

I very much welcome the increase in NHS spending and hope some of the Scottish Government's £125million allocation will make its way to the South of Scotland to support services in rural areas. Fuel Duty is now 20p less than it would have been had the Chancellor not cut it and maintained that cut. This policy which I have consistently lobbied for, has made a real difference to local families and businesses.

The continued raising of the personal allowance takes the lowest paid out of tax all together - across Scotland 38,000 people will benefit from the latest change, and given our low wage economy many will be locally. It's also good news that Stamp Duty is going to be cut and made fairer. The Scottish Parliament takes responsibility for that tax next year and I hope the Scottish Government will match the Chancellors' changes.
– Dumfriesshire MP David Mundell
South Lakes MP Tim Farron has welcomed the news that VAT will be refunded for our Mountain Rescue, Search and Rescue and Air Ambulance teams.
The refund, announced in today's Autumn Statement, comes after years of campaigning by the MP.
The new policy replaces from the previous arrangements, where teams would receive a grant to offset some of their VAT costs. That was first won by the All Party Parliamentary Group on Mountain Rescue, vice chaired by Tim, back in 2011 – but was due to expire this year.
This is fantastic news and will make a massive difference to our vital search and rescue teams. It has always struck me as deeply unfair that an emergency service which saves people's lives everyday, has to pay tax on the vital equipment that they use – especially when virtually all of their funding comes from charitable donations. That's why I have been campaigning for so long to stop these teams having to pay VAT. Our Mountain Rescue teams do amazing work for people in desperate need. I cannot praise them highly enough – their determination and bravery are truly inspiring.

Today's announcement would not have been possible without the work of the late Stewart Hulse from Windermere. As a member of Mountain Rescue England and Wales, Stewart helped me gather the evidence to present to Minister to firstly secure the grant funding, and now this refund. I want to pay tribute to him as we celebrate this important victory.
– MP Tim Farron
Right, here's northern stuff. Chancellor confirms they'll tender for new trains on Transpennine and Northern Rail. Can confirm it's needed!
A new sovereign wealth fund (what SNP wanted for Scotland) will be introduced to make sure northern revenue from gas is reinvested in north
Stamp duty rebanding means 98% of people will pay less tax says Chancellor, with new top rate for most expensive. From midnight! #AS2014
Coming less than six months before an election, it was always likely that George Osborne would include a few voter-friendly measures.
Read the full story ›
Advertisement
Chancellor George Osborne has announced plans for a total overhaul of the "badly-designed" stamp duty system paid on the purchases of homes.
The reform will mean new marginal rates that the Chancellor says will mean a stamp duty cut for 98% of homebuyers.
No tax on first £125,000 paid
2% on the portion up to £250,000
5% up to £925,000
10% up to £1.5 million
12% on everything over that
The tax-free personal allowance will rise to £10,600, Chancellor George Osborne has announced.
The Treasury tweeted a graphic to mark the ongoing increase: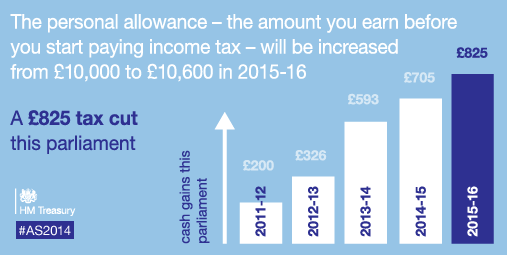 Government-backed student loans of up to £10,000 will be made available to all young people taking post-graduate masters degrees, Chancellor George Osborne has announced.
A year ago, I abolished the arbitrary cap on the total number of undergraduates at our universities. Today, I am going to revolutionise the support for our post-graduate students too.

Until now there has been almost no financial support available, and the upfront costs of postgraduate degrees deters bright students from poorer backgrounds.
– George Osborne
Load more updates