Carlisle United slipped to 11th in the League Two table, after being held to a 1 - 1 draw at home, by Wycombe Wanderers.
Read the full story ›
A Carlisle fan setting off a pyrotechnic device in the away stand at yesterday's match against Exeter is the likely cause of a fire alarm that led to the suspension of the game. Fire crews were called to carry out safety inspections of the stadium.
In a statement released last night the club revealed that the game was close to being called off completely. It was eventually restarted after 65 minutes.
The person responsible was arrested and taken into custody.
A spokesman for Carlisle United said: " Our club has gained a fantastic reputation in recent years for the way we travel – both for the numbers we take and the way we conduct ourselves – and we will not allow a small number of people to damage that reputation.
"Anyone found in possession of pyrotechnics, or any other prohibited items, either at Brunton Park or at an away venue, will be dealt with severely."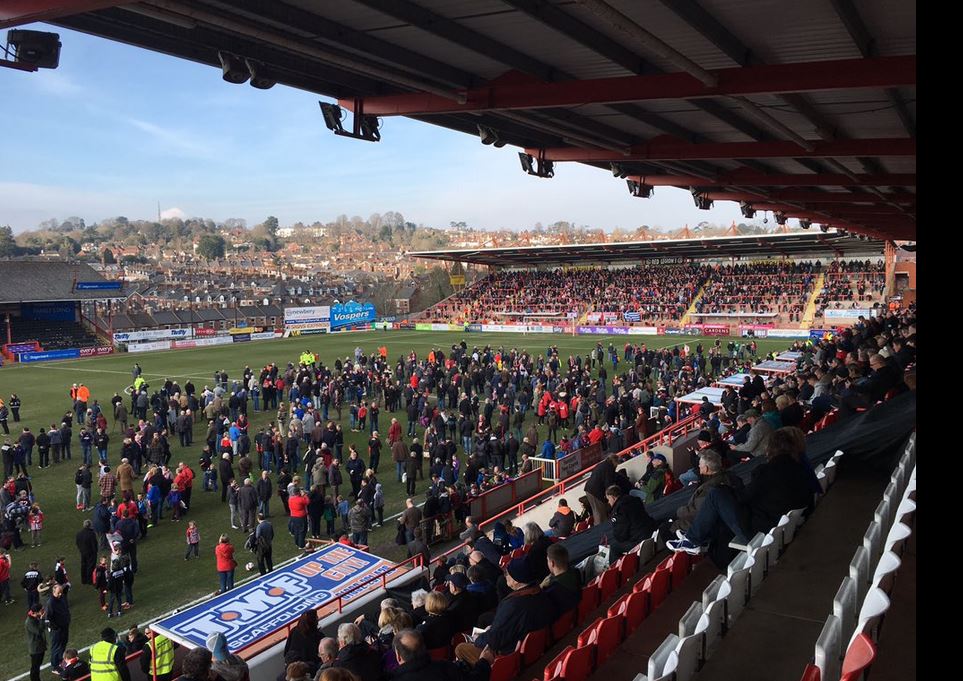 Both clubs, the match day security staff, the emergency services and the overwhelming majority of supporters should be commended for their response to today's events.

Unfortunately the actions of one individual have caused significant disruption and put fellow fans at risk of injury. The taking of smoke grenades or flares to football matches is irresponsible and absolutely mindless.

It is something that has to stop.
– Shaun Harvey, Football League Chief Executive
Advertisement
Carlisle came away from their encounter away at Exeter today with a 2-2 draw - that was after play was stopped for an hour due to a fire scare at St James' Park.
Fans were asked to move onto the pitch when an alarm sounded just 9 minutes into the game. Problems then arose with the ground's floodlights, which further delayed a restart.
The Blues were already one nil down when play was suspended, but the break did nothing to help. Despite another goal from Hallam Hope in the 85th minute, Carlisle could only manage a draw.
There is now power and lights in the main stand, if the floodlights stay on the game will restart in 15 mins #cufc
The lads are back out to warm up, should be five minutes or so until we get back under way #cufc
Carlisle United are looking to bounce back from their weekend defeat at the hands of League Two leaders Northampton Town when they travel to the division's bottom side Dagenham and Redbridge tonight.
Despite the lowly position of the opposition, manager Keith Curle says they cannot be underestimated.
Carlisle United manager Keith Curle says he's still keen to bring in new players in a bid to reach the League Two playoffs.
United suffered a 4-1 defeat at home to leaders Northampton Town on Saturday and Curle says finding the right players isn't an easy task.
Advertisement
Keith Curle says he will take a cautious approach with his team after their 4-1 defeat to Northampton Town
Read the full story ›
Carlisle United 1-4 Northampton Town
Carlisle United Football Club have announced that club Director Richard 'Dick' Young has died, following a short illness.
The 75-year-old, who was the eldest son of former United-manager and trainer Dick young, had played in the club's Reserve A Team and had spent many years as Commercial Director and Business Club Developer.
"Dick really was Mr Carlisle United. He was a friend to everyone who met him and carried a huge amount of weight and respect within the business community, and with the club's supporters.

"He held a massive love for the club and was a popular figurehead within our commercial set-up. I spent many long hours talking about football and many other issues with Dick, inside and outside the boardroom, and there is a huge sense of loss having received this news.

"We have known about the illness he was fighting against but, out of respect to his wishes and those of his family, we have not discussed this within the public arena.

"The club has lost a great man and our thoughts are with his family and friends at this very sad time."
– Andrew Jenkins, Chairman, CUFC
Carlisle United take on League Two Leaders Northampton Town at Brunton Park tomorrow.
A win could push the blues back into the promotion places and manager Keith Curle believes a big and vocal crowd could make all the difference.
It is important. It is like that extra man. And again I'll say it now. I went on record after the Morecambe game - they got us that win.

That second goal they were willing that ball into the net and you could tell that the players were picking up, attacking that end with the supporters behind that goal. We were going to score."
– Keith Curle, Carlisle United Manager
Load more updates