Ahead of The Open teeing off, Carlisle United stars Jabo Ibehre and Jamie Devitt have been showing the pro golfers how it's done. Take a look at these incredible putts they both sunk at a golf day held in memory of the club's former commercial director Dick Young.
Players from Carlisle United were subjected to a gruelling pre-season training session today, as they took part in a boot camp in the Lake District:
Advertisement
Carlisle United have signed midfielder Mike Jones on a two-year deal which will keep him at Brunton Park until at least the summer of 2018.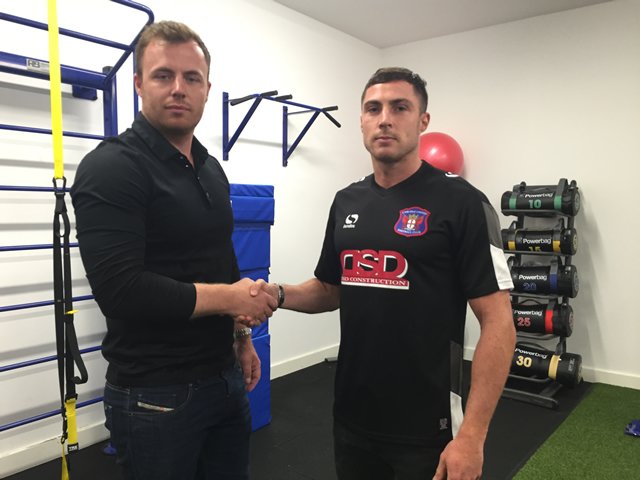 Carlisle United face a 700-mile round trip for their first game of the 2016/2017 season after drawing Portsmouth away from home on Saturday 6th August. Kick-off is 3pm.
Their other August fixtures are:
Saturday 13th August- CUFC vs Plymouth 3pm KO
Tuesday 16th August- CUFC vs Cheltenham 7.45pm KO
Saturday 20th August- Cambridge vs CUFC 3pm KO
Saturday 27th August- Barnet vs CUFC- 3pm KO
Rock Legend Rod Stewart will play to thousands of fans at Carlisle United's Brunton Park this afternoon.
It's the final date of the singer's latest tour and local businesses are hoping the gig will provide a huge financial boost to the local economy.
His career has spanned more than five decades and includes hits like 'Baby Jane', 'Do you think i'm sexy?' and 'Hot legs'.
Irish winger, Jamie Devitt, has signed a two year contract with the Blues.
The former Morecambe player says Carlisle United doesn't deserve to be in League Two:
Advertisement
Carlisle United have revealed a provisional list of the friendly games they will play in preparation for next season.
Tue 5 Jul - Queen of the South (behind closed doors)
Wed 6 Jul - Kendal Away - 7.45pm
Sat 9 Jul - Workington Away - 3pm
Wed 13 Jul - Warrington Away - 7pm
Sat 23 Jul - Barrow Away - 3pm
Tue 26 Jul - Bury (behind closed doors)
Sat 30 Jul - Bradford Away - 3pm
Sat 6 Aug - Season starts
A friendly fixture with Penrith AFC is still to be arranged.
Carlisle United have boosted their squad by singing two new wingers.
Reggie Lambe, 25, from Mansfield Town, has joined on a one year deal.
He made his debut for the Stags in their 3-2 home victory over Carlisle in September 2014.
People like Reggie can unlock doors for you in difficult situations. He's a wide player who can come in off the line, or go down it, and he's good with both feet.

We'll be able to play Reggie in a number of positions, but we've spoken to him and we know what his best position will be. Reggie had more financially lucrative offers to go and play at the same level, or higher, but he's chosen to come here and that's something we're very pleased about.
– Head of recruitment Lee Dykes
The club have also signed Jamie Devitt, 25, on a two-year deal from Morecambe.
Jamie is a very talented individual who joins us on the back of a successful season on a personal level.

Jamie was arguably one of the most effective players we faced last year, playing a big part in three of the four goals we conceded against Morecambe.
– Head of recruitment Lee Dykes
Carlisle United Football Club have appointed Nigel Clibbens as the Club's new Chief Executive.
Clibbens was previously Chief Executive Officer at Championship club Huddersfield Town for seven years, and will take up his new role at Brunton Park on Monday 6 June 2016.
His role means he will be the key point of contact for first team manager Keith Curle.
During the transition period of the current transfer window, player recruitment will continue to involve Andrew Jenkins and John Nixon.
John Nixon will retain his current role of Director of External Affairs, covering Football League and FA duties on behalf of the club.
Speaking to carlisleunited.co.uk, Carlisle United chairman Andrew Jenkins said:
I am delighted to welcome Nigel to Carlisle United. The time is right for this latest change in our progression after those made last year.

Along with his knowledge and skills he will bring a fresh approach and new ideas which we recognise as important for the club as we continue to rebuild after the floods and look forward.

He has a good track record on and off the pitch, I know that we have someone who can take us forward.

Nigel will run the club day-to-day and will work manager with Keith Curle and the existing directors to do what is required to improve us. He will help give us a club that we and our fans can be proud of.

In doing so, he will receive the full support of everyone at Carlisle United to make the changes needed to progress."
– Andrew Jenkins
It is a honour and privilege to join Carlisle United in this role. I have been fortunate to be a part of a team that transformed my previous club both on and off the field and I am excited by this opportunity. I am looking forward to working together with everyone and I will endeavour to do everything possible to bring success to the club.
– Nigel Clibbens
Almost six months after the Cumbrian floods, Carlisle United's backroom staff are still working in portakabins as repair work continues on the ground.
Financial director Phil King says it will be a close run thing to get back to pre-flood normality before the start of the new season.
"Everybody here is looking forward to getting into some kind of a normal working environment in an office that has got windows and chairs and desks and a normal kind of place.

"That has been the toughest challenge to keep going, because it has been a long road."
– Phil King, CUFC
Load more updates