Advertisement
It was far from a tame pre-season encounter when Carlisle United took on Preston North End. The Blues won 4-3.
Read the full story ›
Paul Crone went to check on Carlisle United's pre-season preparations... at a boot camp in the Lake District:
Carlisle United players have been training in the Lake District, to make sure they're ready for the new season.
Read the full story ›
A businessman has abandoned plans to invest in Carlisle United after the club terminated talks over his proposed takeover.
Andrew Lapping was heading a consortium planning to put nearly £1.3million into the club but today Chairman Andrew Jenkins said talks had ended as Mr Lapping's proposals 'didn't stand up to scrutiny.'
In response Mr Lapping said he'd been left with no option but to step away from the takeover and that he 'didn't need the grief anymore.'
"For the last 12 months of my life I've worked diligently to put a plan in place which would provide initial financial investment for Carlisle United and a long-term structure and strategy to ensure the club was well-placed to pursue future success.

"My intention was simply to help the club in the short-term and ensure there was a longer-term plan in place. Then I would step back and let the club move forward. I had no intention of 'taking-over' Carlisle United. I put forward a plan from which a lot has been adopted by the board. It's clear they don't want me involved. I don't have a problem with that – but I do have a problem in having my integrity and motives questioned."
– Andrew Lapping
Advertisement
Carlisle United players visited another football club this week.
Two of the first team squad dropped in on a training session of the Cumbria Wheelchair Sports Club to meet the players and learn a bit about Wheelchair football for themselves.
Wheelchair football is a growing sport offering people with disabilities the chance to enjoy competitive games and meet in a different social setting. Ryan Dollard reports.
Watch ITV Border turn the tables on Carlisle United captain Danny Grainger and ask him to interview teammate Steven Rigg.
Andrew Jenkins has spoken about the confidentiality surrounding the proposed takeover of the club, and the sale of star players.
Read the full story ›
Carlisle United have beaten Penrith 0-7 at Frenchfields Park.
FT Penrith 0 @officialcufc 7 Great effort and determination from the Bonny Blues who never stopped working the full 90 minutes. #bonnyblues
Penrith AFC mascot, Bradley Hodgson, who played for England's Mencap team in Switzerland in May, led the teams out: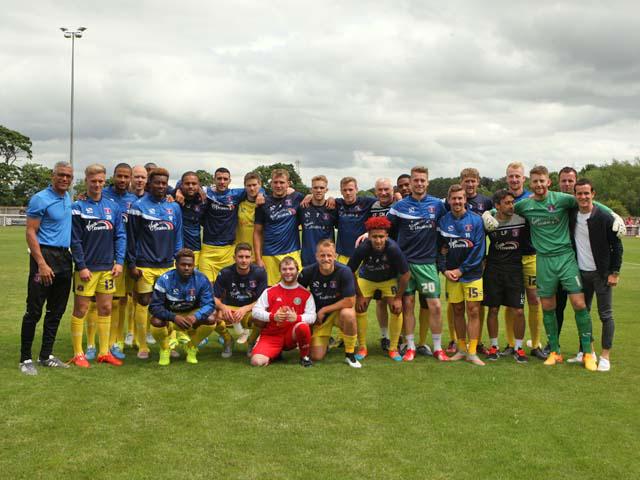 Penrith next play Kendal Town FC on July 21 at 7:30pm and Carlisle's first fixture for the 2015/16 season is Mansfield Town away on the August 8, with kick-off at 3pm.
Carlisle United have launched their new kit, at Carlisle train station this morning.
Load more updates