The Labour leadership candidate Andy Burnham told a packed meeting in Carlisle that he would re-nationalise the railways. Speaking last night at the Old Fire Station, Mr Burnham said that the Labour Party needed to "reconnect" with voters.
A special event to commemorate the history of Carlisle Castle is being held today. There will be re-enactments of historical events relating the castle. Organisers promise everything from Redcoats to Khaki as they demonstrate weapons and equipment around what they call a "Living History" of tents. The castle, which dates back to 1092 when is was built by William II, is the most besieged in England. The castle served as a prison to Mary Queen of Scots in 1568, before featuring prominently during the English Civil War. The event runs today and tomorrow, Monday, 31st August.
Carlisle Castle has seen so many battles through the ages and played such a pivotal part in the city's rich history. This event is going to be exciting and we're pleased to be able to stage the re-enactment as it played out all those years ago. It's a fascinating era in history and something that the entire family will enjoy.
– Carl Hutton, English Heritage Events Manager for the North
Advertisement
The Labour leadership candidate Andy Burnham is appearing in Carlisle this evening. Mr Burnham will talk to supporters at the Old Fire Station at 6:30pm. He is one of four candidates vying for the leadership of the party. The others are Liz Kendall, Jeremy Corbyn and Yvette Cooper. More than 550,000 are eligible to vote in the contest which will be announced on Saturday, 12th September 2015.
A 15-year-old boy arrested following a large fire in Carlisle has been bailed.
Police say they are not looking for anyone else in connection with the large blaze that broke out in a disused warehouse off London Road yesterday evening.
The teenager has been bailed until 10 October 2015.
New footage has surfaced of the fire that raged through a Carlisle garage on Tuesday.
A man has since been arrested on suspicion of arson with intent to endanger life.
A witness to the large blaze in Carlisle has said, "the flames were so intense, it was unreal", after a fire broke out at the garage.
Speaking to ITV News Border, Lorraine Nixon, manager of the St Nicholas Arms Pub nearby, said you could hear the brick work falling from the building:
Six fire crews were called to a garage on London Road at around 6pm tonight, August 25th.
A man has since been arrested on suspicion of arson with intent to endanger life.
Advertisement
A man has been arrested on suspicion of arson with intent to endanger life after a large fire in Carlisle.
Half a dozen fire crews tackled the blaze at a garage on London Road at around six o'clock tonight, August 25th.
Alan Sowerby from Cumbria Fire and Rescue Service has told ITV News Border they suspect there may be an asbestos roof involved, so have placed a cordon around the area for the public's safety.
Officers have said man is currently in police custody and is helping with enquiries.
Cumbria Police are asking people to stay away from part of London Road following a huge fire at a garage.
They have said it is not yet know if substances in the garage may become airborne with the fire, which could be harmful to breath in, so the public should avoid the immediate area.
Eye-witness video of fire crews trying to control the fire:
Six fire engines have been tackling a large blaze at a garage on London Road, Carlisle.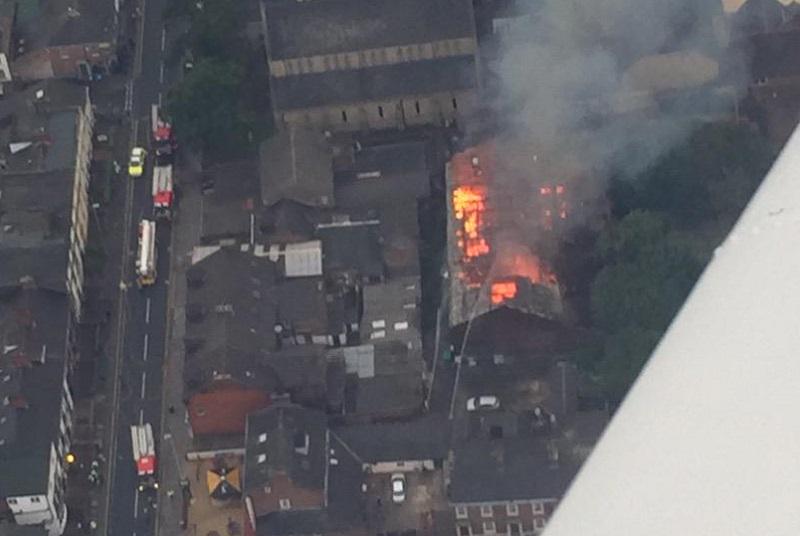 The fire started behind a Domino's Pizza at around 6pm on Tuesday.
It is not known if there any substances in the garage that may become airborne with the fire, so the public are being advised to keep all windows closed and to stay away from the area.
Cumbria Constabulary have said it is a "considerable incident" and that road closures are expected to be in place for several hours.
Road closures are in place at junctions with:
Close Street
Grey Street
Brook Street
The cause of the fire is unknown at this time.
Cumbria Police are growing increasingly concerned for a 27-year-old man who was last seen in the London Road area of Carlisle.
Richard Whiskin was last seen at 2.45pm on Thursday August 20th.
He is described as a white male, of slim build, 5ft 9 – 6ft tall, with brown eyes, brown hair which is currently shaven on the back and sides, distinctive sideburns and facial hair.
He has a piercing in his eyelid and his nose and was last seen wearing a navy blue waterproof jacket, dark coloured jeans and blue Adidas trainers.
Police are appealing to anyone who may have seen Mr Whiskin to call Cumbria Police on 101.
If Mr Whiskin sees this appeal he is also asked to let Police know he is safe and well.
Load more updates