Live updates
Chanel show highlights local firm
Chanel say they are now committed to investing in the business and expanding it's client base.
Chanel show highlights local firm
Just a few weeks ago a hundred and seventy six jobs at Barrie knitwear hung in the balance. Owners Dawson International had just been placed into administration. Hawick looked set to lose one of it's biggest employers unless a new buyer could be found.
In stepped one of the world's most famous designers and one of fashion's most iconic brands. On the 4th December Barrie design's formed part of Karl Lagerfeld's latest collection:
It is very important for Chanel, for our own collection, and in these shows you will see a number of clothes coming from Barries , so it is very important. But more than that I think that Barries are doing an incredible job with more than fifty customers around the world and we want to be able to continue this development.
– Bruno Pavlovsky, President of Fashion, Chanel
Advertisement
News that a Hawick knitwear company is to be acquired by international fashion house Chanel has been welcomed by the local community.
Read the full story
Chanel take over Hawick knitwear firm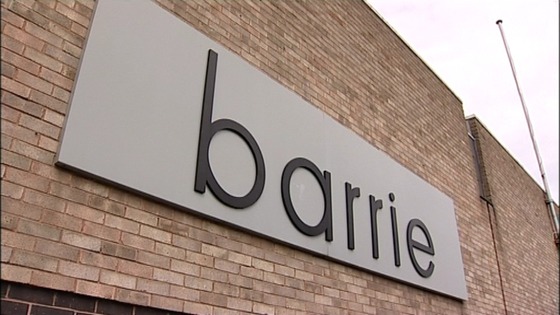 A Borders knitwear company which was under threat closure has been bought by one of the world's most prestigeous designer labels - Chanel. The jobs of 180 workers at Barrie Knitwear in Hawick have now been saved.
Barrie Knitwear has supplied jumpers and cardigans to the French fashion label Chanel for more than a quarter of a century. In August its parent company Dawson International went into administration because of problems with its pension liabilities.
Chanel haven't said how much they've paid for the company but its President said the acquisition was all the more natural because the factory had worked for them for more than 25 years. The knitwear they make includes Chanel's iconic, two-tone, cashmere cardigans.
Chanel says it confirms their commitment to traditional expertise and craftsmanship A spokesman for the GMB Union said the announcement was really good news and lifted the uncertainty for the highly skilled and productive workforce.
Scottish Conservative Ettrick, Roxburgh and Berwickshire MSP John Lamont said: "This is fantastic news and will come as a great relief to all the employees at Barrie Knitwear who have been waiting nervously for news for over two months now.
"When Dawson International announced they were to enter administration the first priority had to be to secure the future of Barrie Knitwear, and I am delighted that this has been achieved.
"I know that KPMG had been working hard to secure a buyer, and it's great that they have found one in Chanel.
"Chanel is a world famous company, that operates on a global scale, and with Barrie Knitwear in their ownership I am confident that the future of the firm is safe for the foreseeable future.
"I now look forward to seeing Barrie Knitwear continue to go from strength to strength and hopefully provide more local jobs in the future."
Back to top