Tory candidate Ann Myatt arrives at Westmorland & Lonsdale. Not conceding. Lib Dems think it's in the bag ge2015 http://t.co/ZpUI0hjGEs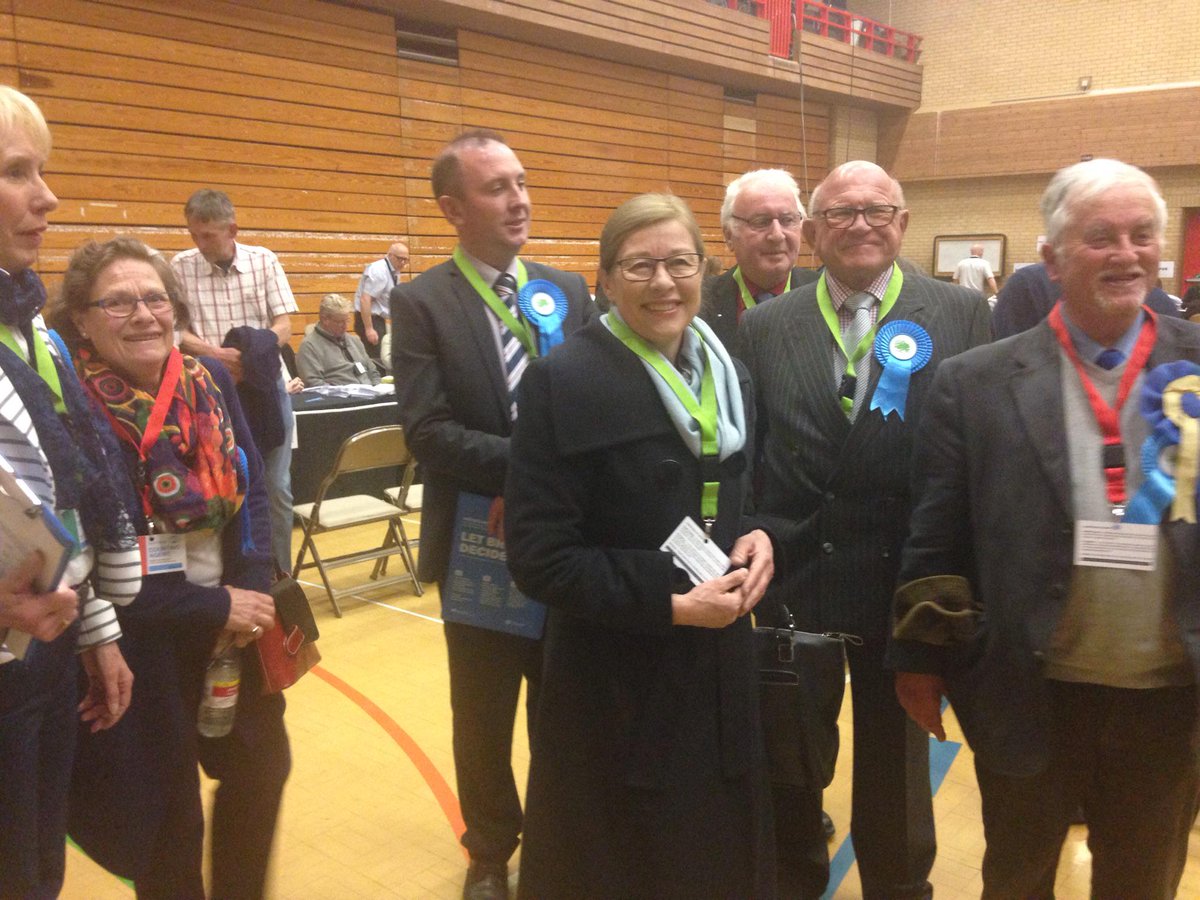 "The exit polls are disappointing but I prefer to wait for the results."
– Barbara Cannon (Labour), Deputy Leader Allerdale Borough Council.
"I think it is a fantastic achievement if the exit polls are right. It will put us leading and able to secure the economic future of the Uk"
– Tony Markley (Conservative)
Advertisement
Our reporter Matthew Taylor has been speaking to David Mundell's Conservative camp in Dumfries who say the exit poll might not reflect the local picture.
Mundell is defending his Dumfriesshire, Clydesdale and Tweeddale Constituency.
While campaigning in the Scottish Borders today, Ruth Davison gave her reaction to Ed Miliband's claim that there would be no coalition agreement between Labour and the SNP
The leader of the Scottish Conservatives was in the Scottish Borders today, campaigning ahead of Thursday's general election.
With less than a week to go until polling day, Ruth Davidson visited Melrose in the hope of picking up some crucial votes for a tightly contested seat.
Read our full constituency report on the Roxburgh, Berwickshire and Selkirk constituency here.
David Cameron has outlined plans for an annual review of the impact of Scottish Devolution on the rest of the UK.
He announced what he's calling the "Carlisle principle" during a speech in Crewe this morning.
He says the aim is to make sure policies that devolve more power to Scotland, don't have a negative impact on other parts of the UK, in areas like air passenger duty, tax rates, university tuition fees or energy policy:
"I want to set out a new principle - you could call it the Carlisle Principle - that we will make sure that there are no unforeseen detrimental consequences to the rest of the country from Scottish devolution, for either England, Wales or Northern Ireland."
– Prime Minister David Cameron
Advertisement
Peter MacMahon's general election blog on the launch of the Scottish Conservative manifesto.
Read the full story ›
Our reporter Tim Backshall asked the Chancellor how his party's policies might affect people in Cumbria, and the south of Scotland.
Read the full story ›
Chancellor of the Exchequer George Osborne is campaigning in Carlisle today, ahead of the general election in just over three weeks.
The city is considered a key marginal seat as the Conservative Party took it at the 2010 election with a majority of just 853 votes.
Before that, it had been represented by Labour for more than 40 years.
At this general election the seat is being contested by:
Alfred Okam (Independent)
Fiona Mills (UKIP)
Helen Davison (Green Party)
John Stevenson (Conservative)
Lee Sherriff (Labour)
Loraine Birchall (Liberal Democrats)
Commenting on the latest polls by Lord Ashcroft, Scottish Labour Leader Jim Murphy has said "David Cameron will be rubbing his hands with glee when he sees these polls".
There is no gloss that can be put on these polls. This is bad news for Scottish Labour but great news for the Tories.

David Cameron will be rubbing his hands with glee when he sees these polls, because any seat the SNP take from Scottish Labour makes it more likely the Tories will be the largest party across the UK.

We can't let David Cameron back into Downing Street by the back door. That would be a disaster for Scotland, but it looks like that is what might happen if these polls in Scotland are repeated on election day."
– Scottish Labour Leader Jim Murphy
But the Scottish Conservatives say this poll shows that their "are now in a real fight across Scotland".
A spokesperson for the Scottish Conservatives has said:
With the Liberal Democrat vote having collapsed completely, we offer Scots the opportunity to unite around a plan to finish the job of economic recovery and to secure Scotland's place in the UK – any other vote will let Ed Miliband into Downing Street, with Alex Salmond calling the shots.

That's the message we will be delivering before May. We know that more and more Scots are backing that plan."
– Scottish Conservatives spokesperson
The Scottish National Party's General Election Campaign Director Angus Robertson MP has said the polls "are very encouraging", but that they aren't taking a single seat or vote for granted in May".
Load more updates