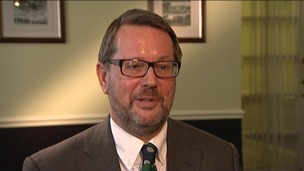 Cumbria County Council Cllr Tim Knowles quits cabinet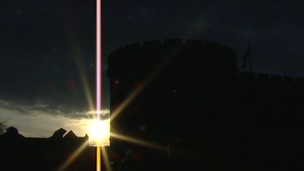 Cumbria County Council might need to cut £50 million off their revenue budget over the next 2 years, the proposals are under consultation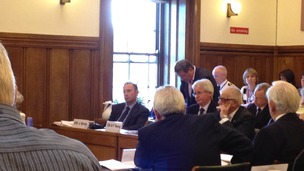 Cumbria County Council's full cabinet is meeting to discuss whether west Cumbria should host an underground nuclear waste store.
Live updates
New leader for Cumbria County Council
Labour's Stewart Young, from Carlisle, has been elected as the new leader of Cumbria County Council.
His party won the most seats at the recent county council elections and will run the council in coalition with the Liberal Democrats.
Liberal Democrat Jo Stephenson, from Windermere, has been elected deputy leader.
For the previous four years the Conservatives were the biggest party on the county council and were in coalition with Labour, but Labour became the biggest party at this month's elections.
"Clearly the financial crisis is looming over everything else and we need to tackle that and we will tackle that but I think as well as that we need to invest in the county.

"There's a desperate need to bring additional jobs."
– Councillor Stewart Young

James Airey, from Ulverston, will be the Conservative and opposition leader.

The Conservatives say they fear that rural areas will lose out under the new administration.
A Labour and Liberal Democrats coalition is set to lead Cumbria County Council.
It follows a week of uncertainty after the local election results and will replace the former Labour-Conservative administration.
It is expected that six Cabinet seats will go to Labour and four will go to the Liberal Democrats.
The leader of the council will be named at a full council meeting on Thursday.
Advertisement
The Prime Minister has also criticised high payments to public officials following reports of a large severance deal being given to the Chief Executive of Cumbria County Council.
55-year-old Jill Stannard is retiring early from her post, which has a salary of £170,000 a year.
Carlisle's MP John Stevenson says he believes she will receive a large pay off:
Cumbria County Council leader Eddie Martin has announced that he will not stand for re-election in May.
The 72-year-old has spent almost three years as leader of the council and nearly five years in total as a councillor.
Councillor Martin had said that the time has come to spend more time with his family.
Nuclear waste repository
The scrutiny committee at Cumbria County Council has decided not to re-examine the initial decision against a potential underground nuclear waste dump in Cumbria.
The committee examined how and why the decision was reached to rule the county out of the project.
A meeting is being held to discuss the decision to turn down the proposals for an underground nuclear waste dump in Cumbria.
Cumbria County Council's scrutiny committee will examine how and why the decision was reached by local councillors last month.
Advertisement
Cumbria County Council are meeting in Carlisle to decide the budget for 2013/14.
They are expected to freeze council tax for the third year running, but are also expected to cut £24.5 million from their budget.
Exclusive: Cllr Tim Knowles resigns
A senior member of Cumbria County Council walked out of a cabinet meeting in protest this morning - and has since quit his post.
Councillor Tim Knowles says that he felt compelled to go as a matter of principle.
His resignation comes a week after the cabinet voted against plans to look for a possible site to bury nuclear waste in the west of the county.
He spoke exclusively to Samantha Parker, and you can watch her full report below.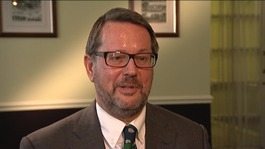 Exclusive: Cllr Tim Knowles resigns
Councillor Tim Knowles has resigned from Cumbria County Council's cabinet.
At the cabinet meeting in Carlisle, Councillor Knowles took the opportunity to read out a resignation speech.
Councillor Knowles, who is a member for Cleator Moor and Frizington for the Labour Party, supported the move towards looking for a possible site to bury high level nuclear waste in west Cumbria- excluding the National Park.
"Sadly, I believe the unique events of last Wednesday left me with no choice but to resign as the Administration's Cabinet Member for Transport and Environment with immediate effect.

"When a council Leader makes comments such as 'I'm not prepared to prostitute our Cumbrian soul or heritage for silver coins', apparently associating them with years of work by members, officers and Cumbrian partners, I think we are entitled to ask what sort of leadership he is providing.
– Councillor Tim Knowles

Before he left Councillor Knowles thanked officers and his cabinet colleagues.
Load more updates
Back to top