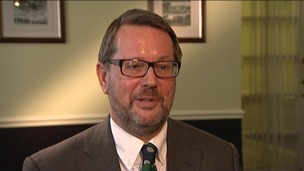 Cumbria County Council Cllr Tim Knowles quits cabinet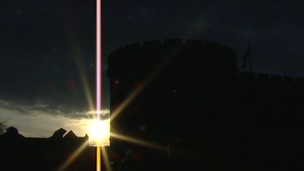 Cumbria County Council might need to cut £50 million off their revenue budget over the next 2 years, the proposals are under consultation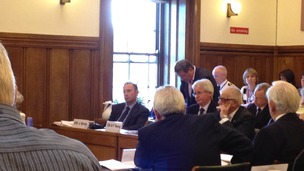 Cumbria County Council's full cabinet is meeting to discuss whether west Cumbria should host an underground nuclear waste store.
Live updates
No nuclear waste site for Cumbria
The leader of Cumbria County Council, Eddie Martin, has spoken about the nuclear waste decision:
No nuclear waste site for Cumbria
The Cumbria County Council meeting to discuss whether to go to the next stage of plans for an underground nuclear waste store in Cumbria has started.
The council leader Eddie Martin has told the meeting that he will allow one hour of questions.
He also said that councillors have faced unfair and personal campaigning from some people involved in the debate.
The first member of the public to speak was Ronald Stirzaker of Radiation Free Lakeland who handed in a petition against the idea of going to the next stage of the process.
Advertisement
No nuclear waste site for Cumbria
Three councils will decide today whether or not they want to look at possible sites to bury high level nuclear waste in west Cumbria.
The executives of Allerdale, Copeland and Cumbria County Council's cabinet will hear representations from those for and against moving forward in the process.
Allerdale and/or Copeland can only move progress to search for sites if they have the backing of the county council.
If they decide to go through in depth desk tops studies will look at whether the geology in west Cumbria is suitable.
Cumbria County Council will meet at 10am in Carlisle, Copleand at 10am in Whitehaven and Allerdale at 3pm in Maryport.
Council puts gritting plans online
Cumbria County Council has launched a Twitter service so people can keep track of gritting plans during the winter months. They've also introduced a new online map which is updated daily showing which routes the fleet of gritters intend to treat.
Twitter users can find it through Cumbria County Council's Twitter account at @CumbriaCC The interactive map can be viewed on the council's website
The new online information service will help keep drivers safe on Cumbria's roads during the winter months and is representative of the county council's determination to be innovative in making important information available to members of the public in a timely and accessible way.
– Cllr Tony Markley, Cumbria County Council
Cumbrian road sinking into sea
"The road from Silloth to Maryport is a vital link for communities along the Solway coast and as the local member who has been underlining the importance of keeping the road open, I'm pleased that engineers are now pulling out all the stops and getting the vital work started before Christmas.

"Without this work starting immediately, there was a very real risk that part of the road would simply have disappeared into the sea and I was all too aware of the consequences that would had for the local road network."
– Cllr Tony Markley, Cumbria County Council
Kingmoor schools expansion
Cumbria County Council are holding an exhibition for parents and locals before it submits a planning application for the expansion of Kingmoor schools.
The council approved proposals to expand the Nursery and Infant, and Junior schools earlier this year.
The expansion would include an extra two classrooms built for the Nursery and Infant school, and increase capacity from 180 to 225 pupils.
The plans for the Junior School would also see two extra classrooms built plus some additional accommodation, increasing capacity from 240 to 300 places.
The event is being held to give people an opportunity to see the plans and to talk to representatives from the school and council.
Advertisement
Budget proposals released
As Cumbria County Council consider how to move forward with budget cuts, in West Cumbria the process has already begun to ask people how they think one local council should cut its budget.
Copeland Borough Council is facing £2.6m of cutbacks. Tim Backshall reports
Budget proposals released
Cumbria County Council has warned of job losses and service cuts as it faces an 'unprecedented' reduction in its budget.
The council might have to make savings of up to £50 million over the next 2 years, to add to the £60 million it's already cut. A public consultation has been launched.
Councillor Stewart young is the Deputy leader of the County Council: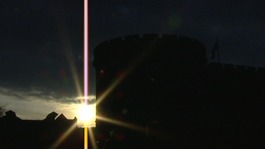 Cumbria County Council might need to cut £50 million off their revenue budget over the next 2 years, the proposals are under consultation
Read the full story
Petteril schoolchildren perform WW2 puppet show
Schoolchildren from Petteril Bank School in Cumbria are performing a Second World War evacuees-themed marionette puppet show at the Carlisle Archive Centre.
Pupils have made the marionette evacuees as well as producing a soundtrack to the show which has been organised by Cumbria County Council's Archive Service.
A World War 2 'experience' workshop is one of several historical workshops currently running at the centre.
There's also a Tudor workshop, which explores the experiences of two Tudors who lived in Carlisle, finding out what happened to them from their wills inventories.
Load more updates
Back to top