A new tool that allows firefighters to put out flames without entering the building on fire is on trial in Cumbria.
Watch Ryan Dollard's report to find out more.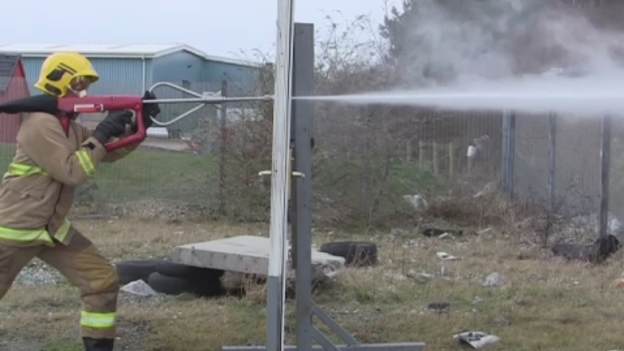 A new tool in the fight against house fires and fire fighter fatalities is on trial in Cumbria.
Called the Cobra, it can bust holes through walls and doors to douse flames without firemen having to enter buildings that can be twice as hot as domestic ovens.
Advertisement
The risk of dying in an accidental house fire increases by 50% over the festive season so firefighters are calling on Cumbria's households to put fire safety at the top of their Christmas lists.
Last year there were 27 house fires between 15 December and 5 January compared to 17 from 15 January to 5 February 2014.
Cumbria County Council's Fire and Rescue Service is issuing the following hints and tips for festive fire safety:
Ensure you have a working smoke alarm installed on all levels of your home. Test your smoke alarms weekly and never remove batteries.
Never leave cooking unattended and avoid cooking while under the influence of alcohol. The majority of fires start in the kitchen so this is a high risk area. Always turn off kitchen appliances when you have finished cooking.
Never leave candles unattended. Keep decorations, cards and wrapping paper away from candles, fires, lights and heaters.
Ensure you switch off Christmas tree and fairy lights and unplug them before you go to bed, or leave the house. Check your lights conform to the British Standard (BS EN 60598).
Always use an RCD (residual current device) on outdoor electrical equipment. This safety device can save lives by instantly switching off the power if there is a fault and can be found in any DIY store.
Don't overload sockets – ensure only one plug per socket. Always turn off plugs when they are not in use, except those that are designed to be left on, like freezers.
When dry, real Christmas trees can take less than a minute to completely involve a room in fire so it's essential real trees are kept in a suitable stand that can be topped up with water.
Always use a fire guard on a real open fire to protect against flying sparks and hot embers. Also make sure embers are properly out before going to bed.
Make sure cigarettes are extinguished properly and never smoke in bed. Put it out, right out.
Check on older relatives and neighbours this Christmas to ensure their safety at this time of year.
In the event of fire - get out, stay out and call 999.
Five fire engines and a number of officers are currently dealing with a 'significant' fire at Cumbria Waste Management in Carlisle.
Crews were called to the site shortly before 4pm. More information as we get it.
Firefighters in Cumbria will be on strike today, Saturday 21 June, between 10am and 5pm. It's the second strike this month due to an ongoing dispute with the Government over pensions.
Advertisement
Emergency services are dealing with a fire at a property in Dalston, Cumbria.
No one is believed to have been injured.
The road from the Black Lion to Buckabank is closed. Police are asking that motorists avoid the area and seek alternative routes as it may be closed for a number of hours.
One of Carlisle's main roads was closed last night after a blaze broke out during the firefighters strike.
Traffic was diverted as thick smoke drifted across the area. Despite the industrial action, crews did attend the scene on Scotland Road at Cross Street and quickly brought the fire under control.
The 24-hour strike officially ended at 9am today, Friday 13 June. It's the latest industrial action taken in a three-year dispute over pensions.
More than 90 firefighters in Cumbria took part in the national strike last weekend. The three day strike was in response to a dispute with the Government over pensions.
Of 600 firefighters, 94 took part in the strike on Friday, 96 on Saturday and 97 on Sunday.
15 incidents were dealt with by the Fire Service during this time.
Pensioner Elizabeth Young would have died back in January after she became trapped in her car during a severe flood.
Amateur photographer Colin Smithson spotted Elizabeth's plight as he took pictures of the flood.
He then risked his own life to help her to safety.
Today Colin was officially honoured for his bravery.
At a special ceremony at Cumbria Fire and Rescue HQ, the 64-year-old from Kirkbride near Wigton, was officially honoured for saving the life of Elizabeth Young earlier this year.
Load more updates