Live updates
Doorstep loans target in new campaign
The Citizens Advice Bureau went to Annan Football Club's Galabank ground to promote their debt advice service.
Doorstep loans target in new campaign
A rise in the number of so called Doorstep lenders in Southern Scotland has led to the Citizens Advice Bureau trying a new approach. It's set up a stall at Annan football club, the first time this has been attempted.
The Citizens Advice Service says that there has been an increase of 42 percent in the numbers of people who said they had a problem with doorstep lending in Dumfries and Galloway. And on average those people owed £1,200 to doorstep lenders.
Interest rates from doorstep lenders are around 1,000 percent
Advertisement
People living in and around Coldstream have the highest level of personal loan debt per person than anywhere else in Scotland.
Figures released by major bankers show a breakdown of more than 9,000 postcodes, to show how people rely on lending.
The TD124 postcode, which covers Coldstream, Cornhill-on-Tweed and Mindrum, is eighth on the list, and is the only Scottish area included in the top ten.
Here are the postcode areas which owe the highest amounts in personal loans per person according to the findings, with the amount owed per head:
LS17 0 Leeds, £1,516

M3 3, Manchester, £1,408

PR7 7, Preston, £1,270

CH47 0, Chester, £1,238

SA7 0, Swansea, £1,222

HU1 3, Hull, £1,214

MK9 4, Milton Keynes, £1,205

TD12 4, Galashiels, £1,204

MK42 6, Milton Keynes, £1,182

NE13 9, Newcastle upon Tyne, £1,156
Scots are "biggest spenders"
Almost a quarter of people in Scotland will find themselves in debt as a result of this Christmas.
24% of Scots say they are expecting to end up in debt this year compared to 17% of English people and 20% in Wales.
A survey carried out by ScotlandDebt.co.uk found that being the most generous spenders at Christmas is having a negative affect on many people in Scotland.
As 13% expect to spend over £1,000 this year, 62% admitted to overspending during the festive season.
The debt advice charity say the figures are worrying:
"That a quarter of Scots will get into debt this Christmas is very concerning. We don't advocate everyone stopping spending altogether and we all know that circumstances can cause temporary cash shortages, but we want people to think hard about how much credit costs people in Scotland, and how long after the New Year they will be paying for their Christmas festivities."
– John Baird, ScotlandDebt.co.uk
Scots are "biggest spenders"
Scots are are the most generous Christmas spenders in Britain.
A recent survey by ScotlandDebt.co.uk found that 13% of Scots plan to spend more than £1,000 this Christmas whilst only four per cent of English people and eight per cent of people in Wales are planning to spent the same.
Scotland is also expected to have the highest average spend this festive season at £611.
However the debt advice charity is concerned by the number of people who could be getting themselves into debt to meet the expensive demands of Christmas.
A new television and advert campaign aimed at highlighting the help available for people struggling with debt, has been launched by the Scottish Government.
The Debt Arrangement Scheme (DAS) is an initiative which helps people to pay back their debts over a reasonable period of time, based on the amount they owe and their current financial position.
DAS stops creditors using debt enforcement action and safeguards people's homes- as long as they keep up mortgage repayments.
Recent changes to the scheme means it also now freezes interest, fees and charges to prevent debts mounting up.
"The Scottish Government continues to take action, where it can, to address these problems and introduce measures to help those people in Scotland who are struggling under the burden of debt.

"The Debt Arrangement Scheme is the only government-backed scheme to help people pay back their debts in a dignified way, protecting them from the threat of action by their creditors.

"Our aim with this campaign is to raise awareness of DAS which helps people faced with the difficulties of debt to take control of their finances and get help out of the hole."
– Fergus Ewing, Enterprise Minister for Scotland
Advertisement
Warning over door-step loans
Tyne Tees
The Department for Business has issued a statement after the release of a report today that concluded that the number of people relying on quick, high interest loans is rising.
The Government is currently looking at whether any action needs to be taken to address the problem, and about what action it might take.
Read the full statement from them below:
"The Government is concerned about problems in the high cost credit sector and is determined to address these, particularly for the most vulnerable people.

"The Office of Fair Trading have been conducting a compliance review of the payday sector and are due to issue their final report shortly. We strongly support any enforcement action they take forward and the steps they will take to improve standards across the sector."
– Spokesperson for the Department for Business
"Our intention is for the new Financial Conduct Authority to be given responsibility fo regulating consumer credit from 2014. This new regulator will have a diverse range of powers to address problems across all consumer credit markets.

"The Government is currently considering whether other action may be needed in the high cost credit sector."
– Spokesperson for the Department for Business
Warning over door-step loans
Tyne Tees
The number of people relying on quick, high interest loans is rising. The Centre for Responsible Credit says companies should share information about customers who are already in debt. The change would protect low income borrowers from irresponsible lenders.
Kath Simms and Kath Carter, both from Stockton, have stuggled with loans for years. They told ITV how easy it is to fall into financial ruin.
Warning over door-step loans
Tyne Tees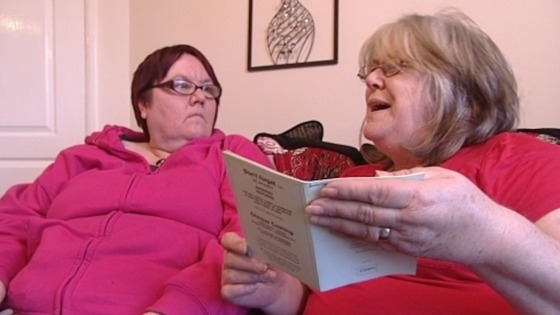 Two Stockton mothers are warning others of the risks of taking out taking out high-interest loans. They say vulnerable people are being targeted by companies who knock on people's doors and are becoming 'the norm' and 'a credit line' for those who find it difficult to live within their means.
Teesside debt charity Thrive supports hundreds of people with cash problems.
Community organiser Greg Brown says, "We try to advise people on alternatives to high interest loans. We encourage people to stick up for themselves, challenge lenders and get what they are entitled to. We know what rights people have and help send people on the right way."
Back to top