Live updates
Dumfries flooding 'masterplan' debate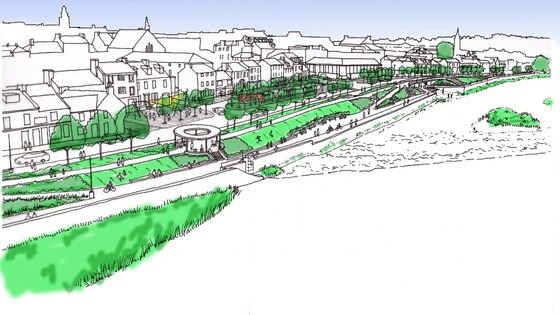 Dumfries flooding 'masterplan' debate
Potential plans for future flood defences in Dumfries would see the whole of the area between the town centre and the River Nith redeveloped.
The flood prevention scheme could cost up to £4 million and would be funded by the council and the Scottish Government.
The Labour group on Dumfries and Galloway Council will ask for detailed plans to be drawn up within six months at the planning meeting.
Any plans would then need to get planning permission and the scheme could take up to three years to complete.
The scheme would involve a green bank barrier being built along the River Nith at the Whitesands, which would reach a height of two metres at its highest point.
That would protect against most flooding but not against a severe flood described as a "one in two hundred year event".
Advertisement
Dumfries flooding 'masterplan' debate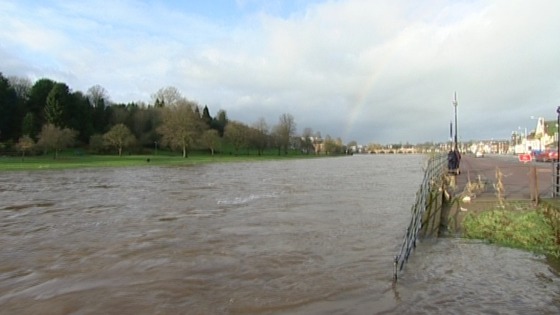 Nith Ward Councillor John Martin said:
"I think most people will be quite pleased with the rough proposals in the masterplan. It would help regenerate the Whitesands area.
"In the long term the proposals for the wider town centre would also make a real difference to regenerating Dumfries. But there is a real difference between a consultants report and implementation.
"Until we see bricks being laid on the ground, local residents and businesses will be skeptical about whether this will actually happen".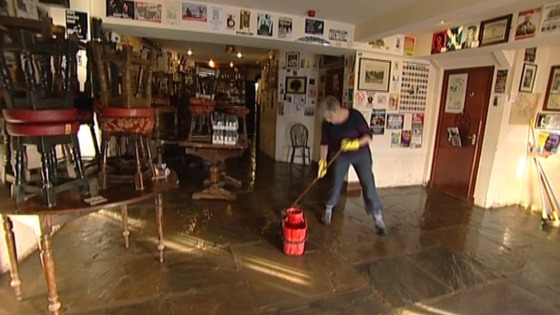 Dumfries flooding 'masterplan' debate
A council meeting is being held to discuss the future of flood defences for Dumfries Whitesands.
Councillors from the planning, housing and environment committee, will discuss a 'masterplan' for flooding problem areas in the town.
Some councillors are concerned that there is still no timescale set for the project and no funding proposals are in place.
"The masterplan is a step forward but the report coming to the committee doesn't really tell us much more than we heard in September when the council held a charette to discuss proposals for a flood prevention scheme.

"There is still no clear timetable, no costings and no evidence that other than £150,000 for yet more design work, there is any funding.

"We need to see clear timescales set for when work would actually begin on flood prevention measures and have discussions with the Scottish Government to ensure that funding is put in place. "
– Colin Smyth, Nith Ward Councillor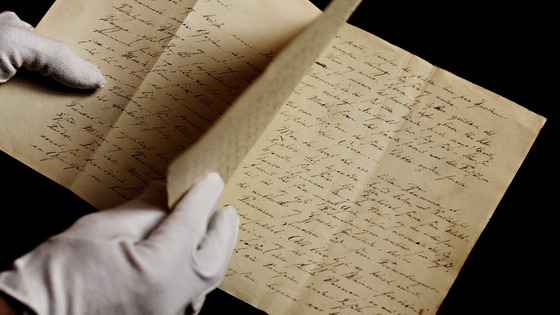 Plans for a new archive centre are being proposed by Dumfries and Galloway Council.
The council are asking the public for their views on the plans, which include a centre to house local studies books, archives, newspapers, photographs and maps, with some dating as far back as the 15th century.
The ambitious plans are part of a major 'Archives Strategy', where the council hope to give the public easier access to archives across the region, and help preserve them.
Local Scottish council budget cuts
Before the Scottish Borders Council's budget was passed, the Borders Conservative group presented it's own alternative budget.
In the budget, the party outlined plans to save £11 million, including an end to the no-compulsory redundancy policy and a cut-back on early-retirement pay-offs.
"We brought forward an alternative budget, because we wanted to scrutinise the council's budget, and we found there were a couple of things that were missing or needed adding.

"We are very concerned that they are cutting the early intervention and prevention for young people, through the children's young people and planning partnership.

"We were also concerned that they are getting rid of the wardens before we felt we had a chance to really look at what we could do with the service, and we don't want to see an increase to primary school meals."
– Councillor Michelle Ballantyne, Conservative Group Leader

The Scottish Borders Council's budget was approved by 20 votes to 10.
Advertisement
Local Scottish council budget cuts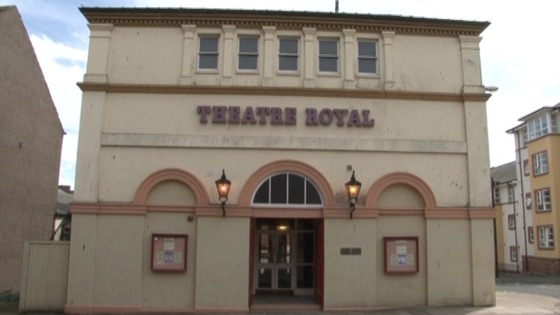 The leader of Dumfries and Galloway Council, Ivor Hyslop, has invited the Theatre Royal in Dumfries to discuss potential funding of £450,000, to help redevelop the historic property.
The invitation comes after the council approved the budget for the next financial year.
Local Scottish council budget cuts
"The Administration's budget, supported by Independent Councillors, strikes the right balance between making the savings we have to and, at the same time, continuing to invest in our region.

"I am pleased that we have been able to put together a targeted package of measures to support the region's small businesses.

"We have also allocated £1 million of extra funding to roads maintenance, concentrating on rural lifeline links and urban housing estates, which we intend will be made available to local contractors. We have also removed altogether the charges for music tuition."
– Councillor Ivor Hyslop, Leader, Dumfries and Galloway Council
"In today's budget we increased the Living Wage to £7.50 an hour and continue to avoid compulsory redundancies. In total, as a result of today's decision, the Council is devoting £1.6 million to addressing the pressures caused by welfare reform.

"We are also continuing to invest in early intervention, targeting more support at our most vulnerable children and school clusters. We are continuing with the successful teacher refresh scheme and have maintained classroom assistants where they are most needed.

"This budget balances the need to make savings with the need to invest in our region."
– Councillor Collins, Depute Leader, Dumfries and Galloway Council
Local Scottish council budget cuts
Dumfries and Galloway Council has agreed on the budget for the coming financial year.
The proposals, which were backed by Independent Councillors, include:
Investment in roads infrastructure and small business support
Expansion of the Council's graduate and apprenticeship schemes
Increase the Living Wage to £7.50 an hour
Avoid compulsory redundancies
The council say additional money allocated in today's budget takes the amount of funding allocated to addressing Welfare Reform to £1.6 million.
Local Scottish council budget cuts
"Today Council approved the Administration's five year revenue and 10 year capital funding proposals.

" Although it is a difficult economic climate with more demands placed on the Council than ever before, our financial proposals do allow us to continue to invest in high quality well run public services throughout the Borders.

"Once again we are able to freeze the council tax for the 6th year in a row and continue to deliver a significant but sustainable programme of transformation of council services."
– Councillor David Parker, Leader of Scottish Borders Council
"The Administration's budget agreed today is robust and affordable, and at its core protectsthe key service areas which are important to people in the Borders.

"Although the Council has a budget of around £250million we cannot meet every need and expectation, so it is important to focus on services which we are statutorily required to deliver, and deliver them to the highest possible standard.

"For example, we have provided additional funding of £1.3million for Social Work to ensure that we meet the needs of our growing elderly population, and give them the care that they deserve."
– Councillor Catriona Bhatia, Depute Leader, Scottish Borders Council
Load more updates
Back to top