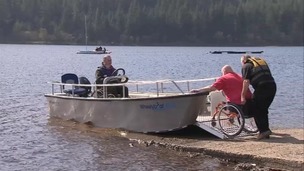 The first Wheelyboat in the region has been launched on Loch Ken.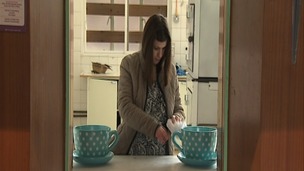 A Dumfries community cafe employing people who might otherwise find it difficult to get work, is receiving more than a million pounds.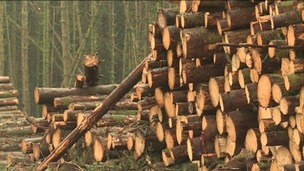 A new report into the importance of the forestry industry in Scotland has been released. It's worth billions to the Scottish economy.
Live updates
Launch of wheelyboat allows disabled access to water
Galloway's first ever boat with access for wheelchair users has been officially launched on Loch Ken.
The Wheelyboat allows people of all mobilities to get out and enjoy the water.
It's been in the planning for several years now and has finally had its maiden voyage in the sunshine.
Our reporter Fiona McIlwraith was there:
Following a report that identified weaknesses in children's services delivered in Dumfries and Galloway, a new Chair will be appointed to the Child Protection committee.
FULL STATEMENT:
"The Community Planning partners fully accept the hard messages in this report and I am pleased immediate action has already been taken. A draft plan has been developed which contains a number of actions to improve professional leadership, key processes and our partnership working.

"These actions include the appointment of an Independent Chair to the Child Protection committee. The new chair will lead on and take forward the necessary improvements to children's service. He will be fully supported by an independent improvement team and nationally recognised, external experts.
"All partners and senior managers are fully committed to addressing all the issues identified in the report and as the newly appointed Chair of the Community Partnership, I will certainly be expecting to see significant improvements.

"There is no more important responsibility than protecting children and young people. By working more effectively together and getting the processes right, I am determined that the partners will lead, plan and deliver the changes needed".
– Ronnie Nicholson, Chair, Community Planning Partnership
Advertisement
An inspection report, published today on children's services in Dumfries and Galloway, has identified 'a number of unacceptable weaknesses'.
This report follows an inspection led by the Care Inspectorate into Dumfries and Galloway's multi agency approach to children's services.
Today's report looked at services for families and young people delivered by the Community planning partnership, which is made up of Council, NHS, Police Scotland and the Third Sector.
"The report indicates that we need to do more to ensure that we get it right first time, every time for every child. To deliver measurable improvements for children and young people, we will be working hard to develop stronger, more collaborative leadership arrangements for all our integrated children's services."
– Andrew Johnson, Vice Chair, Community Planning Partnership and Interim Chair, NHS Board
"Police Scotland accepts the findings of the Care Inspectorate into Children's Services in Dumfries and Galloway. In partnership with those in the Community Planning Partnership our priority now must be to work through the action plan that has already been developed, ensuring that the services we provide to our children, young people and families here in Dumfries and Galloway keep children safe."
– Kate Thomson, Chief Superintendent, Police Scotland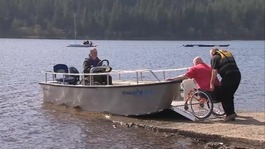 Galloway's first ever wheelyboat has been launched on Loch Ken, the largest loch in southern Scotland.
The wheelyboat has a ramp, so that wheelchair users can enjoy getting out and about on the water. It's the first boat of its kind in southern Scotland.
Snow drift sheep gives birth to lambs
A year ago we brought you the story of a sheep that had been found alive after being buried in snow drifts more than 10 feet deep in Dumfries & Galloway.
A few days ago she gave birth to two healthy lambs. April is now back out on the hill with her newborns.
Fiona McIlwraith has been to see them.
Advertisement
Human bones have been found by gold panners in a stream near Meadowfoot Cemetery in Dumfries and Galloway.
A skull and part of a femur were discovered by two men from the Hampshire area on Sunday morning.
Another bone was found when police cordoned off an area around a mile from Wanlockhead in Dumfries and Galloway.
It is thought that the bones have come from graves outside the nearby Cemetery, which dates back to 1751, and that they may have been washed into the burn following heavy rain in recent weeks.
Police say the bones were examined and are very old.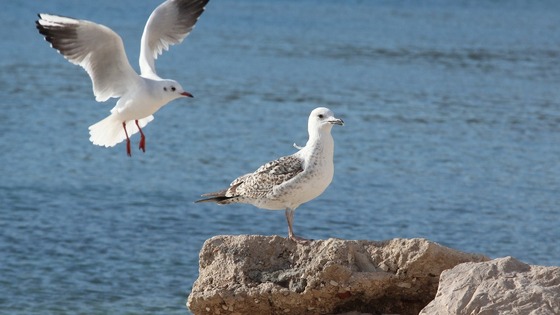 The removal of Seagull nests and eggs in Dumfries is set to continue.
A report on the success of the Dumfries Gull Project, which began in 2009, will be published today.
It will also suggest that the scheme, which costs £32,000 a year, remains free of charge.
Snow drift sheep gives birth to lambs
Galloway farmer Stuart Mactier discovered this sheep in a snow drift last year. This year the sheep has twin lambs.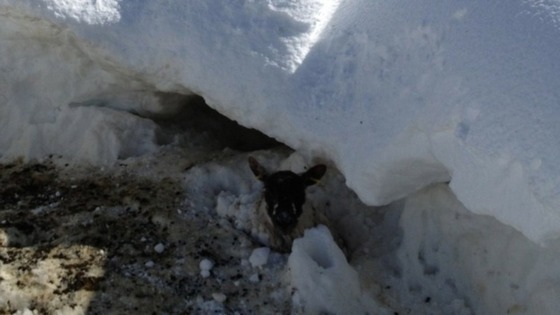 For nearly two weeks farmers dug sheep out of snow drifts after heavy snowfall last spring.
Farmers across the region lost animals in the snow but this sheep managed to survive and made a full recovery.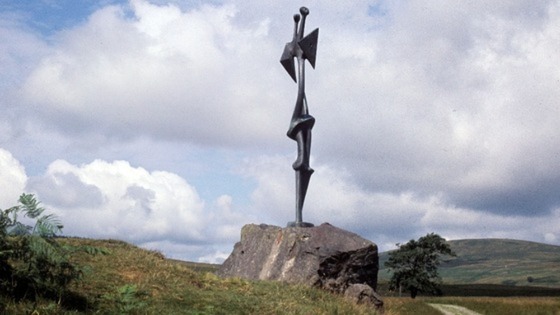 A fresh appeal has been launched by the police to try to solve the theft of a valuable bronze sculpture from an estate near Dumfries.
The seven foot tall Standing Figure is valued by some experts at £3 million.
It was one of four pieces by the artist Henry Moore at the Glenkiln Sculpture Park at Shawhead.
Since the theft six months ago, the landowner Sir Henry Keswick has put up a £50,000 reward.
Load more updates
Back to top