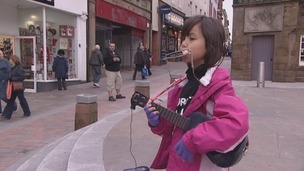 A 7-year-old girl is raising money for victims of a typhoon in the Philippines by busking in Dumfries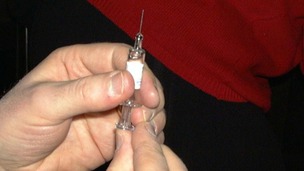 Information on what symptoms to look for if you are worried about meningitis.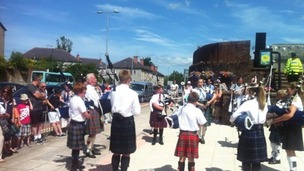 Pictures of the Princess Royal during her visit to Dumfries to officially unveil the Robert Burns' Rock.
Live updates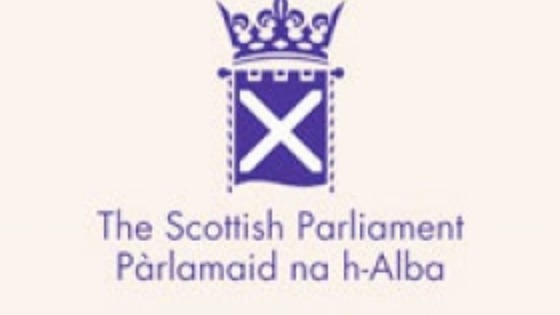 The success of a charity founded in Dumfries will be highlighted in the Scottish Parliament this afternoon.
The Food Train helps older people with their weekly grocery shopping.
It has now spread to six other local authority areas in Scotland.
They have received almost £600,000 from the Big Lottery Fund Scotland for their Food Trains Friend project.
The last wish of a Dumfries father when he died from cancer in September was that his son would be able to complete his course at a London Dance School.
Now colleagues at the company where Peter Canham worked have organised a charity concert to help son Kyle do exactly that.
The money raised will also help Kyle's two sisters and mother Jenni, who has multiple myeloma, a form of bone cancer.
Kim Inglis reports:
Advertisement
Alcohol worth a quarter of a million pounds has been stolen from a yard in Dumfries
A trailer containing 2,400 cases of alcohol was taken yesterday evening.
Police are investigating after over 2,000 cases of vodka were stolen in Dumfries.
The theft happened in the Curryies Yard in Irongray Road on the evening of Monday 2 December.
Police believe that a lorry tractor unit, white in colour, entered the yard at around 5.30pm, hitched up the trailer and driven off with it.
The load contained over 2,400 case of alcohol, mainly vodka, with some cases of whisky, gin and brandy as well.
The exact value of the load is not known at this stage but is estimated to be around £250,000.
"We are asking anyone who may have been in the Irongray Road area of Dumfries yesterday at around 1700 – 1800 hours to get in touch if they saw anything suspicious.

"This appears to have been a well organised theft and it may be that the thieves were in the area some time prior to the theft to plan it."
– Detective Sergeant Scott Torrance of Police Scotland
Kim Inglis talks to Marco Pierre White about his new restaurant which opened today at the Aston Hotel in Dumfries.
Food lovers and producers in Dumfries and Galloway have welcome the launch of a new restaurant opened by celebrity chef Marco Pierre White.
Wheelers of St James's is his first Scottish restaurant and he chose the Aston Hotel in Dumfries over locations in Glasgow as Kim Inglis reports.
Advertisement
Hundreds of people took to the streets of Dumfries last night to see the town's Christmas lights switched on.
We were there to capture the seasonal spirit.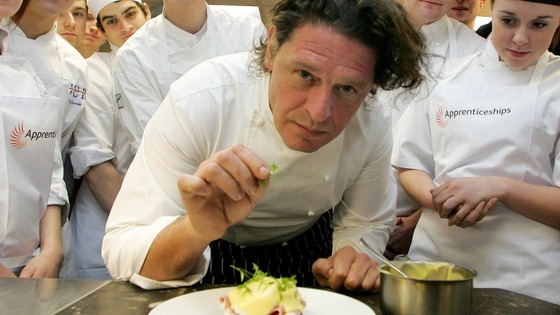 Marco-Pierre White will open his new restaurant at the Aston Hotel in Dumfries later today.
It's his first to open in Scotland.
It aims to use as many local producers to stock the kitchens as possible.
Rachel Hunter, model and ex-wife of Rod Stewart, has tweeted her excitement about heading to Dumfries to watch their son, Liam, compete at the Under 20's World Ice Hockey Championships.
Super excited going to Dumfries Scotland to watch @liamstewart11 and Great Britan ice hockey under 20 play in 8 days .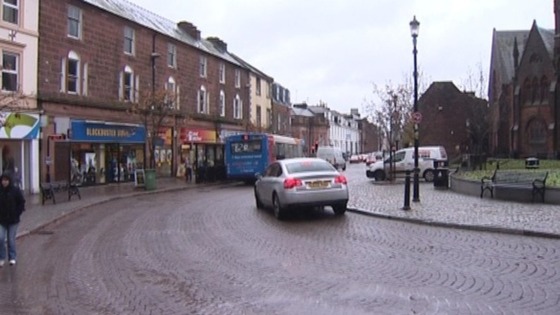 New plans will go on display in Dumfries today showing the next phase of the multi-million-pound regeneration scheme.
The public can view the proposals for the Burns Square redevelopment area in Grey Friars church from 2pm.
Work is due to begin in February next year.
Load more updates
Back to top