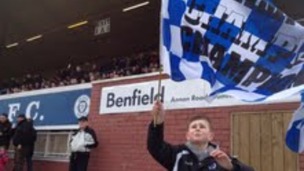 Scottish second division champions thank fans for their support at their first home game since being crowned.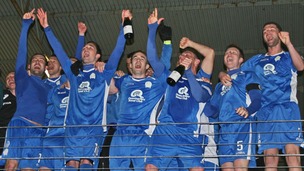 A selection of pictures from the night Queen of the South were crowned Scottish Second Division champions, after beating Brechin 6-0.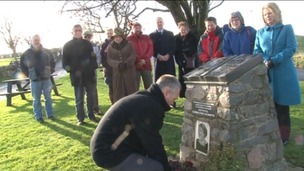 Events marking Holocaust Memorial Day have been taking place across the region.
Live updates
Debate over Dumfries mosque plans
Council approves 'change of use' plans
Council planners at the meeting passed the application to formalise a change of use of the mosque on Annan Road on condition it is for the benefit only of the Dumfries Islamic Society.
The council also said it would investigate some of the issues raised by local people to help community relations.
The Scottish Defence League decided to mount a separate protest of their own in the Whitesands area of Dumfries on Saturday.
Four people from the demonstration were arrested.
A rival anti-fascist march organised by trades unionists was also held on Saturday.
Debate over Dumfries mosque plans
Dumfries mosque plans approved
Plans to extend the use of a mosque in Dumfries which provoked a demonstration by an anti-islamic group have been approved.
The council agreed that the Dumfries Islamic Society can have people sleeping over at the mosque on Annan Road.
Local people started a petition against the proposal, most objecting because they said there was not enough parking and too much noise during the night.
Advertisement
Supergran's birthday bash takes off in style
98-year-old celebrates birthday with a helicopter flight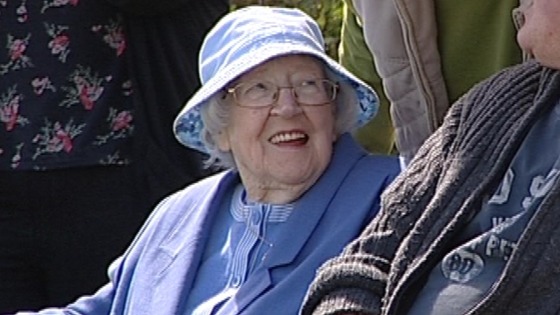 Margaret Scott is celebrating her 98th birthday in a very unique way this year- by taking a ride in a helicopter.
The great-grandmother from Carsethorn, near Dumfries, has only been in an aircraft once before, and that was on a three seater plane on a family holiday to Whitley Bay in 1935.
Mrs Scott, known locally as "wee granny", lives independently in her own house and still frequently drives.
She recently bought herself a new car and said she was "upset" that it only came with a three year warranty.
She has always wanted to take a helicopter flight and her son Dougie managed to arrange it for her special birthday.
Debate over Dumfries mosque plans
Dumfries mosque plans considered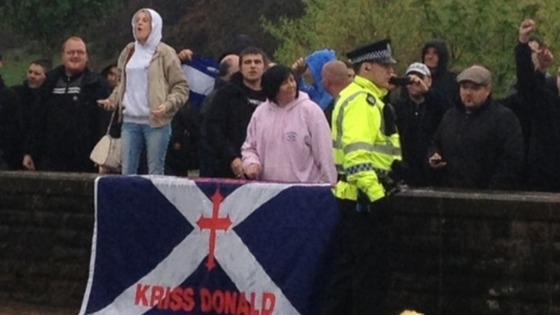 Plans to extend the use of a mosque in Dumfries which provoked a demonstration by the anti-islamic group the Scottish Defence League (SDL) over the weekend go before planners today.
Four people were arrested during the protests.
A piece of Scotland's heritage saved from closure
Scotland's oldest working theatre can now go ahead with redevelopment plans after it secured a council grant of nearly half a million pounds.
The Theatre Royal in Dumfries dates back more than 200 years and was threatened with closure, but it has been given £455,000 by Dumfries and Galloway Council.
It means plans to redevelop the theatre site and expand its facilities can now get under way.
The theatre had already got nearly £1.5m from other sources including a grant of £1m from The Holywood Trust - a local charitable trust.
Work will begin early next year on redeveloping the theatre.
"We are delighted that this key piece of the jigsaw has fallen into place.

"We are pleased that the council has now come on board and we welcome a close working relationship with them to improve cultural facilities in Dumfries"
– Alan Henry, Development Convenor The Guild of Players, Dumfries
"The Trust is delighted that its initial investment has managed to unlock other sources of funding paticularly that of Dumfries and Galloway Council."
– Karen Ward Boyd from The Holywood Trust
Dumfries Ice Bowl to stage International Ice Hockey Championships
Dumfries Ice Bowl has been chosen to stage two events in the International Ice Hockey Federation (IIHF) Ice Hockey World Championships. The venue will host the Men's under 20 event on the 9th December with teams from France, Italy, Japan, Kazakhstan and Ukraine playing alongside Great Britain.
On March 24th 2014, the men's under 18s World Championships will be staged there, with teams from Croatia, Korea, Lithuania, Netherlands and Romania taking part.
"This is fantastic news and I'd like to congratulate everyone involved in the bid. Hosting these two World Championship events will bring significant economic benefit to our region.
– Findlay Carson, Dumfries and Galloway Council's event champion
Advertisement
Dock park restoration begins
Work has begun on the £2 million revamp of the Dock Park in Dumfries.
The restoration work is will include creating a new entrance to the park, an overhaul of the bandstand and improving the child play areas.
Local councillors Colin Smythe and John Martin have been campaigning for the council to restore the park, after what they call years of neglect and vandalism.
The work is being funded by Dumfries and Galloway council, along with a grant from the Heritage Lottery Fund.
"For a long time we have been inundated by fed up local residents reporting the latest vandalism in the park and it really is in a sorry state.

"This announcement is great news not only for everyone who uses the park, but in particular local residents who have had to look on at first hand at the way the park has declined in recent years.
"The council have a habit of dithering when it comes to big projects so we will be keeping the pressure on to ensure that work on the Dock Park is completed as soon as possible.

"The fact that part of the restoration will include CCTV cameras is also positive as there is no point spending nearly £2 million on the park, only to see it suffer more vandalism when the work is done."
– Councillor John Martin, Nith ward
Queen of the South murals in a league of their own
In football Queen of the South fans are still basking in one of the most successful season's in the club's history.
A League and Cup double, having the division's player of the year and the Scottish League's finest manager, is year the fans will never want to forget.
All of their achievements are now being immortalise, as murals at Palmerston Park tell the tale of almost a hundred years of the club's history.
Ryan Dollard reports:
Shelter Scotland's 10 year anniversary in Dumfries
Full report: Shelter Scotland celebrates 10 years of work in Dumfriesshire
A charity in south-west Scotland say they have helped 1,500 families who were at risk of losing their homes in the past 10 years.
Shelter Scotland in Dumfries and Galloway are now warning that the problem is only going to get worse.
Our reporter Matthew Taylor went to meet one man who is struggling to keep the roof over his head:
Shelter Scotland's 10 year anniversary in Dumfries
Charity has helped 1500 people in Dumfriesshire
A charity in south-west Scotland say they have helped 1500 families at risk of losing their home in the past 10 years.
Shelter Scotland in Dumfries and Galloway say the situation is getting worse.
One of the people they have helped is Peter Thomson, who lost his home after injury forced him to stop work as a farm labourer.
Shelter Scotland helped him to find accommodation and a new job but he says he still fears losing his house.
Load more updates
Back to top