Major work could be carried out on two west coast mainline bridges in Carlisle in an attempt to reduce the risk of more flooding.
It is one of more than a hundred options being made public at a drop in session in the city this evening, Tuesday 4 July.
The Environment Agency says only in 2018 will any final decision be taken.
Watch Katie Hunter's report below:
The Environment Agency are inviting people to share flood protection ideas but many some residents say they just want flood defences built.
Read the full story ›
Advertisement
As Cumbrians prepare for another winter, the Environment Agency is continuing to repair damage caused by last December's floods.
Read the full story ›
The Environment Agency say the number of inspections they've carried out since the flooding in December has hit the 20,000 mark.
The floods which tore through various parts of Cumbria caused widespread devastation to land, bridges, roads, railways and houses.
The EA has now set a target of 650 repairs which have to be completed by August.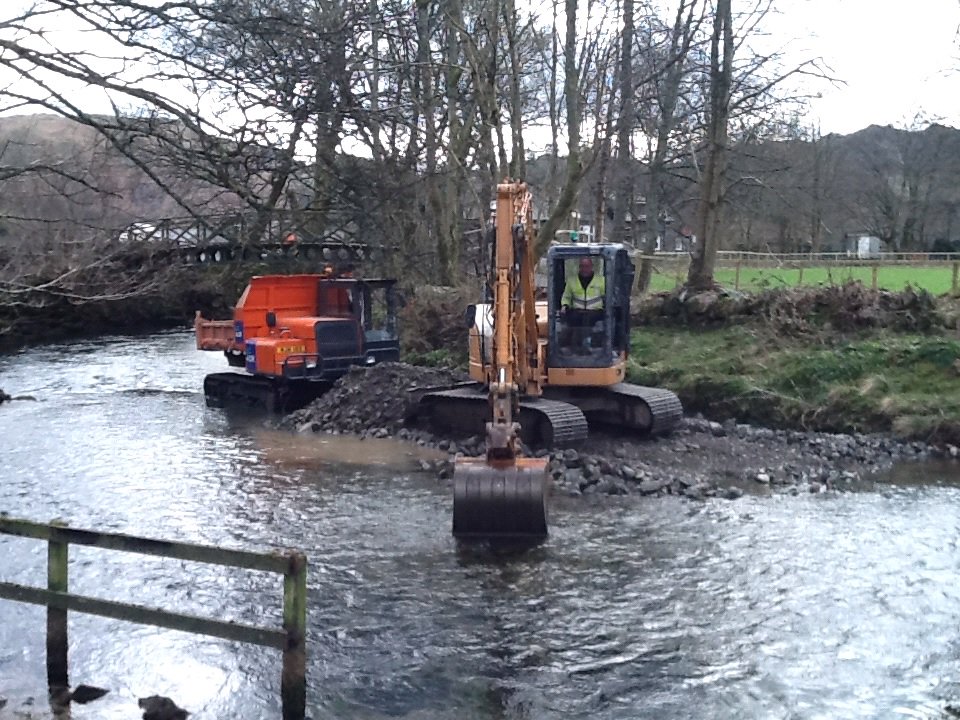 Kendal Town Council is calling for a bypass after the town's traffic has been badly affected by the closure of a bridge after the floods.
Read the full story ›
Environment Agency chairman Sir Philip Dilley has quit after coming under fire for not returning from a family holiday in Barbados during the recent floods.
He said the decision to resign was because "expectations of the role have expanded to require the chairman to be available at short notice throughout the year", something he felt was "inappropriate".
He insisted he was "well qualified" to carry out the role but media scrutiny on him was "diverting attention" from efforts to help those affected by flooding.
In his resignation statement he said: "I want to be clear that I have not made any untrue or misleading statements, apart from approving the statement about my location over Christmas that in hindsight could have been clearer."
Responding to the resignation, Liberal Democrats Leader and Cumbrian MP Tim Farron said Mr Dilley should have joined his staff and been working over the Christmas break.
"Many staff gave up their Christmas Eve, Christmas Day and New Year's Eve. Their boss should have joined them. It seemed to many that this organisation was bereft of its formal leadership when it was most needed.

"The public deserved better."
– Tim Farron MP
Advertisement
The Environment Agency has warned that further serve rain is on its way to Cumbria. The EA expect the downpours to hit on Wednesday and as the ground is already saturated flooding is likely.
"The Met Office are predicting severe rain on Wednesday so there are chances of further flooding in Cumbria but we are unable to make detailed predictions until we have better information on where the rain is likely to fall. Though we are not expecting it to be as bad as in early December.

"Our focus today moved to Lancashire and Yorkshire but we still have a dedicated team in Cumbria and a staff of 750 that can be deployed where ever they are needed.

"We advise people to remain alert and keep themselves updated throughout the week."
– Ben Lukey, Environment Agency
The Met Office have today confirmed that this December has been the wettest on record for Cumbria since records began in 1910.
In addition to Cumbria's existing flood defences, the Environment Agency has transported over two kilometres of temporary flood barriers and more than 20 extra pumps to the north of England.
Four of these are high volume pumps capable of moving 1,000 litres of water per second (one metric tonne, or 219 gallons of water per second).
The Environment Agency is also checking and maintaining flood defences, clearing blockages in watercourses and monitoring water levels. It will issue flood warnings where necessary.
Since the 1st of December, many areas in Cumbria have experienced more than two and a half times their expected monthly rainfall. The wettest December on record for Cumbria follows the county's second wettest November on record.
At Keswick, 472mm of rain have fallen since December 1st, the long term monthly average for December is 173mm.
At Shap, 677mm has fallen compared with its long term monthly average for December of 215.6mm.
On Saturday December 5th, 341mm of rain fell in 24 hours at Honister Pass.
The Environment Agency have sent additional water pumps to Cumbria to prepare for more potential flooding over the next couple of days.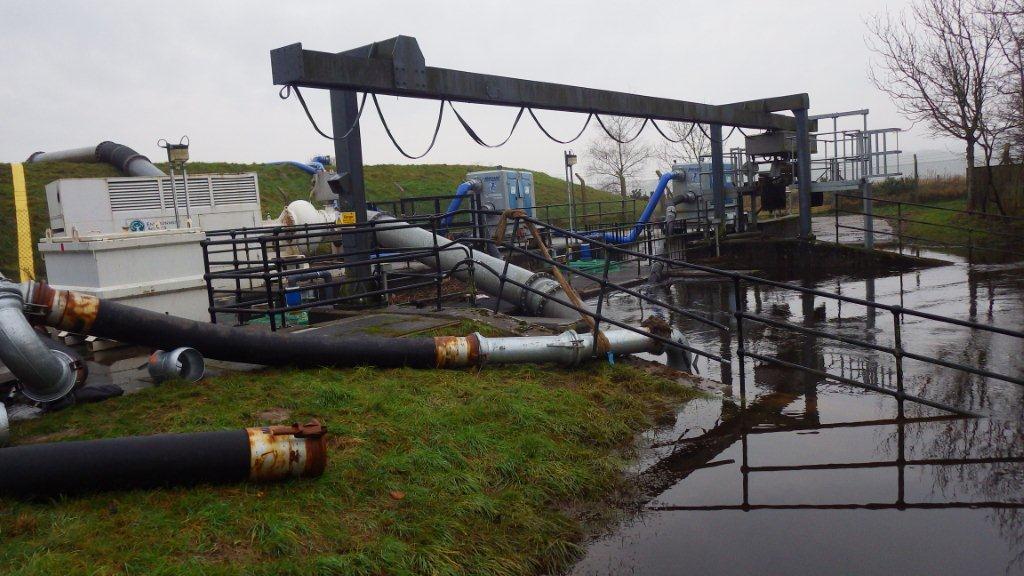 Our region is preparing itself for flooding as a month's worth of rainfall is expected to over the weekend.
There is an amber warning issued for the Border area as the remnants of tropical hurricane Kate hit is due to hit our region this afternoon.
Eight inches of rain is due to fall on Cumbria over the next 24 hours causing rivers and streams to overflow their banks as many areas of ground are already saturated.
The Environment Agency in England has one flood warning in place at Keswick Campsite where flooding is expected and two flood alerts for the Upper River Derwent, Stonethwaite Beck, Derwent Water; and the Rivers Brathay, Rothay and Winster.
In Scotland, the Scottish Environment Protection Agency has issued a general flood alert for Dumfries and Galloway and the Scottish Borders.
The Environment Agency in England has brought two 24-foot long, high-volume flood water pumps from their depot in the South West.
They are capable of pumping 120,000 litres of flood water per minute.
Environment Agency teams are today continuing to check flood defences as well as clearing blockages in watercourses, and preparing some temporary defences.
They have issued the following advice to people who may feel at risk:
* Checking on vulnerable family, friends, and neighbours * Installing flood protection measures to property if you have them * Rolling up carpets, removing curtains, moving valuables and electrical items upstairs or to higher ground * Placing important documents, such as insurance information and passports, in waterproof bags * Making sure you know how to turn off the gas, electricity and water supplies
More information is available on their website: https://www.gov.uk/government/organisations/environment-agency
and in Scotland it's: http://www.sepa.org.uk/environment/water/flooding/
River levels across northern England are already high and are expected to rise with this further heavy rainfall, bringing with them a significant risk of flooding. We are working closely with the emergency services and partners to prepare ahead of the weekend.
– Craig Woolhouse, Environment Agency Director of Incident Management
Load more updates