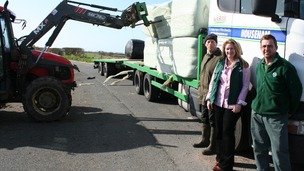 Fifty-five bales of donated fodder have been delivered to struggling hill farmers in south Cumbria.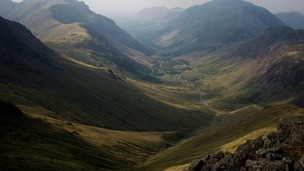 Famers in Cumbria are being urged to lock up valuable items such as quad bikes and fuel following an increase in rural crime.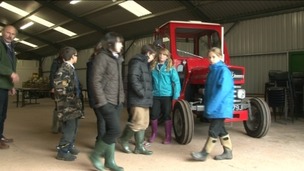 More than 260 pupils from schools around the Scottish Borders have attended an event run by Royal Highland Education Trust in Kelso.
Live updates
Farmers visited by Rural Affairs Secretary
Rural Affairs Secretary to meet with struggling farmers
The Rural Affairs Secretary Richard Lochhead is meeting with farmers who have been affected by the severe weather over the past few weeks.
Mr Lochhead will hear about the challenges farmers are facing after losing stock and struggling to source food.
He is visiting a farm near Gatehouse of Fleet that has endured difficult circumstances recently.
"I know the severe winter weather parts of Scotland has experienced has been devastating for our farmers, particularly as it's come at lambing time and when they are also dealing with rising feed costs and demand for more feed.

"When the severe weather struck, the Scottish Government acted quickly, holding emergency discussions with the industry to put in place help and equipment on the ground as well as providing £500,000 support to assist with fallen stock costs."
– Richard Lochhead, Rural Affairs Secretary
Full report: Borders farming feature
Last month we met a farmer in the Scottish Borders who was preparing for the arrival of lambs.
Well now there are plenty of newcomers at his farm near Jedburgh, and despite the cold weather they are doing remarkably well.
However, farmers still face a tough lambing season, as Jenny Longden has been finding out:
Advertisement
Schmallenburg virus confirmed in Dumfries
Livestock in Dumfries test positive for Schmallenburg
Eight cows from Dumfries have tested positive for the Schmallenburg virus (SBV).
The cattle are part of a 160-strong dairy herd from the Barony campus at Scotland's Rural College on the outskirts of the town.
Farmers in Dumfries and Galloway have now been put on alert for the disease which causes severe birth defects.
A small number of animals which were recently moved to Scotland tested positive for the disease, but the latest cases were all homebred, suggesting that SBV has been spread by midges.
"Since Schmallenberg was first detected in the south of England we have watched it spread slowly northwards.

"Confirmation of its arrival in Scotland is, therefore, no surprise but is nonetheless disappointing and undoubtedly a headache which farmers could do without at the moment.

"Following that confirmation, farmers should continue to exercise vigilance particularly when moving animals onto their farm and should consider testing breeding stock for the SBV antibody."
– Richard Lochhead, Rural Affairs Secretary
"These new results arose from testing we chose to do as part of other routine sampling at Barony.

"While the results were unexpected, they will now help us plan our breeding programme and consider vaccination when it becomes available later this year.

"That's exactly what we hope any findings of the proposed screening programme will help others with."
– Colin Mason, Manager, Dumfries surveillance centre
Tough times ahead for farmers
Cumbrian farmers facing financial challenges
A farming charity say that the number of Cumbrian farmers coming to them for emergency aid has almost trebled since this time last year.
The Royal Agricultural Benevolent Institution believe that many small farms are struggling to stay afloat after last year's heavy rain ruined crops and flooded grazing land.
George McGimpsey from the National Farmers Union of Scotland explains why farmers are having a tough time:
Special report: A farmer's diary
It is coming up for one of the busiest times of the year for those working in one of our region's biggest industries.
Lambing season means round the clock work at the farm.
However, farmers work hard all year round to make sure they can breed as many lambs as possible.
Jenny Longden brings us the first report in a series giving us an insight into a working farm in the Borders.
Borders farmer re-elected as NFUS president
'Hugely important time for farming' says NFUS president
The newly re-elected president of the National Union of Farmers for Scotland has been talking about the challenges the board will face over the coming year:
"This board takes up office at a hugely important time for the industry with the CAP Reform process and independence debate gathering momentum.

"In addition, every sector of our farming industry faces a growing list of challenges.

"This is a team with the skills and knowledge to meet those challenges on behalf of our members.

"However, 2013 will also be a year of celebration as we mark our Centenary. This board, with its wealth of experience and enthusiasm, will create a great platform to drive the Union into its next 100 years."
– Nigel Miller, NFU Scotland President
Advertisement
Borders farmer re-elected as NFUS president
Borders MSP praises elected vice-president of NFUS
Jim Hume, Scottish Liberal Democrat Borders MSP, has congratulated Borders livestock farmer Rob Livesey on becoming elected as NFUS vice-President at this year's AGM.
The MSP also congratulated Nigel Miller going into his second term as President, and said that this represented a strong voice for farming in the Borders.
"With Nigel Miller continuing as President and Rob Livesey elected as Vice President, the NFUS's new board of directors represents a strong voice for farming in the Borders and is good news for the area.

"Rob Livesey will be an ideal representative for one of the most important industries in the Borders.

"Rob's experience as past Livestock Chairman of NFUS as well as being a respected successful farmer, means he will undoubtedly be a strong champion for Borders farmers."
– Jim Hume MSP, Scottish Liberal Democrats, Borders
Borders farmer re-elected as NFUS president
Borders farmer re-elected to top NFU Scotland job
Nigel Miller has been re-elected as President of the National Farmers Union (NFU) Scotland at their AGM.
Farmers from across Scotland have gathered at the event in St Andrews.
Mr Miller farms at Stagehall in Stow with two of his sons, and he is also a qualified vet.
Farmers concern after horse meat found in beef burgers
Farmers concern after horse meat found in burgers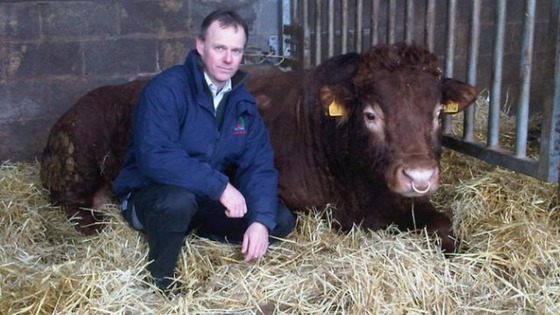 Farmers in the Scottish Borders say they are concerned after traces of horse and pig meat were found in beef burgers.
The Irish Food Safety Authority tested 27 beef burgers, from 5 British supermarkets, including Tesco and Iceland.
10 burgers tested positive for horse DNA, and 23 tested positive for pig DNA.
The products were tested at 2 factories in the Irish Republic, and 1 in North Yorkshire.
One processing company says its suppliers in Europe may be responsible.
Farmers fear the situation could have a knock on effect.
Robert Neill farms at Upper Nisbet Farm near Jedburgh. He said: "We have to trust everybody throughout the whole process of supplying meat.
Farmers are just the start of the process, but unfortunately if something like this happens, we take the brunt of the knock on effect, whether it be production, consumers not eating, prices go down, so yes it is a worrying scenario at the moment."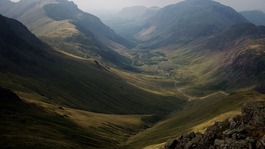 Famers in Cumbria are being urged to lock up valuable items such as quad bikes and fuel following an increase in rural crime.
Read the full story
Load more updates
Back to top