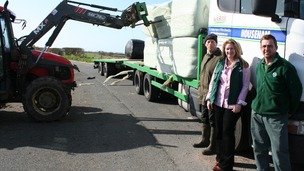 Fifty-five bales of donated fodder have been delivered to struggling hill farmers in south Cumbria.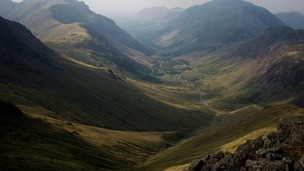 Famers in Cumbria are being urged to lock up valuable items such as quad bikes and fuel following an increase in rural crime.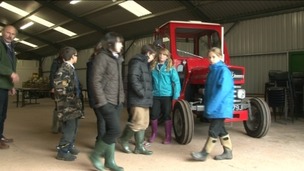 More than 260 pupils from schools around the Scottish Borders have attended an event run by Royal Highland Education Trust in Kelso.
Live updates
Longtown slurry lagoon plans
Plans to build a slurry lagoon in Longtown are causing a stink amongst residents there.
A local dairy farm says it needs the to build the lagoon to future proof its business which employs 15 people.
An area of land the size of three football pitches is being proposed to hold over two million gallons of slurry.
Chief concerns from the residents are the smell of the slurry, questions over its transportation and the danger to children in the area.
Council planning officers have recommended approval of the proposal but local residents have handed in a protest petition with more than 200 signatures.
"The Environment Agency report does not consider aerial transmissions of pathogens and odour. Why not? "
– Dr James Bell, Chief Technology Officer, Greenviro Ltd.
Over the past few months farmers have been looking for good male sheep to introduce to their stock.
Thousands of farmers attend ram sales, like the auction held recently at Kelso.
Jenny Longden has been going behind the scenes to see the business from a farmer's perspective - watch her full report below.
Advertisement
Scots dairy farmers review
Scottish dairy producers are being told to expand into international markets, and stop relying so much on the UK.
Scotland Food and Drink is urging the industry to look to high-value exports, to transform the the future of dairy farming.
Fiona McIlwraith's full report is below.
Scots dairy farmers review
Dairy farmers are being encouraged to expand their markets into the international realm.
One dairy farmer, Gary Mitchell, told ITV News that to increase the price of milk, there had to be a real push to sell produce in the international markets.
Scots dairy farmers review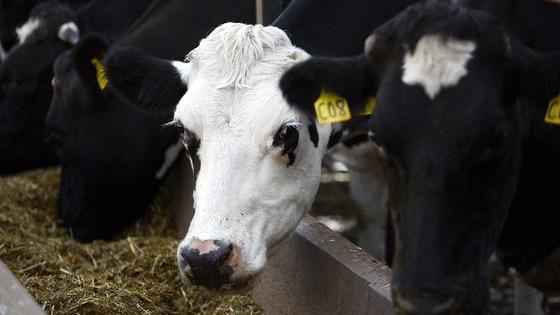 Scottish dairy farmers are being urged to expand into international markets, and stop relying so much on the UK.
A review of the industry by Scotland Food and Drink says we have all the ingredients for a successful dairy industry but the sector needs to develop new markets quickly.
The National Farmers Union for Scotland have welcomed the review.
A local MP is demanding answers after Dumfries and Galloway Council were refused money to help with the winter weather earlier this year.
The local authority had applied to the Scottish Government for compensation, but their application was rejected.
Fiona McIlwraith reports:
Advertisement
'Big Dave' at Wigtown Show
It is just over four months since the worst snow storms in living memory hit parts of Southern Scotland causing devastation for local farmers.
Some of those same farmers say they are making a recovery, and today they attended one of the area's biggest agricultural shows.
And along with the usual sheep and cows, this year's special guest at the Wigtown Show was none other than a record-breaking duck, as Matthew Taylor reports.
Watch his full report below.
'Big Dave' at Wigtown Show
"Big Dave" the duck is at the Wigtown Agricultural Show in South West Scotland today to help with the prize giving.
As the most expensive duck in the country, having sold for a whopping £1500 last year, he has been making quite an impression at the show.
Here he is with his owner Graham Hicks: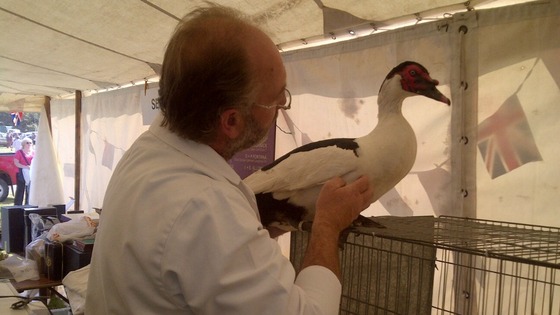 'Big Dave' at Wigtown Show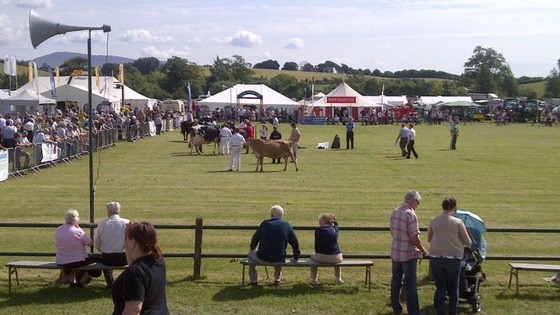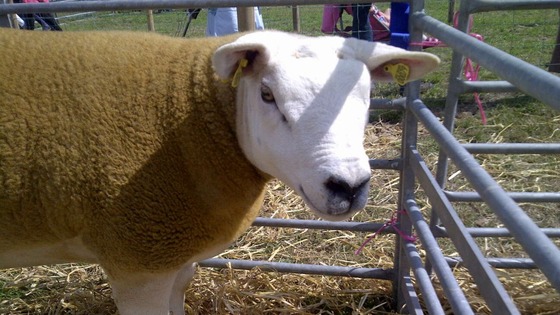 'Big Dave' at Wigtown Show
A black & white Magpie Muscovy duck is due to take pride of place at the Wigtown Agricultural Show in South West Scotland today.
'Big Dave' the Drake became a celebrity when he was sold last year for a record sum for a duck of £1500.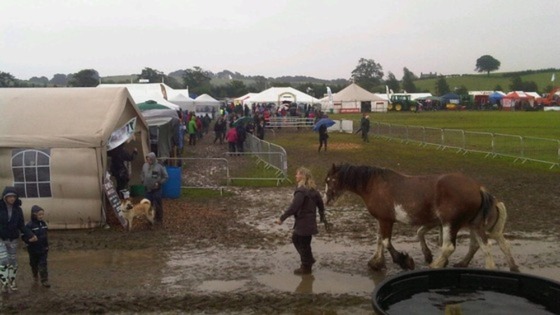 The annual show is the oldest in the region and first started in 1813.
It has only ever been cancelled for two world wars and the foot and mouth outbreak.
Organisers refused to cancel the show last year despite the very wet weather.
Load more updates
Back to top