A firecart from the Second World War is still being used to respond to emergencies in a village in Cumbria.
The cart, which is equipped with several hoses, is operated by a group of volunteers in Dufton.
Most firecarts around the country were returned after the war.
Dufton was allowed to keep this one as it argued that the village is sometimes cut off by snow.
People with memorabilia of Gala Fairydean Rovers Football Club are being asked to share photographs or items with the club.
A fire destroyed the kit room where photographs from as far back as the 1920's were kept, along with trophies.
The club would like anyone with items to contact them directly.
Advertisement
Photographs dating back to the 1920's and trophies are among memorabilia destroyed in a fire at a clubhouse at Netherdale in Galashiels.
The club room belonging to Gala Fairydean Football Club went up in flames in the early hours of this morning (23rd December).
Police Scotland are investigating the fire.
Honorary President Jim Gray says the club are devastated.
There was a brand new kitchen fitted, there was merchandising kit in the place, there was tables, chairs, a TV, which all can be replaced, but the memorabilia that was in the hospitality suite dated from the 1920's to present day. We have lost trophies, pennants we have been given from other clubs, memorabilia when Glasgow Rangers came down here to open the floodlights, the lot is lost.
– Jim Gray, Gala Fairydean Rovers
Police Scotland have confirmed they are investigating a fire at Gala Fairydean Rovers.
The club have tweeted that the 3G Arena will be closed until further notice.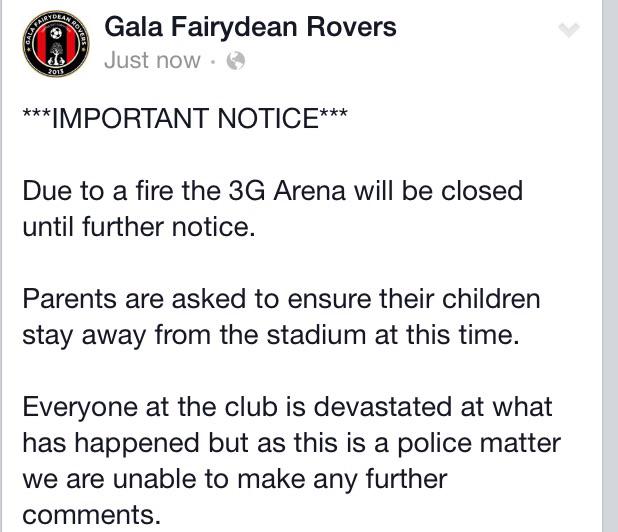 A man who died in a house fire in Ryanview Crescent in Stranraer, on Saturday 8th November, has been named by Police Scotland as 91-year-old Norman Fidler.
The Procurator Fiscal has been informed and a joint fire investigation with Police Scotland and the Scottish Fire and Rescue Service is to take place to establish the cause of the fire, which at this stage is not thought to be suspicious.
Police Scotland say that an elderly man was pronounced dead at the Galloway Community Hospital after being pulled from the fire at Ryanview Crescent on Saturday evening.
Advertisement
Fire appliances from Stranraer and Newton Stewart were called to a bungalow on Ryanview crescent at around 7:30pm on Saturday evening. An injured man was taken from the property to the Galloway Community Hospital, no details of his condition have so far been released.
Police have reported a fire at the Pizza Milano building on Botchergate, Carlisle.
The fire broke out just before 11am.
Botchergate has been closed as a result of the incident.
Members of the public are advised to avoid the area whilst emergency services deal with the incident.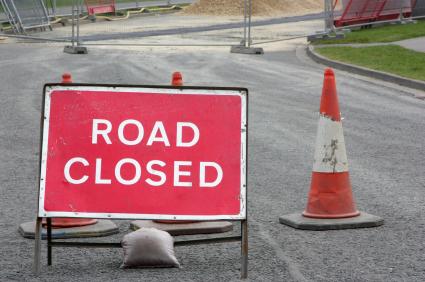 Two teenagers have been praised by a farmer after saving his nine bulls from a burning barn.
Matthew Chisholm and Tyler Scarr, both 17, rushed into the barn at Plumpton near Penrith with little thought for their own safety.
The couple who run the farm have praised their remarkable bravery. Tim Backshall has been to meet them.
Two people, who died in a fire in Windermere, have been named by police as Andrew William Telford Coates and Polly Sarah Connor.
Andrew, 41, of Buttermere Drive in Kendal and Polly, aged 46 of Sepulchre Road in Kendal, were killed when a shed containing fireworks caught fire in Ecclerigg. It's believed they were technicians for a professional firework company, hired for a wedding party on August 30th.
Although police say they are not treating the fire as suspicious, they are working with the Fire and Rescue Service and other agencies to establish the circumstances.
Load more updates