Dozens of fire fighters and police are still at the Mintsfeet industrial estate in Kendal, after a major fire broke out on Saturday evening.
People living nearby have returned to their homes after they were evacuated late last night.
Several roads around the site remain closed.
People were evacuated from their homes on Saturday evening as a major fire spread at Mintsfoot Industrial Estate in Kendal.
"There was black smoke and then there were flames appearing over the buildings and at about 11.30pm they asked us to leave our home."
– Ronald Barnes, evacuated from his home
Advertisement
A number of Kendal businesses have been damaged by a major fire, which broke out on Saturday night.
Furmanite, Mardix and Westmorland Glass were all damaged in the fire on Mintsfeet Industrial Estate.
Fire crews battled through the night to try and tackle the blaze, and were still pumping water into the buildings as daylight broke on Sunday morning.
Firefighters rescued two pet dogs and saved a farmhouse from being engulfed by flames in Dumfries and Galloway last night.
A man and a girl suffering from the effects of smoke were also treated with oxygen therapy at the scene, before being taken to hospital for precautionary check-ups.
Crews from Annan were sent to the incident in Kirtlebridge in response to a 999 call that was made shortly before 8:30pm.
Police Scotland is investigating a suspicious fire at an outhouse at a property in Sanquhar.
The fire in Plantainside, at around 2.30pm on Thursday 12 February, left the outhouse "slightly damaged".
Police want to find two young males, in their late teens/early twenties, one wearing a grey hooded top and the other a brown hooded top who were seen in the area around the time the fire was discovered.
Homes were evacuated this morning following a lorry fire in Dumfries and Galloway.
Firefighters are currently tackling the blaze on the A712 at Balmaclellan near New Galloway.
Scottish Fire and Rescue Service (SFRS) crews were mobilised to the incident in response to a 999 call made at 11:15am, with two appliances initially sent from Dalbeattie and New Galloway.
A third appliance was dispatched from Castle Douglas at the request of first responders and firefighters in breathing apparatus are working to extinguish the fire using a high pressure jet.
Police Scotland officers are in attendance to control traffic on surrounding roads as the lorry is situated at a junction.
Nearby homes were evacuated as a precautionary measure however residents have since been allowed to return to the properties following confirmation that two propane cylinders on the vehicle are empty.
There are no reports of any injuries.
Advertisement
A firecart from the Second World War is still being used to respond to emergencies in a village in Cumbria.
The cart, which is equipped with several hoses, is operated by a group of volunteers in Dufton.
Most firecarts around the country were returned after the war.
Dufton was allowed to keep this one as it argued that the village is sometimes cut off by snow.
People with memorabilia of Gala Fairydean Rovers Football Club are being asked to share photographs or items with the club.
A fire destroyed the kit room where photographs from as far back as the 1920's were kept, along with trophies.
The club would like anyone with items to contact them directly.
Photographs dating back to the 1920's and trophies are among memorabilia destroyed in a fire at a clubhouse at Netherdale in Galashiels.
The club room belonging to Gala Fairydean Football Club went up in flames in the early hours of this morning (23rd December).
Police Scotland are investigating the fire.
Honorary President Jim Gray says the club are devastated.
There was a brand new kitchen fitted, there was merchandising kit in the place, there was tables, chairs, a TV, which all can be replaced, but the memorabilia that was in the hospitality suite dated from the 1920's to present day. We have lost trophies, pennants we have been given from other clubs, memorabilia when Glasgow Rangers came down here to open the floodlights, the lot is lost.
– Jim Gray, Gala Fairydean Rovers
Police Scotland have confirmed they are investigating a fire at Gala Fairydean Rovers.
The club have tweeted that the 3G Arena will be closed until further notice.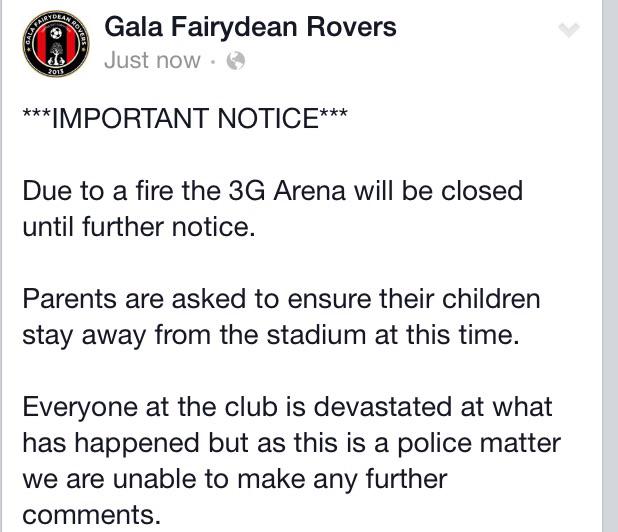 Load more updates