A man has been arrested on suspicion of arson with intent to endanger life after a large fire in Carlisle.
Half a dozen fire crews tackled the blaze at a garage on London Road at around six o'clock tonight, August 25th.
Alan Sowerby from Cumbria Fire and Rescue Service has told ITV News Border they suspect there may be an asbestos roof involved, so have placed a cordon around the area for the public's safety.
Officers have said man is currently in police custody and is helping with enquiries.
Cumbria Police are asking people to stay away from part of London Road following a huge fire at a garage.
They have said it is not yet know if substances in the garage may become airborne with the fire, which could be harmful to breath in, so the public should avoid the immediate area.
Eye-witness video of fire crews trying to control the fire:
Advertisement
Six fire engines have been tackling a large blaze at a garage on London Road, Carlisle.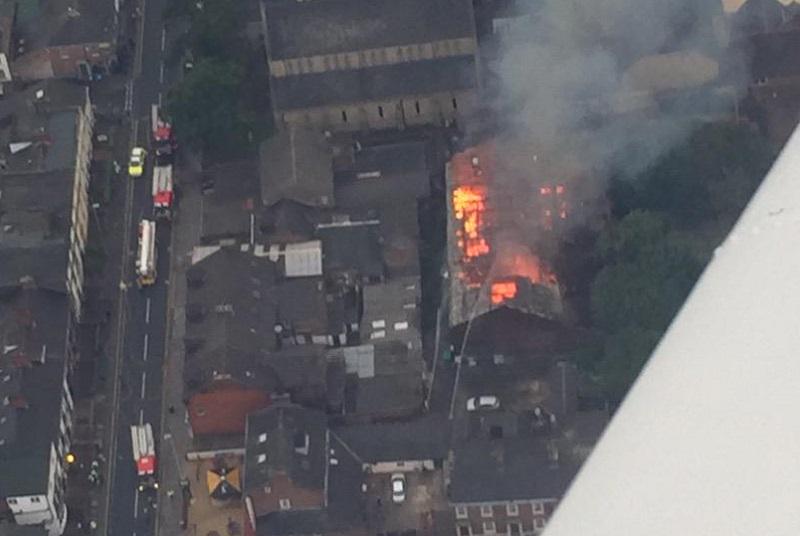 The fire started behind a Domino's Pizza at around 6pm on Tuesday.
It is not known if there any substances in the garage that may become airborne with the fire, so the public are being advised to keep all windows closed and to stay away from the area.
Cumbria Constabulary have said it is a "considerable incident" and that road closures are expected to be in place for several hours.
Road closures are in place at junctions with:
Close Street
Grey Street
Brook Street
The cause of the fire is unknown at this time.
Police Scotland is investigating a suspicious fire which was discovered at around 10pm on Saturday 22 August 2015 at business premises in St Dunstans Lane in Melrose.
The fire was extinguished by the Fire and Rescue Service. No-one was injured in the blaze however the premises are badly damaged.
Inspector John Reid of Police Scotland, J Division said
early indications are that this fire was the result of a deliberate act and a full fire scene investigation will now take place between Police Scotland and the Fire and Rescue Service. I am appealing to anyone who may have been in the area of St Dunstans Lane last night to get in touch with Police Scotland at Melrose if they saw or heard anything which might help us in our enquiries into this fire. Thankfully no-one was in the building at the time however the building and contents have been seriously damaged as a result. Anyone wishing to call can do so through the non emergency 101 number, or if they wish to remain anonymous then they can call Crimestoppers on 0800 555 111
– Inspector John Reid, Police Scotland
Cumbria Fire and Rescue Service has issued a warning over the dangers of cooking while under the influence of alcohol.
Firefighters attended two kitchen fires in Carlisle in the space of two hours in the early hours of Sunday morning. On both occasions, the occupants were unaware of the fires until they were alerted by neighbours.
Firefighters were alerted to a fire at a scrap yard in Aspatria at 15:00 yesterday.
On arrival fire crews found 40 cars ablaze.
By 16:40 around 30 firefighters accompanied by 8 fire engines, a command unit and a high volume water pump were tackling the fire.
Due to the heavy smoke, neighbouring residents were advised to keep their windows and doors closed.
6 main water jets and hose reel jets were used to fight the fire which was eventually put out by 20:40.
No casualties were involved and no one sustained any injuries.
Advertisement
A major fire has broken out at a scrapyard in Aspatria.
The call came in at around 3pm, and it's thought eight fire appliances have been battling the blaze throughout the afternoon:
More than 40 cars are on fire at a scrapyard in Aspatria.
Eight fire appliances are battling the blaze at the moment, which is thought to have begun at around 3pm this afternoon.
Investigations are taking place into the cause of a fire at a scrapyard which badly damaged 40 cars.
Yesterday evening, smoke could be seen for hours in the skies above Aspatria.
Investigations are underway to find the cause of what's believed to be a suspicious car fire in Annan.
A red VW Golf was found ablaze at around 2am today in the car park of the Corner House Hotel.
The car was badly damaged and a joint police and fire service investigation is taking place to establish the cause.
"We are keen to hear from anyone who may have been in or around the area of the Corner House car park in Annan in the early hours of Thursday 17 July 2015 and who may have seen or heard anything suspicious. They can call us on 101.

"As a result of this fire the car is burnt out inside and is extensively damaged."
– Constable Laurie Irving, Police Scotland in Annan
Load more updates