Police are appealing for witnesses after another fire was deliberately started in Dumfries and Galloway.
Sometime between 22 and 29 September a new flat-packed garden shed was set on fire and completely destroyed.
It happened at a storage site in the Maxwelltown Industrial Estate in Dumfries, and the shed was worth around £500.
This was a reckless act which could have had some serious implications if other items or property in the yard had caught fire. Those responsible have had to break into the yard in order to carry out this act.

We are appealing to anyone who may seen any suspicious activity in the Maxwelltown Industrial Estate area over the past week to call us here at Dumfries on 101."
– Constable Kevin Smith at Dumfries
It follows an appeal the police sent out yesterday, after two other fires in the region which are thought to have been started deliberately:
Police are appealing for witnesses following a fire in the Scottish Borders.
An unoccupied caravan was set alight at the Highview Caravan Park in Coldingham near Eyemouth at around 11pm on Sunday 10 September.
Firefighters extinguished the blaze and although nobody was injured it caused extensive damage.
The incident is now being treated as suspicious and police are appealing to anyone who has information to come forward.
"Thankfully, no one was in the caravan when the fire took hold but there was significant damage.

"Following a full fire scene investigation carried out between Police Scotland and the Scottish Fire Service, we can confirm that this incident was the result of a deliberate act.

"I would urge anyone who was in the area of the Highview Caravan Park around the time of this incident and who noticed any unusual behaviour to contact police on 101 or, alternatively the charity Crimestoppers anonymously on 0800 555 111."
– Detective Constable Andy Hope, Police Scotland
Advertisement
Two fire engines are helping to battle a blaze in Aspatria, involving a silo filled with grain.
Around ten tonnes of grain have been removed from the silo, allowing firefighters to climb ladders to fight the fire using hose reel jets.
They were called to the scene, on the access road to Warwick Hall from the B5301 Aspatria to Yearngill, at around 12:30pm.
A 15-year-old boy arrested following a large fire in Carlisle has been bailed.
Police say they are not looking for anyone else in connection with the large blaze that broke out in a disused warehouse off London Road yesterday evening.
The teenager has been bailed until 10 October 2015.
New footage has surfaced of the fire that raged through a Carlisle garage on Tuesday.
A man has since been arrested on suspicion of arson with intent to endanger life.
A witness to the large blaze in Carlisle has said, "the flames were so intense, it was unreal", after a fire broke out at the garage.
Speaking to ITV News Border, Lorraine Nixon, manager of the St Nicholas Arms Pub nearby, said you could hear the brick work falling from the building:
Six fire crews were called to a garage on London Road at around 6pm tonight, August 25th.
A man has since been arrested on suspicion of arson with intent to endanger life.
Advertisement
A man has been arrested on suspicion of arson with intent to endanger life after a large fire in Carlisle.
Half a dozen fire crews tackled the blaze at a garage on London Road at around six o'clock tonight, August 25th.
Alan Sowerby from Cumbria Fire and Rescue Service has told ITV News Border they suspect there may be an asbestos roof involved, so have placed a cordon around the area for the public's safety.
Officers have said man is currently in police custody and is helping with enquiries.
Cumbria Police are asking people to stay away from part of London Road following a huge fire at a garage.
They have said it is not yet know if substances in the garage may become airborne with the fire, which could be harmful to breath in, so the public should avoid the immediate area.
Eye-witness video of fire crews trying to control the fire:
Six fire engines have been tackling a large blaze at a garage on London Road, Carlisle.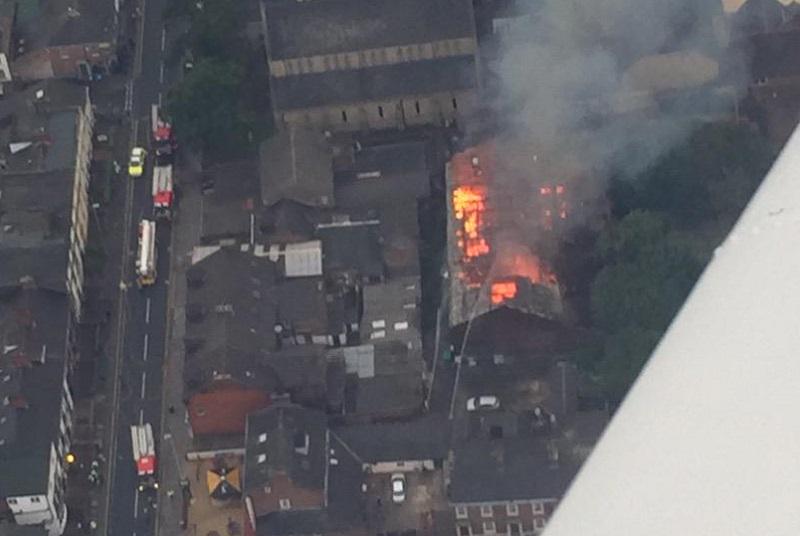 The fire started behind a Domino's Pizza at around 6pm on Tuesday.
It is not known if there any substances in the garage that may become airborne with the fire, so the public are being advised to keep all windows closed and to stay away from the area.
Cumbria Constabulary have said it is a "considerable incident" and that road closures are expected to be in place for several hours.
Road closures are in place at junctions with:
Close Street
Grey Street
Brook Street
The cause of the fire is unknown at this time.
Police Scotland is investigating a suspicious fire which was discovered at around 10pm on Saturday 22 August 2015 at business premises in St Dunstans Lane in Melrose.
The fire was extinguished by the Fire and Rescue Service. No-one was injured in the blaze however the premises are badly damaged.
Inspector John Reid of Police Scotland, J Division said
early indications are that this fire was the result of a deliberate act and a full fire scene investigation will now take place between Police Scotland and the Fire and Rescue Service. I am appealing to anyone who may have been in the area of St Dunstans Lane last night to get in touch with Police Scotland at Melrose if they saw or heard anything which might help us in our enquiries into this fire. Thankfully no-one was in the building at the time however the building and contents have been seriously damaged as a result. Anyone wishing to call can do so through the non emergency 101 number, or if they wish to remain anonymous then they can call Crimestoppers on 0800 555 111
– Inspector John Reid, Police Scotland
Load more updates