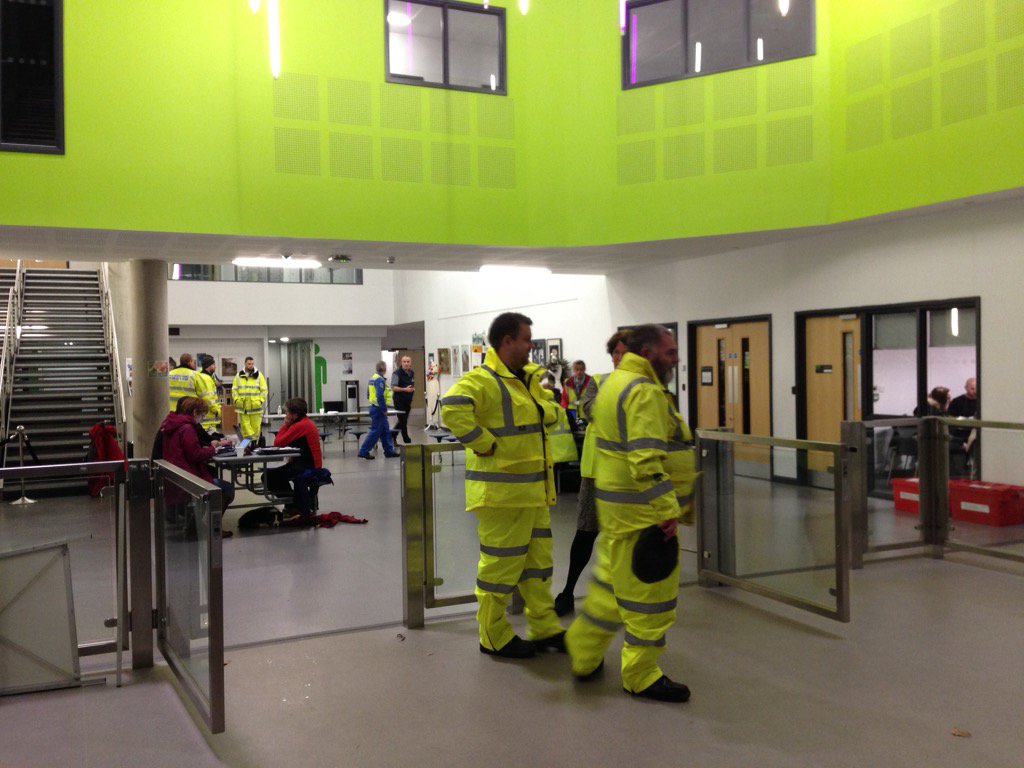 Advertisement
More than a thousand homes are being evacuated as hurricane Kate begins to batter our region.
1,000 homes are being evacuated in Kendal and hundreds more in Egremont.
The authorities have set up reception centres in the two places where people can shelter.
In Kendal, the town hall will be opened from 7pm and in Egremont, the South Lakes Academy was opened at 5pm.
There are 6 severe flood warnings for Egremont and 5 for Kendal - the highest level of alert.
It means the Environment Agency expects flooding to be so severe it may cause loss of life.
People living in properties near to rivers in the two places are being advised to put valuable items on upper floors and seek shelter elsewhere for the night.
Currently the Environment Agencyis predicting the height of the flooding will be around midnight.
Areas of central Kendal close to the River Kent and some properties at Egremont could be worst hit, but there could also be some flooding in low lying areas across South Lakeland.
Military personnel are being deployed to install temporary flood defences to protect vital infrastructure.
Cumbria Police, the fire service, the Environment Agency and local councils have created a task force that is currently working across Cumbria to mitigate flood risks in areas identified as being most at risk from flooding.
The current weather forecast is predicitng up to 8 inches of rain - a month's rainfall - throughout the night and during Sunday (14/15 November).
The Met Office is warning that this heavy and prolonged rainfall will be falling on already saturated ground and there is the potential for 'high impacts from flooding in parts of Cumbria'.
Drivers are being warned to avoid making uneccesary journeys this evening because of the risk of dangerous driving conditions on the district's roads.
Large rainfall amounts are expected over northern England over the next 36 hours and we are preparing for significant flooding and urging the public to act now. We have issued 6 severe flood warnings this afternoon for Egremont and 5 severe flood warnings for Kendal – this is the highest level of flood warning issued and highlights the seriousness of the situation. Flooding can happen very quickly and with catchments already saturated and more rain expected people need to be prepared. We encourage people to protect themselves and others, move family and pets to a safe place, keep a flood kit ready, turn off gas/electric/water supplies and put flood protection in place and to keep checking local weather forecasts and the .Gov.uk website for information on a regular basis.
– Stewart Mounsey, Environment Agency
River Ehen at Low Mill
15:46 on 14 Nov 2015
Location: Properties adjacent to the River Ehen at Low Mill
River Ehen at Egremont, Beck Green, Bridge End including Ind Park, Croft Terrace, Crosside
15:43 on 14 Nov 2015
Location: River Ehen at Egremont, Beck Green, Bridge End including Ind Park, Croft Terrace, Crosside
Wangs Beck at Egremont, Southey Avenue to Beck Side
15:40 on 14 Nov 2015
Location: Properties at risk from Wangs Beck including Orgill Primary School, Southey Ave, Spencer Close, Coleridge Drive, Keats Drive, Croadalle Ave, Church View, Beck Side
River Ehen at Egremont, Bleach Green, Ennerdale Mill, Springfield Rd, Vale View, Wood Bank
15:35 on 14 Nov 2015
Location: River Ehen at Egremont, Bleach Green, Ennerdale Mill, Springfield Rd, Vale View, Wood Bank and Bridge Area
Skirting Beck at Egremont, Milton Road to Beck Side
15:35 on 14 Nov 2015
Location: Properties at risk from Skirting Beck, Milton Rd, Keats Drive, Croadalle Ave, Falcon Club, West Lakes Academy, Church View, Beck Side
Skirting Beck at Egremont, Church View and Beck Sid
15:31 on 14 Nov 2015
Location: Properties at risk from Skirting Beck on Church View and Beck Side
Our region is preparing itself for flooding as a month's worth of rainfall is expected to over the weekend.
There is an amber warning issued for the Border area as the remnants of tropical hurricane Kate hit is due to hit our region this afternoon.
Eight inches of rain is due to fall on Cumbria over the next 24 hours causing rivers and streams to overflow their banks as many areas of ground are already saturated.
The Environment Agency in England has one flood warning in place at Keswick Campsite where flooding is expected and two flood alerts for the Upper River Derwent, Stonethwaite Beck, Derwent Water; and the Rivers Brathay, Rothay and Winster.
In Scotland, the Scottish Environment Protection Agency has issued a general flood alert for Dumfries and Galloway and the Scottish Borders.
The Environment Agency in England has brought two 24-foot long, high-volume flood water pumps from their depot in the South West.
They are capable of pumping 120,000 litres of flood water per minute.
Environment Agency teams are today continuing to check flood defences as well as clearing blockages in watercourses, and preparing some temporary defences.
They have issued the following advice to people who may feel at risk:
* Checking on vulnerable family, friends, and neighbours * Installing flood protection measures to property if you have them * Rolling up carpets, removing curtains, moving valuables and electrical items upstairs or to higher ground * Placing important documents, such as insurance information and passports, in waterproof bags * Making sure you know how to turn off the gas, electricity and water supplies
More information is available on their website: https://www.gov.uk/government/organisations/environment-agency
and in Scotland it's: http://www.sepa.org.uk/environment/water/flooding/
River levels across northern England are already high and are expected to rise with this further heavy rainfall, bringing with them a significant risk of flooding. We are working closely with the emergency services and partners to prepare ahead of the weekend.
– Craig Woolhouse, Environment Agency Director of Incident Management
After a day of heavy rainfall in Cumbria a large number of flood warnings have been issued by the Environment Agency.
The majority are warning of the potential for high river levels as today's rain works its way out of the system.
You can find more details here
Advertisement
New flood defences in the Whitesands area of Dumfries could move a step closer today.
Councillors are meeting to chose their preferred method of protecting the area from flooding.
They're expected to choose a raised walkway alongside the river. But some local companies are concerned that could harm their businesses more than the flooding.
The Environment Agency (EA) in England and the Scottish Environment Protection Agency (SEPA) north of the border are providing up-to-date flood information and warnings.
To check out if your area's at risk visit:
Cumbria Police are warning people to drive carefully during a period of heavy rain and strong winds which has led to surface water flooding and difficult driving conditions across the roads in the county.
The following roads are particularly affected;
M6 in both directions – affected by heavy rain, surface water flooding and high winds resulting in debris in roads
B5322 – St John's in the Vale area (between A66 – A591) - surface water flooding
Castle Gardens area at Workington - surface water flooding
A594 at Dovenby – surface water flooding
A66 Penrith to Scotch corner – affected by high winds – two HGVs incidents due to strong winds – Matrix signs "Advisory for HGV"
A5086 Cockermouth to Egremont
A596 at Wigton – trees are blocking the road
High Lorton, Cockermouth – trees have fallen, also blocking the road
B5305 Junction 41 to Wigton road unpassable to vehicles
Police are urging people to check the weather and roads before driving.
Three workshops are being held in Hawick to discuss plans for tackling and minimising flood damage in the town.
Read the full story ›
Load more updates