Cumbria Fire/Rescue on scene in Glenridding. River burst its banks again. Locals say 'worse than the weekend' @gmb https://t.co/tn3xL4I2FM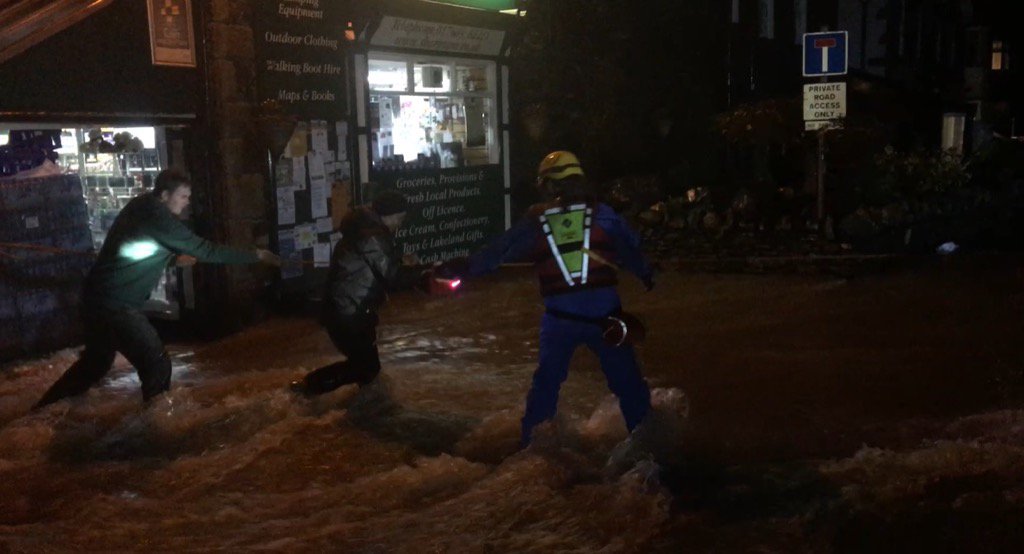 A falling tree hit two men when they left their bus to remove another fallen tree from the road.
Read the full story ›
Advertisement
The RSPCA are offering short-term boarding for the pets of people made homeless by the flooding.
Read the full story ›
A band of rain spreading into tomorrow will bring the potential for further disruption across Cumbria, the Environment Agency has said.
Read the full story ›
Cumbria County Council leader Stewart Young said the cash was "a good start" but that the costs of getting the county back to normal would be "astronomical".
"We've been working closely with DCLG (Department for Communities and Local Government) and this announcement of a community recovery package is very welcome news," he said.
"We're only starting to get a real idea of the impact of the flooding but what is absolutely clear is that the cost of recovering from these floods will be astronomical.
"Households are going to need support to get back on their feet and manage while they are unable to return home and we know from experience that businesses will need potentially significant help to bounce back.
"Over and above this package, we're still discussing with DCLG what will be required to rebuild Cumbria's damaged infrastructure.
"The damage to our roads and bridges is severe; we have bridges washed away, roads destroyed, thousands of tonnes of debris to remove and communities still cut off.
"The hard fact is that recovery is going to be a long process and there's no doubt that we will need support over the long term. This is a good start."
A village cut off from civilisation since Sunday after flooding blocked roads is slowly getting back to normal thanks to villagers.
Read the full story ›
Advertisement
The treasury has announced that flooded families in Cumbria and Lancashire will be able to access £500 each to help with emergency accommodation.
George Osborne had already announced that families will receive £5,000 each to help improve the flood defences of individual households.
Businesses affected will also get £2,500 each to help deal with the flooding.
A woman who spent £30k flood-proofing her property is once again clearing out her home after being flooded for the third time in ten years
Read the full story ›
Households and businesses affected by the floods will be able to receive money from a £50million government fund.
Read the full story ›
Chancellor George Osborne has announced a £50 million fund for families and businesses affected by flooding in Cumbria and Lancashire.
Mr Osborne said the fund would be administered by local authorities.
He added that they are continuing to assess damage to flood defences in the area.
The Chancellor denied claims by Shadow Business Secretary Angela Eagle that £115m had been cut from flood defences this year.
Mr Osborne said: "We're actually increasing the money we spend on our flood defences and it's just not the case that that has been reduced."
Load more updates