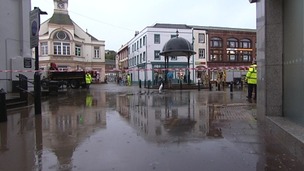 Schools, businesses and home owners are cleaning up after flash floods hit parts of west Cumbria.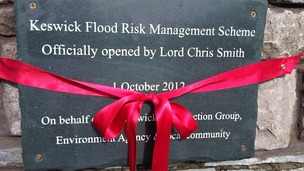 A ceremony has taken place in Keswick to mark the completion of a £6 million pound flood defences.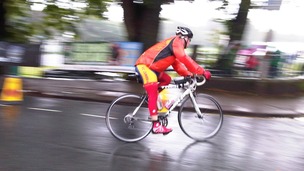 More than 1,000 cyclists took part in the event to raise money for the Cumbria Community Foundation.
Live updates
Cumbrian Jennings Rivers Ride
The second Jennings Rivers Ride is underway in west Cumbria.The pouring rain hasn't stopped more than 1000 cyclists taking to the roads. There are three routes, a family friendly route of 12 miles, a middle routeof 40 miles and an endurance route of 85 miles.
The route follows the areas which were affected by the floods in 2009 which destroyed homes and businesses. All money raised is going to the Cumbria Community Foundation, which helps victims of flooding.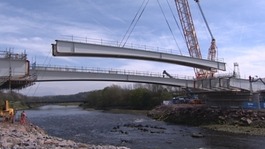 The Northside Bridge in Workington, which collapsed during the floods of 2009, will be reopened by the Princess Royal next month.
Read the full story
Advertisement
Princess to open Northside Bridge
The Princess Royal will open the new Northside Bridge in Workington next month, nearly three years after it collapsed during the floods of 2009.
Cumbria County Council have announced this morning that the ceremony will take place on October 22, after £11.2m was spent rebuilding the damaged bridge.
Floods in West Cumbria
Storms have caused flash flooding overnight in parts of West Cumbria, particularly from Egremont to Gosforth. Mountain Rescue Teams were called out to help with properties damaged and a number of cars were stranded on the roads.
At Beckermet, near Egremont, water reached above the height of the cars and Cumbria Police are concerned about an unstable bridge next to the White Mare.
However, the Environment Agency have now stood down an emergency room set up overnight and police say the water appears to have subsided.
Flash flooding in Scottish Borders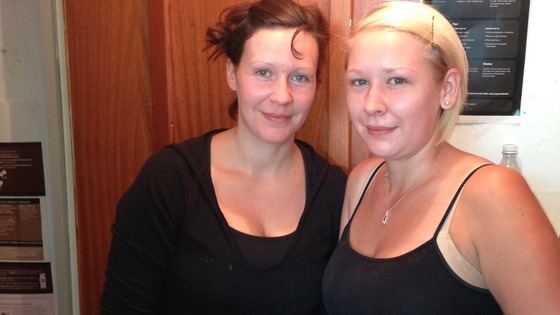 Zoe Morrison and Tracey Gillie are two hairdressers trying to pull their business back on it's feet after Jedburgh's flood. Zoe told our reporter:
"It was terrifying watching water pour through the front door and being powerless to stop it. We are hoping to reopen tomorrow but our basement is full of silt and mud. Everything down there is ruined. It is devastating"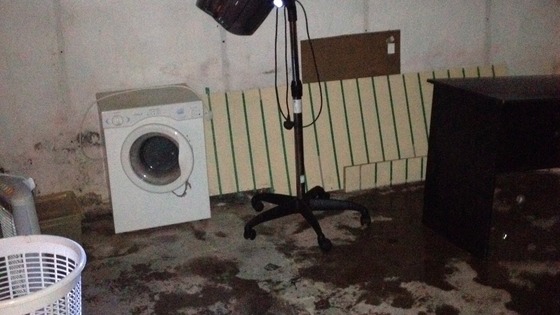 Flash flooding in Scottish Borders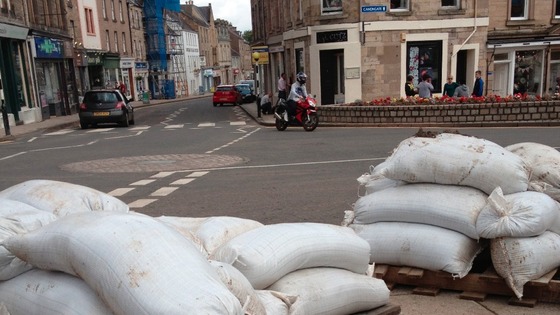 Advertisement
Flash flooding in Scottish Borders
A massive clean up operation will continue in Jedburgh today after more than 40 homes and businesses were affected by flash flooding in the town.
A burn, or stream, running under the town flooded when debris built up leaving the water nowhere to go but the streets.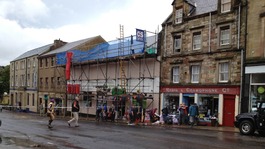 More than 40 homes and businesses were affected by the flood which occurred after debris blocked a stream which runs under the town.
Read the full story
Flash flooding in Scottish Borders
Video Credit: John Campbell
A Scottish Borders town has been hit by flash flooding this morning.
Heavy rainfall in the area caused severed flooding on Jedburgh's High Street. Residents and local businesses have been affected as the town begins clearing up the damage caused by the water.
Flash flooding in Scottish Borders
Lynne Yourston, owner of L&L Cutz said: "I couldn't believe it when I came down this morning. I could see the water pushing against the door and I knew the damage would be awful.
"Everyone has been fantastic, coming over to see if they can help us out in some way.
"The electrics are out, the floor is ruined but thankfully the stock is ok. I am hoping we can re open as soon as possible."
Load more updates
Back to top