Patterdale Mountain Rescue have revealed they have attended over 50 incidents in the last 100 hours.
The rescue team were at the centre of the flooding of Glenridding, and are still there as the village once again flooded last night.
Mike Blakey, Team Leader said:
Some team members will be offering additional support to the community if there are things we can do to help today. Our thoughts are with everyone affected by these tragic circumstances. This community is strong and will pull together again to make sure everything returns to normal as quickly as possible.'

Like all of the other LDSAMRA Teams who have been exceptionally busy, Patterdale MRT has attended over 50 incidents in the last 100 hours, including evacuating a pregnant woman, dealing with a heart attack patient and evacuating a care home in Appleby. We have also undertaken multiple flood rescues and assisted the Steamer, Lady Wakefield, when she suffered damage to her hull and began taking on water after breaking moorings on Ullswater. On Saturday we plan to put our base back together after the damage from the flood and try and sort all of our equipment.
– Mike Blakey, Team Leader
Leader of the Labour Party, Jeremy Corbyn MP, will be visiting flood-hit areas of the Border region today.
He will be visiting Cockermouth Main Street this morning and flooded properties in Botcherby, Carlisle later.
He will also be joined by Shadow Environment Secretary, Kerry McCarthy MP.
Advertisement
Heavy rain overnight has brought more flooding to Glenridding, just four days after it was devastated by Storm Desmond.
Emergency services and even members of the military spent the night there trying to divert the torrents of water away from homes and businesses after the river once again burst its banks.
Members of the public are being warned by police though to stay away - even though they might be desperate to help.
They're concerned about people entering into flood waters - that could put a further strain on over stretched emergency services.
Residents of Glenridding have been sharing their photos of further flooding on Wednesday evening after the beck in the village burst its banks.
Craig Brown who works in a shop in Glenridding tweeted a series of posted and photos about the destruction further flooding has caused.
His family shop had already been flooded at the weekend.
Craig posted on Twitter that the flooding was worse than last time and happened within a matter of minutes.
Right now in Glenridding the fridges and freezers we moved out of our flooded shop are now floating around - https://t.co/SrC59SWAx0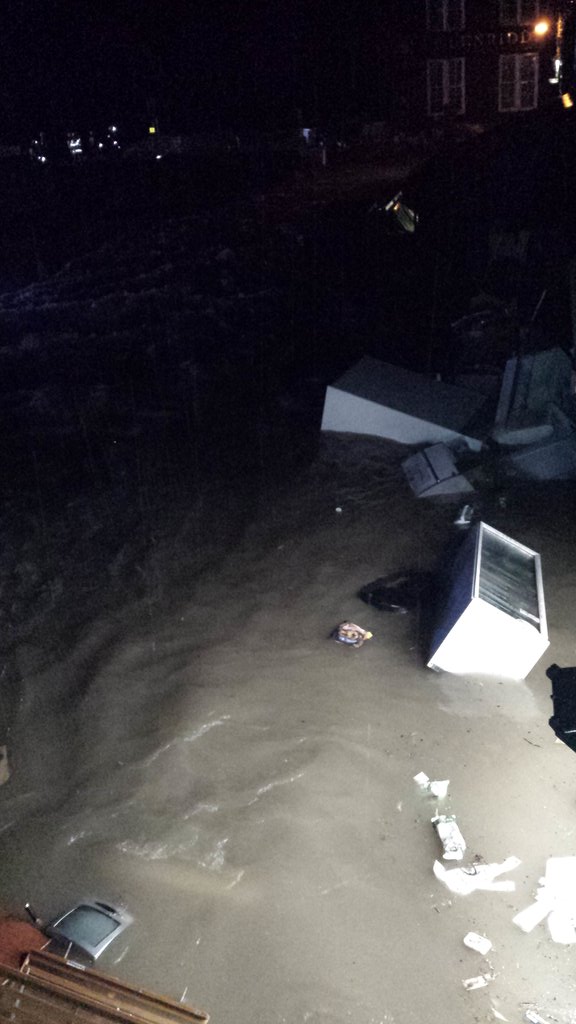 Pope Francis has sent his support and prayers to those affected by Cumbrian & North Lancashire Floods:
Residents of the village of Glenridding in Cumbria are appealing for help after the river burst its banks causing further flooding.
Charlene Bell, a photographer in the Lake District, tweeted a video of the flooding and asked people if they were able to help.
Sorry, this content isn't available on your device.
If you cannot see this video you can watch it here.
Urgent help needed Glenridding is flooding again, sandbags, man & machine power needed!! Please help!!
Emergency services - including police, firefighters and the military - are on the scene.
Advertisement
Glenridding in Cumbria has flooded again after the river breached the flood defences in the village.
Police, military and the fire service have been deployed to assist residents.
Cumbria Police warn residents of Glenridding that the river has overtopped into the village. https://t.co/5VU31WLy8W
Police are urging people to stay indoors and keep safe.
Residents are calling for calling for urgent help and sandbags.
Cumbria Police are warning residents of Glenridding that the river has overtopped the flood defences in the village.
A multi-agency response including the police, military and fire service has commenced to keep the residents safe.
The force urges people to stay indoors and to keep safe and motorists are warned not to drive unless it is an absolute emergency.
They want to urge the public not to approach or go near any flood water as it is extremely fast flowing and can be a threat to people's lives.
Cumbria Fire/Rescue on scene in Glenridding. River burst its banks again. Locals say 'worse than the weekend' @gmb https://t.co/tn3xL4I2FM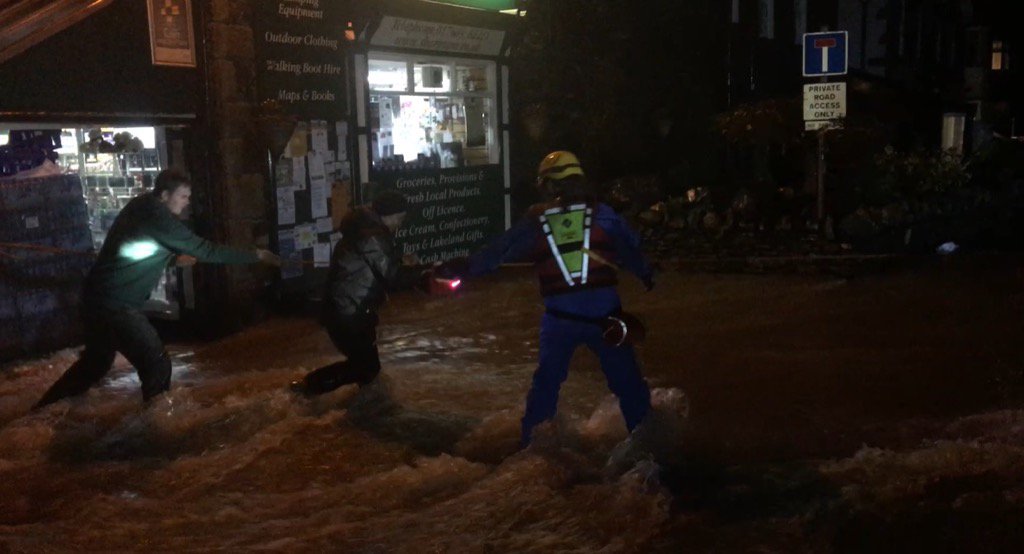 A falling tree hit two men when they left their bus to remove another fallen tree from the road.
Read the full story ›
Load more updates