Workington Reds are through to the Northern Premier Division play off final.
Reds won the game thanks to a hat trick from Scott Allison and a dramatic last minute winner from Robert Wilson.
They'll play Salford City on Saturday for the chance of promotion to the Conference North.
Workington Reds have made it to the playoffs in the Evo-Stik Northern Premier League.
They did it in style by earning a five nil win over Buxton last weekend, and will travel to Blyth Spartans on Tuesday for the playoff semi final.
It was one of the final home games for Kyle May, Workington Reds' longest serving player, who is retiring at the end of the season.
Absolutely delighted to be honest with you. More so for the lads than myself. It was a bit emotional, it being the last game, but obviously it isn't the last game anymore.

I have a lot of memories from Borough Park, a lot of good ones, so hopefully we can make some more in next couple of games.
– Kyle May, Workington Reds
Advertisement
Here are the weekend football results for the South of Scotland League:
Heston Rovers 2 v 5 St Cuthbert Wanderers
Nithsdale Wanderers 2 v 1 Fleet Star
Wigtown & Bladnoch 1 v 1 Edusport Academy
The result means St Cuthbert Wanderers are Champions of the South Of Scotland League for the season 2015/16.
Tweedie Cup Second Round:
Crichton 1 v 0 Creetown
Upper Annandale 4 v 2 Newton Stewart
Lochar Thistle 3 v 4 Mid Annandale
Carlisle United managed to take home three points this afternoon after a late goal in the 78th minute from Charlie Wyke.
They now lie 10th in the table, equal with Wycombe on points, but behind on goal difference.
The Blues' penultimate game of the season is at home to Oxford United on Saturday April 30.
Teams from Peebles, Kelso, Galashiels and Newcastleton will face sides from Midlothian, Annan and Newcastle at the Netherdale 3G Arena.
Read the full story ›
The South of Scotland League weekend football results:
Creetown P v P Mid Annandale (Waterlogged Pitch)
Dumfries Ymca 0 v 9 St Cuthbert Wanderers Upper Annandale 1 v 4 Heston Rovers
South Challenge Cup 3rd Round Nithsdale Wanderers 0 v 2 Lochar Thistle
Potts Cup 1st Round Wigtown & Bladnoch 2 v 3 Crichton
South Regional Challenge Cup Semi Final Edusport Academy 0 v 2 Edinburgh City
Advertisement
Here are the weekend's South of Scotland league results:
Creetown 3 v 1 Fleet Star
Crichton 2 v 0 Upper Annandale
Dumfries Ymca 0 v 7 Heston Rovers
Newton Stewart 0 v 1 Lochar Thistle
Nithsdale Wanderers 1 v 3 St Cuthbert Wanderers
Wigtown & Bladnoch 2 v 1 Abbey Vale
South Challenge Cup 3rd Round:
Mid Annandale 0 v 4 Edusport Academy
There are also midweek fixtures, as follows:
Wednesday 23 March: Mid Annandale v St Cuthbert Wanderers, at King Edward Park in Lockerbie. Kick Off 7.3pm
Friday 25 March: Abbey Vale v Creetown at Dumfries High School, in Dumfries. Kick Off 7.30pm
A football festival for children with special educational needs has been held in Carlisle.
More than 70 children from schools across the county came together for a series of matches.
Our resident football fanatic and reporter, Ryan Dollard, went to meet some of the players:
Children from across Cumbria with special educational needs, played in matches at a football festival.
Read the full story ›
A Carlisle fan setting off a pyrotechnic device in the away stand at yesterday's match against Exeter is the likely cause of a fire alarm that led to the suspension of the game. Fire crews were called to carry out safety inspections of the stadium.
In a statement released last night the club revealed that the game was close to being called off completely. It was eventually restarted after 65 minutes.
The person responsible was arrested and taken into custody.
A spokesman for Carlisle United said: " Our club has gained a fantastic reputation in recent years for the way we travel – both for the numbers we take and the way we conduct ourselves – and we will not allow a small number of people to damage that reputation.
"Anyone found in possession of pyrotechnics, or any other prohibited items, either at Brunton Park or at an away venue, will be dealt with severely."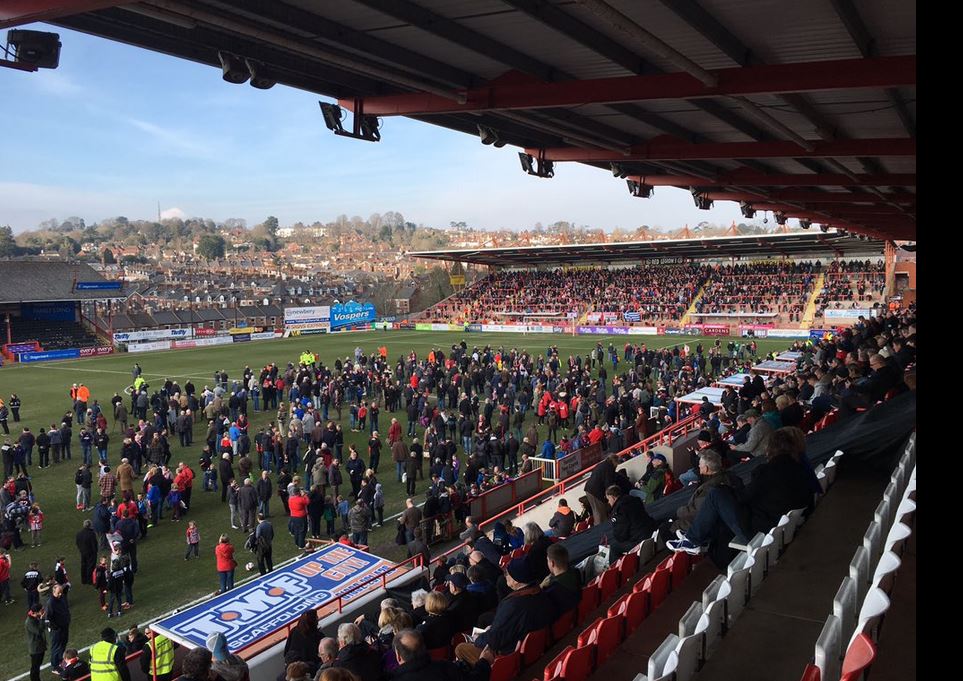 Both clubs, the match day security staff, the emergency services and the overwhelming majority of supporters should be commended for their response to today's events.

Unfortunately the actions of one individual have caused significant disruption and put fellow fans at risk of injury. The taking of smoke grenades or flares to football matches is irresponsible and absolutely mindless.

It is something that has to stop.
– Shaun Harvey, Football League Chief Executive
Load more updates