Around 50 volunteers have signed up to a scheme in Langlee to better prepare the area for major incidents.
Katie Hunter went to meet those involved.
A hill walker who fell in the Lake District has thanked the rescue teams that came to her aid.
Lynda Teall, 63, has thanked Keswick Mountain Rescue Team and the Great North Air Ambulance Service, who arrived on the scene at St.John's in the Vale on December 28.
"From the moment both teams arrived, almost simultaneously, I knew I was in the safest and most competent of hands"
– Lynda Teall
She had broken her ankle in three places after slipping in wintry conditions, and has also praised the hospital that she was airlifted to in Carlisle.
"It wasn't long before I was in hospital at Carlisle where I received the best medical attention anyone could wish for"
– Lynda Teall
She called the efforts of the services 'selfless' and has made a donation to both charities to help with future rescue efforts.
The Great North Air Ambulance has since thanked her in return.
"We want to thank Lynda for her donation and kind words about our team.

We rely on public support to keep our service flying"
– Mandy Drake, head of fundraising at GNAAS
Advertisement
Materials have been supplied as part of the new, volunteer-led scheme launching in Langlee to deal with major incidents in the area.
Resilient Communities is run by Scottish Borders Council and is designed to equip people to help each other in the event of severe snow, flooding or fire.
Langlee is expected to benefit as there are many areas where mechanical snow gritters cannot reach.
Around 50 volunteers have already signed up.
Dozens of volunteers in Langlee, Galashiels, have signed up to a scheme to better prepare the area for major incidents.
Resilient Communities is run by Scottish Borders Council and is designed to equip people to help each other in the event of severe snow, flooding or fire.
Other smaller towns and villages in the Borders are already part of the scheme, but Langlee is the first area of one of the big six towns to take part
About 50 people have already signed up.
Police are appealing for witnesses after a house in Galashiels was broken into earlier this month.
Money and personal items were stolen from the property in Galapark Gardens between 9am on December 21, and the same time the following day.
People with memorabilia of Gala Fairydean Rovers Football Club are being asked to share photographs or items with the club.
A fire destroyed the kit room where photographs from as far back as the 1920's were kept, along with trophies.
The club would like anyone with items to contact them directly.
Advertisement
Photographs dating back to the 1920's and trophies are among memorabilia destroyed in a fire at a clubhouse at Netherdale in Galashiels.
The club room belonging to Gala Fairydean Football Club went up in flames in the early hours of this morning (23rd December).
Police Scotland are investigating the fire.
Honorary President Jim Gray says the club are devastated.
There was a brand new kitchen fitted, there was merchandising kit in the place, there was tables, chairs, a TV, which all can be replaced, but the memorabilia that was in the hospitality suite dated from the 1920's to present day. We have lost trophies, pennants we have been given from other clubs, memorabilia when Glasgow Rangers came down here to open the floodlights, the lot is lost.
– Jim Gray, Gala Fairydean Rovers
Police Scotland have confirmed they are investigating a fire at Gala Fairydean Rovers.
The club have tweeted that the 3G Arena will be closed until further notice.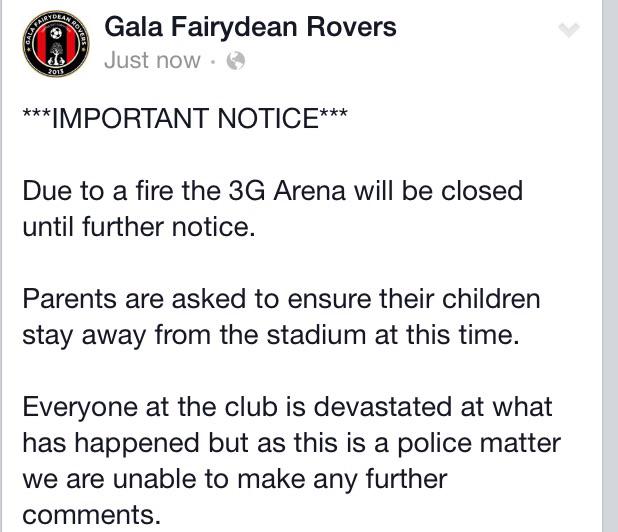 The jockey Ryan Mania has announced his retirement with immediate effect, because of weight struggles.
The 25-year-old from Galashiels in the Scottish Borders said he had been struggling for some time to keep his weight down below the accepted limit for races.
It is only eighteen months since he won the Grand National steeplechase on Aurora's Encore.
A 56-year-old man has been attacked in Galashiels.
According to police around 1pm on 10th November the victim, a mail delivery driver, was standing next to his van parked on St John Street. He was approached by a man who demanded he hand over the keys to the van and when the victim refused he was assaulted to the face. The suspect then ran off.
The suspect is described as:
White
Between 25 to 35-years-old
Shoulder length straggly, dirty looking hair with stubble on his face
Wearing a white hooded top, blue jeans and black trainers and smelling of alcohol.
Police are now appealing for anyone who was in the area at the time to contact Police Scotland immediately.
Load more updates