Freda Douglas organised the Depressed Cake Sale to raise awareness about mental health.
Read the full story ›
An MP has written to the Scottish Government demanding that the Great Tapestry of Scotland is given a permanent home in Galashiels town centre.
Callum Kerr - who represents Berwickshire, Roxburgh and Selkirk - says that putting it in Galashiels would help to revitalised the town.
"It's clear that the presence of such a remarkable attraction in the heart of Galashiels could be transformative for the town centre, which is still struggling to recover from long term economic challenges in the retail sector.

"Although the greenfield site at Tweedbank may appear to be the more straight-forward option, I don't think it offers comparable economic benefits. On the other hand, a site in the heart of Galashiels could kick off a new phase of town centre regeneration."
– MP Callum Kerr
Advertisement
A woman from Galashiels has admitted to driving whilst being almost six times over the legal alcohol limit.
Martha Eckle, 38, pleaded guilty at Jedburgh Sheriff Court to driving on the Melrose by-pass and in Coldingham on July 28th with a breath/alcohol count of 124 microgrammes. The legal limit is 22.
She was given a 16 month disqualification, reduced from 24 months, due to a guilty plea.
Sheriff Peter Paterson also placed her on supervision for two years.
South African Angus Buchan had been due to speak in Galashiels, but the event was cancelled amid accusations of homophobia.
Read the full story ›
Operator says four incidents generated majority of delays from the end of May to the end of June.
Read the full story ›
Police are investigating the death of a man in the Scottish Borders.
The 36-year-old was taken ill in a flat above the Bridge Inn in Galashiels on Thursday night.
He was taken to the Borders General Hospital where he died yesterday morning, July 15th.
Officers at Police Scotland are currently treating the death as "unexplained".
Advertisement
The event was established in 1930 to celebrate the town's history, including battles between local lads and English raiders in 1337.
Read the full story ›
Work is underway on the new £10 million Langlee Primary school in Galashiels.
Two pupils, Alfie Millar and Faye Kennedy, cut the first sods for the new school, which will be built by McLaughlin and Harvey and is expected to open in summer 2017.
It will be a three storey school with 14 classrooms, a centre for children with severe and complex additional support needs, provision for early learning and childcare, a sports hall and outdoor MUGA pitch.
A new building is now clearly needed and I am delighted to see work start on-site.

The school is important not just to the Langlee community but the whole of Galashiels. I hope it will be a major asset which is well used by pupils as well as local organisations and groups.
– Councillor Sandy Aitchison, Scottish Borders Council
Thieves have stolen Tunnock's caramel wafers from a Galashiels man's suitcase, while leaving behind valuables like his laptop.
Read the full story ›
One of the main roads in Galashiels, Church street, is closed until Friday 8th April to allow for utility works.
Scottish Borders Council are asking drivers to follow the diversions in place, and to expect some delays.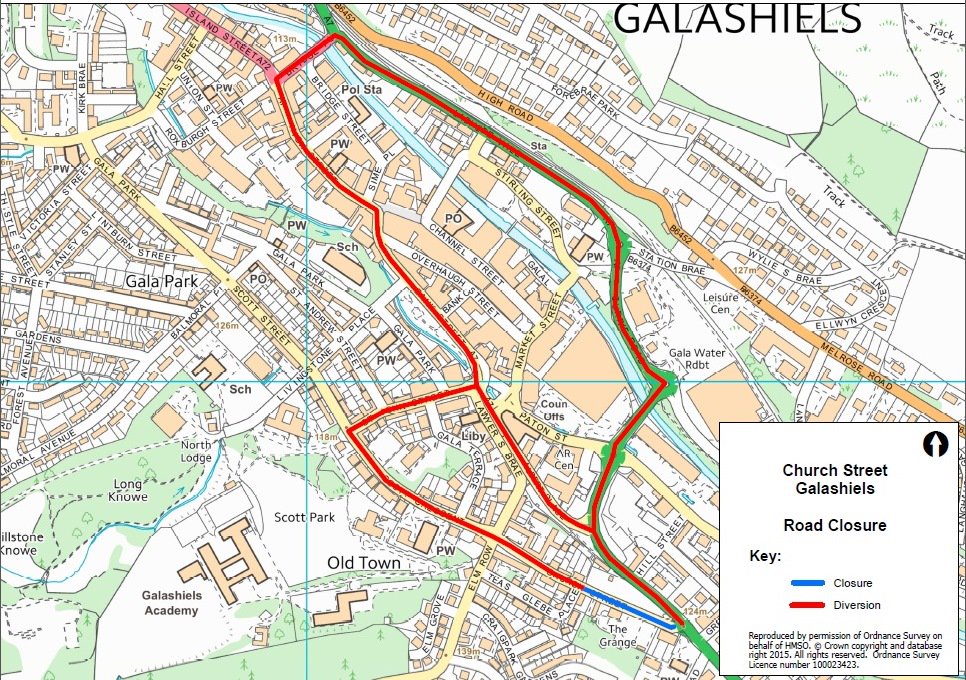 Load more updates