Police are investigating the death of a man in the Scottish Borders.
The 36-year-old was taken ill in a flat above the Bridge Inn in Galashiels on Thursday night.
He was taken to the Borders General Hospital where he died yesterday morning, July 15th.
Officers at Police Scotland are currently treating the death as "unexplained".
The event was established in 1930 to celebrate the town's history, including battles between local lads and English raiders in 1337.
Read the full story ›
Advertisement
Work is underway on the new £10 million Langlee Primary school in Galashiels.
Two pupils, Alfie Millar and Faye Kennedy, cut the first sods for the new school, which will be built by McLaughlin and Harvey and is expected to open in summer 2017.
It will be a three storey school with 14 classrooms, a centre for children with severe and complex additional support needs, provision for early learning and childcare, a sports hall and outdoor MUGA pitch.
A new building is now clearly needed and I am delighted to see work start on-site.

The school is important not just to the Langlee community but the whole of Galashiels. I hope it will be a major asset which is well used by pupils as well as local organisations and groups.
– Councillor Sandy Aitchison, Scottish Borders Council
Thieves have stolen Tunnock's caramel wafers from a Galashiels man's suitcase, while leaving behind valuables like his laptop.
Read the full story ›
One of the main roads in Galashiels, Church street, is closed until Friday 8th April to allow for utility works.
Scottish Borders Council are asking drivers to follow the diversions in place, and to expect some delays.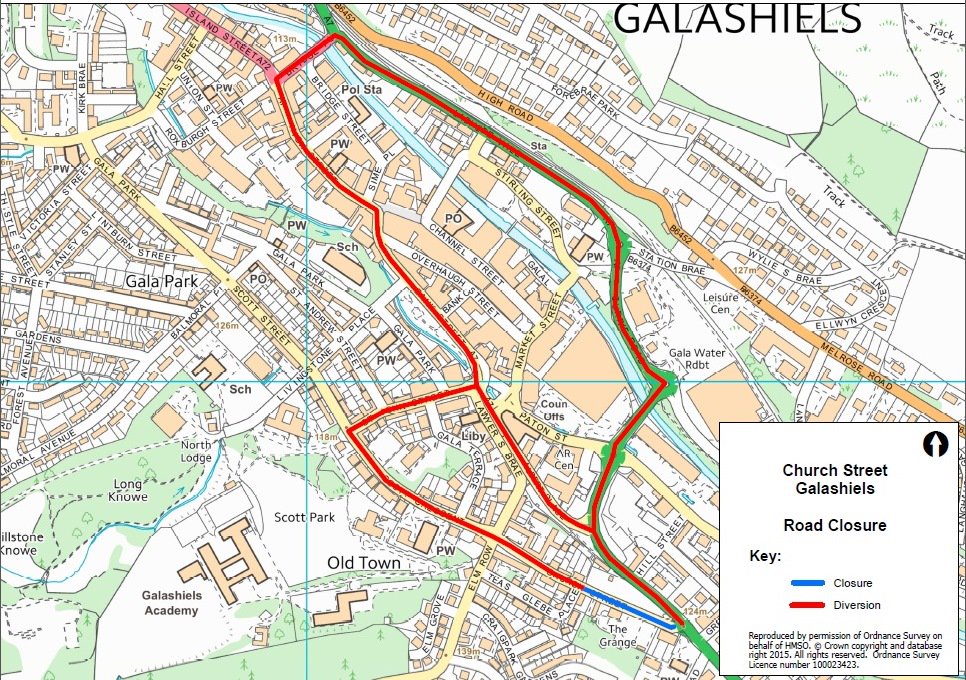 Police in the Borders are appealing for information following a number of thefts from vans in the Galashiels area.
Read the full story ›
Advertisement
Children of all ages have turned out to catch a glimpse of the Davis Cup as it visits the Borders.
Read the full story ›
The Davis Cup will be in the Scottish Borders today as part of a national tour.
The famous tennis trophy will be on display at the Borders Tennis Centre in Galashiels from 10am, where members of the public will have a chance to have their picture taken with it.
Only 50 tennis clubs across the UK were chosen for the tour, and it's hoped that young tennis players in the Borders will be inspired by Team GB's historic triumph in the tournament.
Organiners of the Borders bikers safety day say the event has followed on from the success of last year.
It's expected that all 20 places will have been taken for the Skill for Life course, taught by the Institute of Advanced Motorists.
The course was being offered free of charge to motorcyclists who took part in some tuition and who wanted to develop their riding skills.
Throughout the day, bikers were given 30 minute one-to-one tuition by qualified instructors. They were also shown the latest in safety equipment, as well as gaining more information about what advanced safety courses are available.
"It's really just all about road safety and encouraging them to learn how to read the road properly so that they're safe for themselves and other road users.

"We're really passionate about our activity and really looking to help build on the success of last year and get more motorcyclists out there being safer."
– Andrea Pogson, IAM
The safety day was a partnership between Scottish Borders Council, the IAM and Borders Group of Advanced Motorcyclists.
Bikers from across the Borders are being given the chance of a free Institute of Advanced Motorists Skill for Life course today.
There are 20 place available at the Borders Bikers open day, being held at Galashiels Fire Station.
It follows on from the success of the open day last year, which saw all 20 places filled.
Skill for Life courses for motorcyclists encourages bikers to ride defensively and sharpen their riding skills.
The programme teaches five phases of advanced riding - information, position, speed, gear and acceleration.
Although people on motorbikes only account for 1% of road users across the Borders, 20% of fatal or serious accidents involve a biker.
"Any initiative that has the potential to reduce the number of deaths on our roads involving motorcyclists is worth supporting."
– Paul Richardson, Safety Officer, Scottish Borders Council
Load more updates