A 22-year-old golfer from Dumfries and Galloway has been chosen to represent Scotland at the Home Internationals in Wales.
Jordana Graham, from Southerness, will make her first Scotland cap as part of the ladies team when the competition begins tomorrow.
Lori Carnochan has been along to meet her.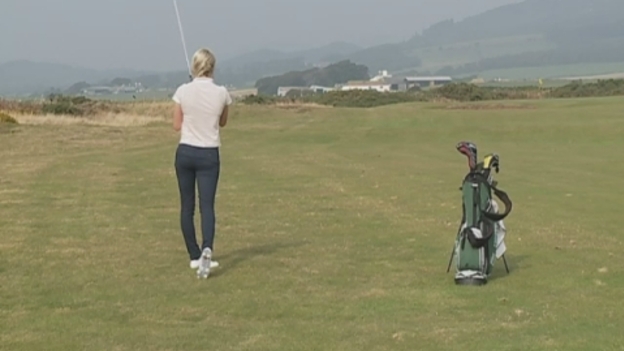 For any keen golfer the dream is to hit that special 'hole-in-one'. Despite their best efforts though, some can spend years on the course and never achieve it.
But for one man from Dumfries, he's managed an incredible 12 hole-in-ones...on the same hole. AND he's 81-years-old.
Lori Carnochan went to meet him:
Advertisement
Hundreds of golfers are competing in the west Cumbria for the prestigious English Amateur Championship.
The event is being staged at Silloth Golf Club, with some playing at Seascale.
Hundreds of amateur golfers tee'd off at Silloth-on-Solway golf club for the second day of the English Amateur Championship.
Hundreds of amateur golfers tee'd off at Silloth-on-Solway golf club for the second day of the English Amateur Championship. In total 288 amateurs will play two matches in the hope of scoring enough points to place them in the top 64 which will secure them a place in Saturday's final.
To ensure all players have participated in two matches before the final some of the rounds are being played in Seascale but the final will be played in Silloth. There are 24 Cumbrians involved who are hoping to lift the trophy which has previously been won by Sir Nick Faldo and Paul Casey.
Seb Crookall-Nixon, 18, from Cockermouth is one of those hoping to use the home advantage to clinch the title. Seb was involved in a car accident earlier in the year. Following a break to recover the teenager's focus is on a professional golfing career.
Being awarded this event is a huge honour for the club and for Cumbria and it's hoped it will raise the profile of the county's courses. Previous winners of the competition include Sir Nick Faldo and Paul Casey. The opening two rounds will be split between Silloth's Links course, and Seascale
Advertisement
A benefit cheat who said he could barely walk but was filmed playing golf and riding a bike has been jailed. Leigh Neilly from Silloth in Cumbria claimed nearly 37 thousand pounds over a 9 year period.
A man who falsely claimed £37,000 in disability benefits has been sentenced to 30 weeks in jail.
Judge Forrester called Leigh Neilly's crimes a "flagrant breach of the law".
A police search for a missing man has ended after the discovery of a body near a Dumfries and Galloway golf course.
Officers say the body was found near woodland by Southerness Golf club last night.
James Neil from Southerness had earlier been reported missing.
The Procurator Fiscal has been informed.